Low Carb. Keto Buttery Cauliflower Mash to rival its carby potato cousin and is just as creamy, delicious, and flexible. Children and adults will love this simple, quick, and cheap recipe. If you're looking for a keto mashed potato substitute, look no further!
Disclosure: Some of the links in this article may be affiliate links, meaning that we may earn a small commission if you click through using our link and make a purchase. Please be assured that this will not cost you any extra money. Also, please be assured that we either use the products we recommend personally, or have been recommended by trusted friends who currently use them.
Keto Butter Cauliflower Mash: Too Good To Pass Up
Whether you're living a keto life or just looking to cut down on carbs this keto butter cauliflower mash is perfect!
Cauliflower makes the perfect keto potato substitute with it only containing 3 grams of net carbs per 100 grams of cauliflower.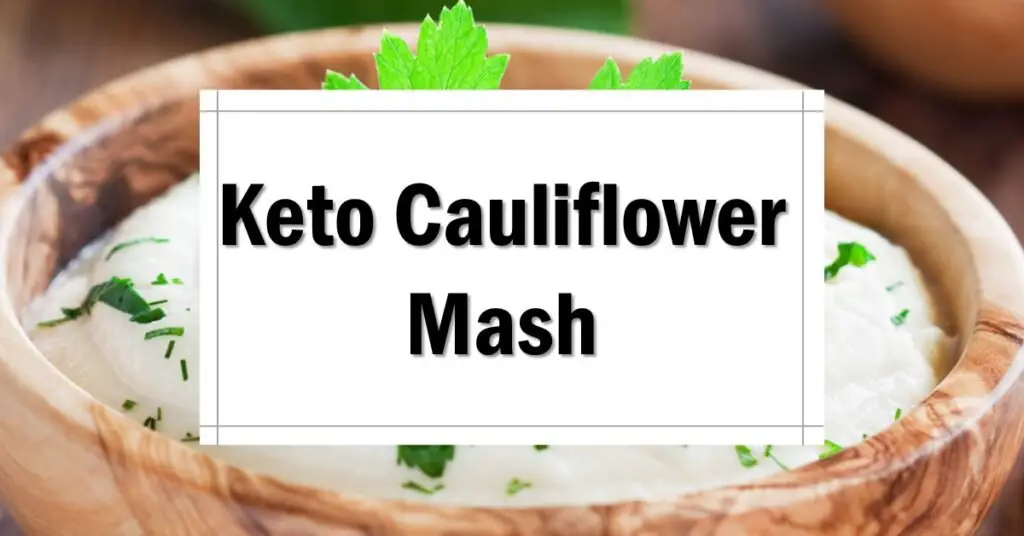 Check out our Keto Cauliflower Rice, Chinese Cauliflower Rice, and Keto Mac and Cheese recipes.
This keto butter cauliflower mash can be an accompaniment for any meat or veg dish.
With only four main ingredients this is one of the simplest keto sides that you can make. I regularly have frozen cauliflower in the freezer which makes this keto buttery cauliflower mash a regular go-to.
I love this as a side to a meat dish, it is the perfect keto mash potato substitute. It is also great if you are doing keto on a budget as it is a cheap dish.
Check out this article for more keto-friendly alternatives to potatoes. We will take you through some of our favorite potato substitutes as well as serving suggestions for all of these.
Sometimes I will have this dish on its own for a quick comfort food lunch.
Want to hear a secret? Please don't judge me here – I love to fry up some crispy bacon and break it up on the top. It makes the perfect combination of crunchy and salty against the creamy, buttery texture of the mash.
I'll be honest, it's not the prettiest of foods, but learning to make this keto buttery cauliflower mash will be a lifesaver. It's a staple on my menus!
Check out this article for more keto hacks to make your keto life easier.
Mash Up Your Cauliflower
The first ingredient that needs 'mashing' is your garlic.
I use my trusty garlic grater that has survived my last two house moves.
I use this for spices and anything that needs to be grated finely.
Grating ensures that the garlic is really fine so it is well distributed throughout the keto mash and you don't end up with ant bitter clumps.
As any of you that know me or follow me know – I love my NutriBullet!
Not only do I use my NutriBullet for my keto smoothies, crepes, keto waffles, sauces, burgers, soups, rice, and so much more…now add to that list – keto buttery cauliflower mash!
This saves me having 100s of different gadgets cluttering up the kitchen cupboards.
Once I've steamed the cauliflower in the microwave (or pan) I place all the ingredients into the NutriBullet and blend it up until it's a nice smooth texture – beautiful!
If you don't have a NurtiBullet – don't worry, you don't have to rush out and buy one – this will work the same in a normal food processor or with a stick blender.
Flavoring Your Keto Cauliflower Mash
Depending on what flavors you like, and what you're eating your keto buttery cauliflower mash with – why not mix up your flavors?
Instead of chives, try adding ¼ teaspoon of paprika.
It makes the perfect side to a more Mediterranean-inspired dish. How about rosemary if it's accompanying a tasty lamb or beef dish?
Parsley for chicken?
Play around and see what you like.
For me, cooking is always a bit of an experiment – until you discover what you like.
Even Creamier Keto Buttery Cauliflower Mash
If you want to make this keto mash potato substitute even creamier, why not add a splash of fresh HWC (double cream)?
This will give the mash a smoother texture and a richer taste.
If you're out of cream, sour cream is another alternative instead of butter – this is all down to preference.
Have a play and see what you like the best and let me know in the comments below!
Keto Buttery Cauliflower Mash
Course: Sides, Main, Lunch
Cuisine: English
Difficulty: Easy
Ingredients
800g Cauliflower Florets

2 Cloves Garlic (grated)

2 tablespoons of cream cheese

2 tablespoons of butter

Salt and black pepper to taste
Directions
Place cauliflower florets into a microwavable bowl along with a half cup of water, and then use a silicone topper. Microwave the cauliflower florets until mushy and very soft, for about 12 minutes, when done a knife should easily go through the stalks with no resistance
When done drain well
Grate the garlic
Add all ingredients into the NutriBullet and blend until smooth

Serve and enjoy!
Notes
This can be frozen in your Lock & Lock and can be reheated.
Othe Keto-Friendly Vegetables
If you are surprised at the versatility of the humble cauliflower, why not check out some of these other keto-friendly vegetables and some of our serving suggestions using them