This simple keto dish will rival any regular Chinese fried rice you have tired! It allows you to make an amazing Chinese keto banquet without sacrificing any of the dishes we all love from the Chinese takeaway. See how easy it is to cook Chinese on keto!
Disclosure: Some of the links in this article may be affiliate links, meaning that we may earn a small commission if you click through using our link and make a purchase. Please be assured that this will not cost you any extra money. Also, please be assured that we either use the products we recommend personally, or have been recommended by trusted friends who currently use them.
Is Chinese Fried Rice Keto Friendly?
Fried rice is not keto-friendly. Rice contains around 31 grams of carbs per 100 grams, this means that it is relatively high in carbs to fit into your keto macros and ensure that you do not get knocked out of ketosis.
If you are new to keto, check out our Keto Beginners Guide.
'Fake it' with Keto Chinese Fried Rice?
Although cauliflower rice is a staple for me – I do try and spruce it up now and again! This Keto Chinese Fried Rice is the perfect option! It is simple to make and full of flavor.
I was out at the Chinese with friends working down the menu trying to work out what was keto-friendly.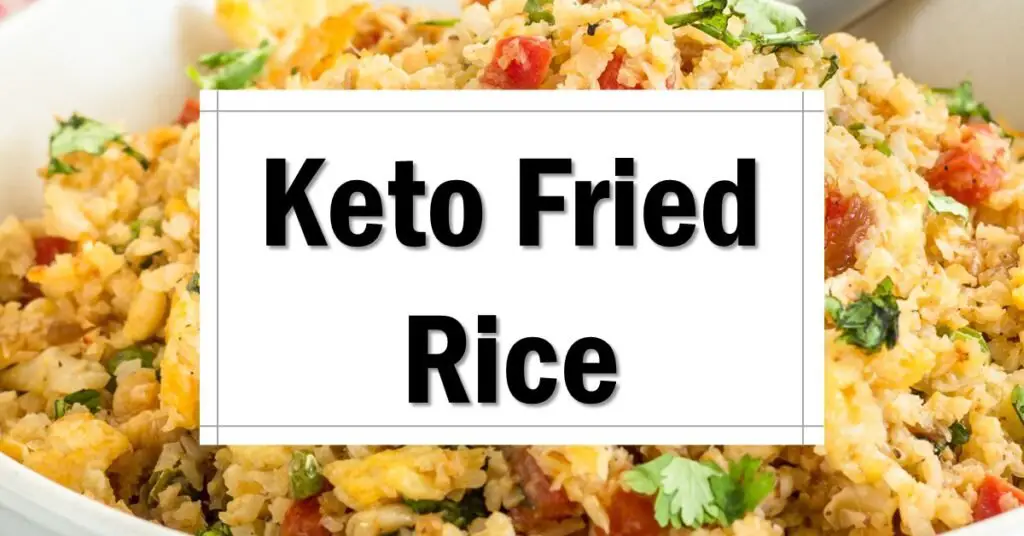 We always have fried rice to share.
That was when I realized Chinese fried rice could easily be made keto-friendly. Just substitute the rice for cauliflower rice = Chinese fried rice made keto-friendly!
The next day I started experimenting in the kitchen!
In fact, with a few substitutions, a lot of Chinese dishes can be made keto-friendly.
If you're interested in doing some keto Chinese cooking check out this article, which gives you some of my favorite keto hacks to make low-carb, keto Chinese dishes as well as how to survive eating Chinese at a restaurant, whilst remaining in ketosis.
Keto Fried Rice is Quick and Easy To Make
Not only is this Chinese fried rice keto-friendly. It's also quick and very simple to make – which suits me every day of the week! This recipe uses largely cupboard ingredients, meaning you don't have to plan ahead if you're wanting Keto Chinese Fried Rice in a hurry!
More importantly, this fired rice tastes good enough to serve up to non-keto-ers! Perfect for a keto-friendly Chinese dinner party!
How to make Keto Chinese Fried Rice
For the cauliflower rice, you can use fresh or frozen cauliflower.
I love fresh, however, let's all be realistic, life's busy, and sometimes frozen is all we have!
If using a fresh cauliflower head, break it into florets.
From here, place into the NutriBullet or blender of choice and blitz until your cauliflower is in small rice size pieces.
This should only take seconds. You can do this the day before and leave it in the fridge overnight. This will save you even more time when you're hungry!
From here – you're ready to start cooking.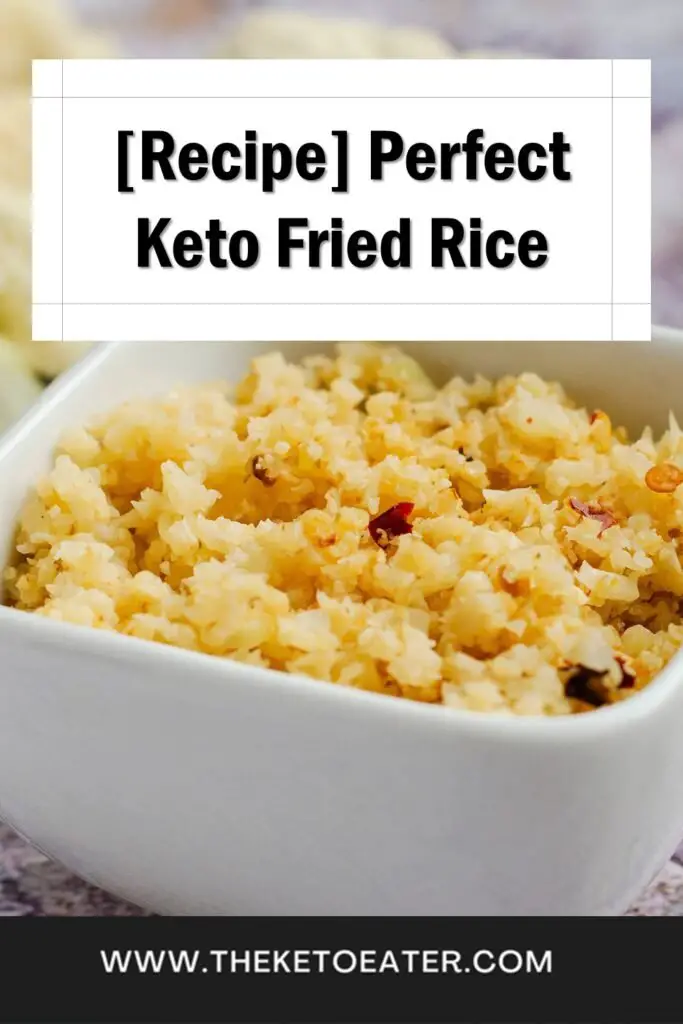 How simple is that? 
If you're using frozen cauliflower you will need to defrost the florets. Remove them from the freezer and leave them to come up to room temperature.
TOP TIP: If you leave your florets in a sieve over a blow, the water will drain off as it thaws so your cauliflower rice doesn't end up soggy!
If you're in a hurry, you can always microwave your florets on a defrost setting. When defrosted blitz in the NutriBullet as above.
Jazzing up your Chinese Fried Rice – But Keeping It Keto-Friendly.
If you're wanting to jazz this up a bit you can add some diced pork to make this into more of a meal, like special fried rice that you would order.
How about adding some cooked chopped prawns?
Or go crazy and add both – the choice is yours!
LET ME KNOW IN THE COMMENTS BELOW WHAT YOUR FAVOURITES INGREDIENTS ARE FOR YOUR CHINESE KETO FRIED RICE!
Fresh Vs Powdered Spices?
This cauliflower fried rice recipe calls for minced (grated) garlic and ginger. Root ginger and garlic can easily be bought in most food shops these days. Both are delicious and full of health benefits.
Fresh garlic and ginger offer a milder flavor than their dried counterparts. The powdered versions are a lot more intense in flavor you will need to use a smaller amount so as not to overpower the dish.
If you're out of fresh ingredients and only have dried to use – don't worry about it! I've done the working out for you, in the recipe card below!
Coconut Aminos vs Soy Sauce for your Keto Chinese Cauliflower Fried Rice?
Traditionally, Chinese fried rice would use Soy Sauce. This can be high in carbs, so if you are living clean Keto (strict Keto), this may not be for you. If you are wanting to cut down on the carbs, Coconut Aminos is for you!
Unsure which Keto is for you? Check out this article, by the end, you should know whether you are Lazy, Dirty, or Strict!
Coconut Aminos is a salty, savory sauce that can be used interchangeably with Soy Sauce. It is made from the fermented sap of coconut palm and combined with sea salt. This gives it the perfect salty/sweet taste!
It's similar in color and consistency to Soy Sauce. In comparison, it has a milder and sweeter flavor. In short, the choice is yours!
Try out Coconut Aminos at some point just to see what you think. I like it if I'm having plain cauliflower rice as a side to an Asian dish as it provides that lovely sweetness. Just like coconut rice!
Give it a try and let me know what you think in the comments below!
Check out our Keto Fried Rice Recipe here;
Chinese Fried Rice – Keto Style!
Course: Main, Sides, chinese
Cuisine: Chinese
Difficulty: Easy
Delicious Keto Chinese Fried Rice – Perfect for a Keto Chinese Dinner Party!
Ingredients
1 Cauliflower head – chopped into florets

1/2 Green Pepper – diced

1/2 Red Pepper – diced

3 Spring Onions – chopped into 1/2 cm lengths

2 1/2  tablespoons fresh ginger, grated OR ¾ tablespoon of ground ginger

2 tablespoons of sesame oil

2 tablespoons of butter, ghee, or coconut oil

2 tablespoons coconut aminos, soy sauce, or tamari

1 tablespoon garlic – grated OR 1/3 tablespoon of garlic powder

5 chopped cooked prawns (optional)
Directions
Put the cauliflower florets into the NutriBullet and blitz until the cauliflower is fine and looks like rice
Add butter into the pan over medium heat, and then add the ginger and garlic along with spring onions whites or spring onions (scallions) and the chopped peppers. Fry, stirring frequently for at least 3 minutes, and then add cauliflower rice and allow to fry for additional 3 minutes
Add coconut aminos along with salt into the pan, and then push cauliflower rice on one side of the pan and move that side off the center of the heat.
If you're adding cooked meat or fish to this dish add it now and stir in.
When done, add the whisked eggs and season them well with salt and pepper.
Scramble for a minute and combine with the other ingredients, and then stir through the sesame oil.
Remove from heat and then top with the green part of the spring onions. Add seasonings as desired and serve.
Serving SuGGestion
Add chopped cooked prawns or meat of your choice to make this side a meal!
If you use MyFitnessPal check out the recipe here: Keto Chinese Fried Rice
If you are looking for a keto-friendly side dish, why not check out these keto garlic mushrooms and our guide to eating Chinese on keto.