Keto pesto is amazing on pizza, pasta, meat, fish, and even salad as a dressing. This fresh keto basil pesto uses simple ingredients and is ready in a matter of seconds. There is plenty of fat making it low-carb and high-fat and perfect for a ketogenic lifestyle. This pesto recipe has only 5 ingredients, takes only 5 minutes to make, and tastes sensational!
Disclosure: Some of the links in this article may be affiliate links, meaning that we may earn a small commission if you click through using our link and make a purchase. Please be assured that this will not cost you any extra money. Also, please be assured that we either use the products we recommend personally, or have been recommended by trusted friends who currently use them.
Pesto is a real gem – it is so versatile.
It reminds me of an amazing holiday to Italy with one of my close friends. We laughed, ate, and drank our way around – happy memories!
Anyway, for years on, I've been trying to perfect the authentic Pesto taste. This is it!
Is Store-Bought Pesto Keto Friendly?
Absolutely!
Most shop-bought pestos will be keto-friendly, as I always say though, you need to check the labels.
Some shop-bought pestos will have preservatives added which may add to the carb count. There is always a place for convenience, our lives are always so busy that sometimes you need food you can grab and go.
However, this keto pesto is so quick and simple that you can make it in less than 5 minutes and it has a much more intense flavor than the shop-bought alternatives!
How Many Carbs Are There In Keto Pesto?
This recipe has zero carbs and around 11 grams of fat per serving – making it a perfect option for a low-carb high-fat or ketogenic diet as it will boost your fat macros without making a dent in your carb allowance.
If you need to know more about macros on keto check out this article.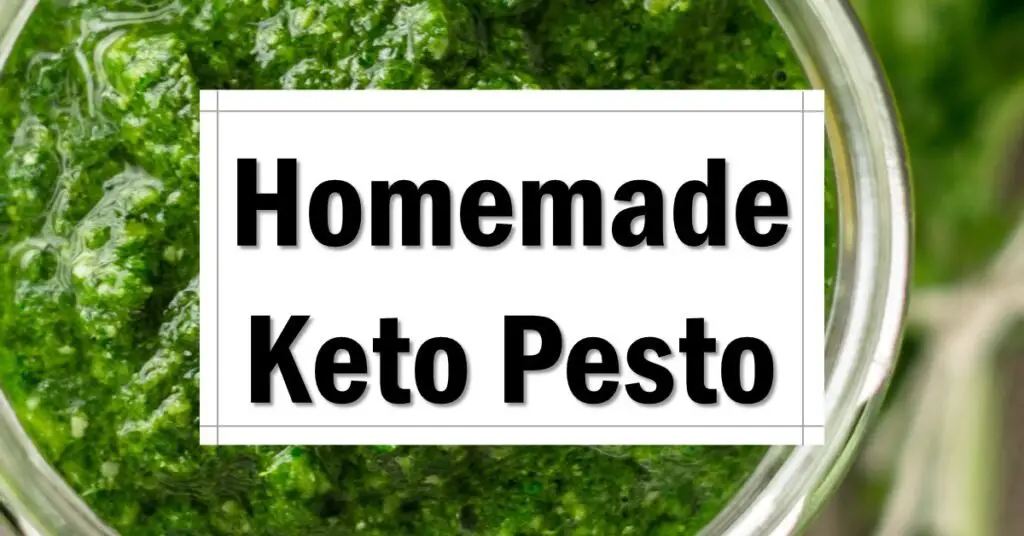 Keto Pesto Serving Suggestions
Do you need some inspiration as to what to have your keto basil pesto with? Why not try some of my favorites below?
– Chicken Pesto Bake
– Steak and Pesto
– Pesto Courgetti
– Pesto and Keto-friendly Pasta
– Salad with Pesto dressing
– Keto Pesto Pizza (if you haven't tried it – do it now!)

Zero Carb, Quick and Simple Keto Pesto
Course: Dressing, Sauce
Cuisine: Italian
Difficulty: Easy
Delicious, fresh, authentic Keto Pesto
Ingredients
½ clove garlic

25 grams of Pinenuts

50 grams of Parmesan

50 ml of Extra Virgin Olive Oil

50 grams of Basil
Directions
Add the Garlic, Pinenuts, Parmesan and half of the oil to a NutriBullet. Blitz until it is smooth
Ass the Basil and the rest of the oil until it is at the desired texture
Notes
If you are using this as a dressing – you may want to add more oil so it has a looser texture – if you're using this for you Chicken Pesto Bake – you may want a thicker consistency, therefore use less oil.
Do you have a favorite dish to have your keto pesto with? If so let me know in the comments below and we can all try it out.