Who doesn't love chocolate? Even for the most discerning chocolate lover, this heavenly keto chocolate fat bomb smoothie will not disappoint. Perfect for a busy day if you know you're not going to get time to eat. This will fill you up for the day.
Disclosure: Some of the links in this article may be affiliate links, meaning that we may earn a small commission if you click through using our link and make a purchase. Please be assured that this will not cost you any extra money. Also, please be assured that we either use the products we recommend personally, or have been recommended by trusted friends who currently use them.
Keto Chocolate Fat Bomb Smoothie Heaven
This really is keto chocolate fat bomb smoothie heaven. What's not to love in that title?!
This keto goodness can be drunk as a smoothie or eaten as a wonderfully rich chocolate fat bomb dessert – either way – it's delicious.
This smoothie is perfect as a keto breakfast when you know you're going to have a long day and need something to see you through.
The chocolatey taste also makes you feel like you're having a real treat.
It really is hard to understand that something that contains this much flavor and fat can be good for you.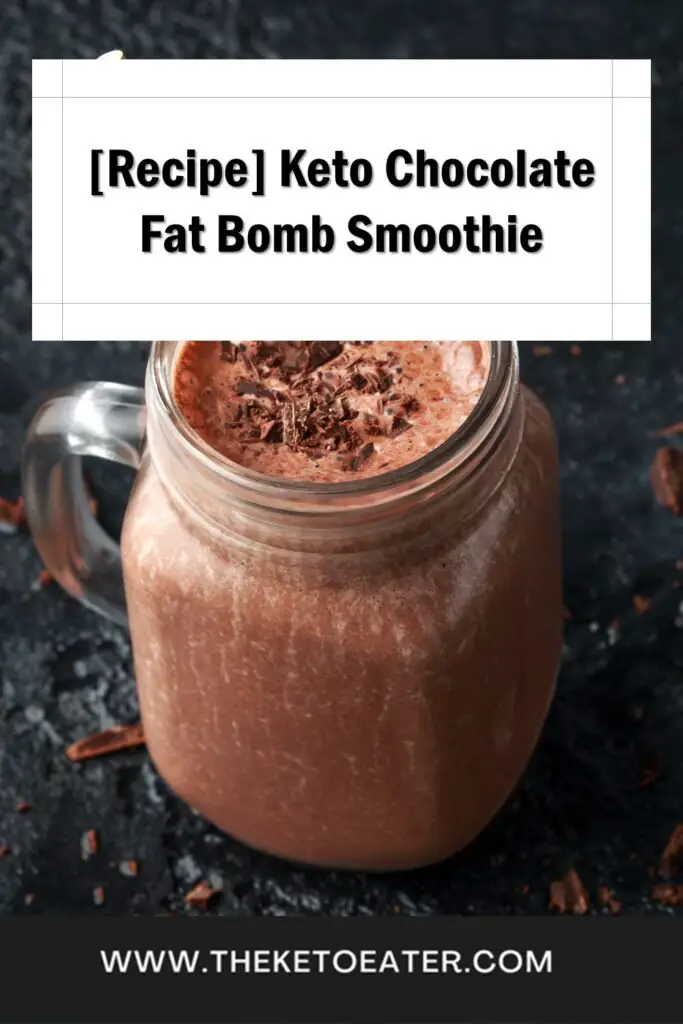 Heaven.
Keto Chocolate
Although this recipe calls for cacao as opposed to 'chocolate' itself it's still important to ensure that it's not full of sugar.
The grated chocolate on top needs to be a minimum of 85% cacao, to ensure that you stay within your macros and do not kick yourself out of ketosis. This one is perfect.
If you are new to keto, check out our Keto Beginners Guide, and check out these articles on Keto Terms and Keto Abbreviations to get you going on your keto journey,
What Milk Should I Use For My Keto Fat Bomb Smoothie?
Coconut milk goes a long way to adding sweetness to this recipe. Along with the vanilla extract and the stevia.
Coconut milk can be bought in supermarkets now.
You can substitute this for almond milk if you're not a fan of coconut.
I have tried to buy this online before – but it has always worked out a lot cheaper in the supermarkets, so if you have time I would shop around for it, check out this article for more tips for doing keto on a budget and keto hacks to help you win at keto.
If you are a fan of coconut milk, you should check out coconut water, it is full of amazing health benefits and is great for anybody living a keto lifestyle.
Making the Smoothie
I use my NutriBullet for everything! Pancakes, omelets, rice, mash, baking, sauces, smoothies, soups – you name it, it gets blitzed in my NutriBullet.
If you don't have one of these, you could use a food processor or a stick blender.
Drinking On The Go?
If like me you end up eating on the go far too often, this recipe is perfect.
I store my keto smoothies in a drinks flask in order to ensure that they remain perfectly chilled for as long as possible.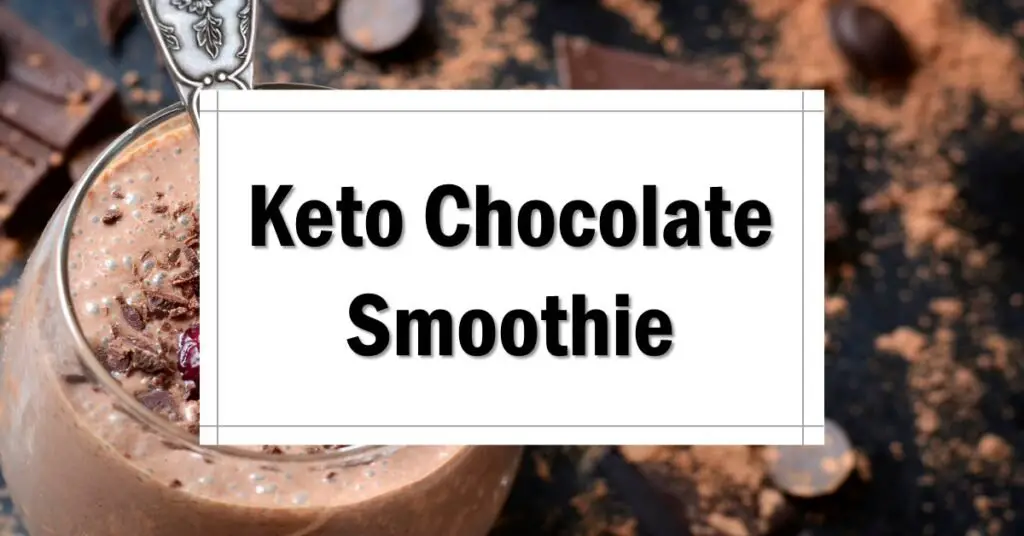 Jazz Up Your Keto Chocolate Smoothie – Adults Only!
Want to jazz this up for yummy to oo la la?!
Why not add some keto Irish cream?
This recipe from Peace, Love, and Low Carb offers a keto-friendly alternative to the traditional Irish cream we all know and love.
This will surely be a winner when the girls pop around, especially on a cold winter's night.
The Finishing Touches
Grate some dark chocolate onto the top or if you're sitting down to eat this you could indulge in some crushed nuts on top – pistachio is a particular favorite of mine.
I wouldn't recommend a paper straw for this recipe – it may look good, the smoothie is a bit too thick! I use these metal straws – they come with a cleaner so you can wash them again and again!
Keto Chocolate Fat Bomb Smoothie
Course: Deliciousness, smoothie, breakfast
Cuisine: smoothie
Difficulty: easy
Creamy Keto Chocolate Fat Bomb Smoothie
Ingredients
125ml coconut milk

2-4 tablespoons of cacao powder (to taste)

1/2 teaspoon vanilla extract

1 scoop of protein powder

2-4 drops of stevia

1 teaspoon MCT oil

For the fat bomb topper

125ml HWC

2 tablespoons of cacao powder

85% dark chocolate grated
Directions
For the smoothie
Add all ingredients to the NutriBullet and blend until smooth and creamy
Pour into glass and add a fat bomb to the top
Grate dark chocolate onto the top