Warming and filling Keto Roasted Tomato Soup is good all year round – not just for winter. Roasted tomatoes offer a delicious punch of flavour with the cream adding a richness to the dish that is heavenly what are you waiting for – get roasting!
Disclosure: Some of the links in this article may be affiliate links, meaning that we may earn a small commission if you click through using our link and make a purchase. Please be assured that this will not cost you any extra money. Also, please be assured that we either use the products we recommend personally, or have been recommended by trusted friends who currently use them.
The key to tasty tomato keto soup is in slow roasting the tomatoes in order to get the full flavour out of them.
Other than that, this recipe is quite basic with very few ingredients – most of which will normally be in your kitchen cupboards.
Who knew tomato soup could be this delicious?
Which tomatoes should I use – growing your own?
This one is up to you – and my recommendation as always would be to experiment!
My darling mother loves gardening – as a child, I could never understand the joy that she got from growing things. However, moving on in life I totally get it.
I love the colors that fill my garden, and what I love even more is when those colors filling my garden are then edible.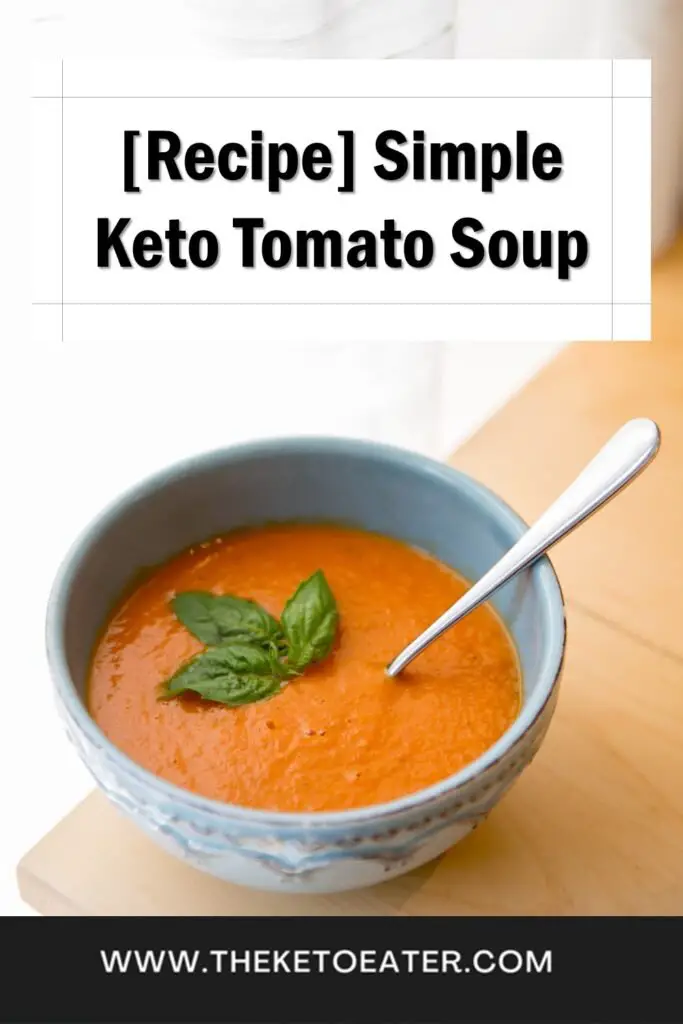 Anyway, every year my mother grows far too many tomatoes which means they get redistributed to me – I used to struggle to know what to do with the weekly deliveries.
Now I have no issue! I make batches of this keto soup to freeze and eat throughout the winter months to keep me snug and warm.
I have to admit though – there is nothing better than coming in from a walk through the local woods to a warming bowl of this keto roasted tomato soup.
Keeping the carbs low in your Keto Tomato Soup
In order to keep the carbs low, I make this thinner than an average cream of tomato soup- although tomatoes are not particularly high in carbs with them averaging around 3 grams of net carbs per 100g.
If you're trying to stay under 20g on keto you need to save on the carbs where you can. If you're not worried about your carb count by all means add more tomatoes – or use less broth.
The average shop-bought tomato soup will clock in at around 14 grams of carbs per serving, making this homemade keto roasted tomato soup is a far better option.
Making your Low-Carb Tomato Soup
This soup really is easy to make. There are a couple of simple tweaks you can make too, to switch it up now and again!
Is this the BEST Keto Soup ever?!
Thickening your Keto Soup
The thickening of this soup comes from the cream – now that's nothing to complain about, is it?! Shop bought soups will often use thickening agents to do this. They tend to be full of non-keto-friendly ingredients.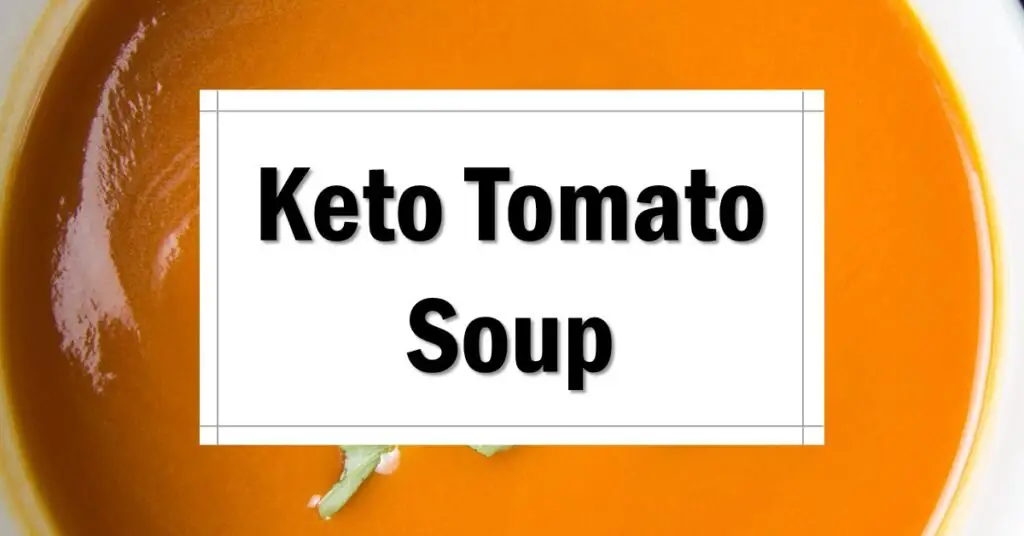 If you want more of a rustic flavor, I would consider roasting your tomatoes with some rosemary and using plain double cream – if you want a sweeter taste skip the rosemary and use coconut cream. It's delicious either way.
What stock to use?
You can buy a lot of different stocks in the shops. Some are better than others in terms of the quality of the ingredients and the carb-count. Please read the labels before you buy.
Or why not try making your own stock? It really is easier than you may think. Check out my recipe for it here.
I love beef stock for this recipe. It gives the keto soup a real meaty, hearty taste that is sure to satisfy!
What are you waiting for? Try this keto soup now!!
Check out how to make this low carb roasted tomato soup here;
Keto Roasted Tomato Soup – Earthly & Warming!
Course: Starter, Main
Cuisine: Soup
Difficulty: Easy
Ingredients
2 tablespoons olive oil

35ml heavy cream or coconut cream

280g chicken, vegetable or beef broth (beef is my fav!)

200g tomatoes, cut into small cubes

2 tablespoons fresh basil, chopped

1 tablespoon herbs

2 garlic cloves, minced

Himalayan Salt and ground black pepper, to taste
Directions
Preheat the oven to 200C and then use a foil to line a baking tray and grease it lightly or if you like the easy life just used a silicone baking sheet.
Gently toss tomato chunks with garlic and oil salt and pepper, and then arrange them well in one layer on the silicone sheet. Allow the tomato chunks to roast for 20-25 minutes until the start to brown a little.
Add the roasted tomato chunks to a blender and process until smooth, and then pour into a pot on medium heat.
Add broth into the pot, and then season with herbs, salt and pepper as desired.
Allow the soup to simmer for about 10-15 minutes, and then stir in the basil along with cream.
When done, serve the roasted tomato soup and enjoy!
Notes
Why not enjoy this with some keto bread?
Have you tried this Keto Roasted Tomato Soup recipe? If so, let me know what you think in the comments below!
If you like your keto soups, why not try out these recipes;
Enjoy!