Stuffed mushroom may not be the most exciting keto recipe, it never disappoints! This recipe can be adapted for different tastes and depending on what you have in the cupboards. They can be rustled up in minutes or prepared in advance. Keto stuffed mushrooms can make an amazing breakfast, lunch, side, tapas, or dinner.
Disclosure: Some of the links in this article may be affiliate links, meaning that we may earn a small commission if you click through using our link and make a purchase. Please be assured that this will not cost you any extra money. Also, please be assured that we either use the products we recommend personally, or have been recommended by trusted friends who currently use them.
Are Mushrooms Keto Friendly?
Good news fellow mushroom lovers – mushrooms are fine to eat on keto!
'Normal' white mushrooms have around 3.3g of carbs per 100g in one large portobello mushroom there are approximately 2 carbs.
Mushrooms contain B vitamins, minerals (copper, potassium, and Selenium), and beta-glucans which are thought to stimulate the immune system; making them a winner in my opinion.
This makes them great for a keto diet as they are low in carbs, and moderate in protein. They are not high in fat, so you may want to add fat to them. Otherwise, they are great for fitting in with your keto macros.
If mushrooms are your thing, check out our Keto Garlic Mushrooms recipe.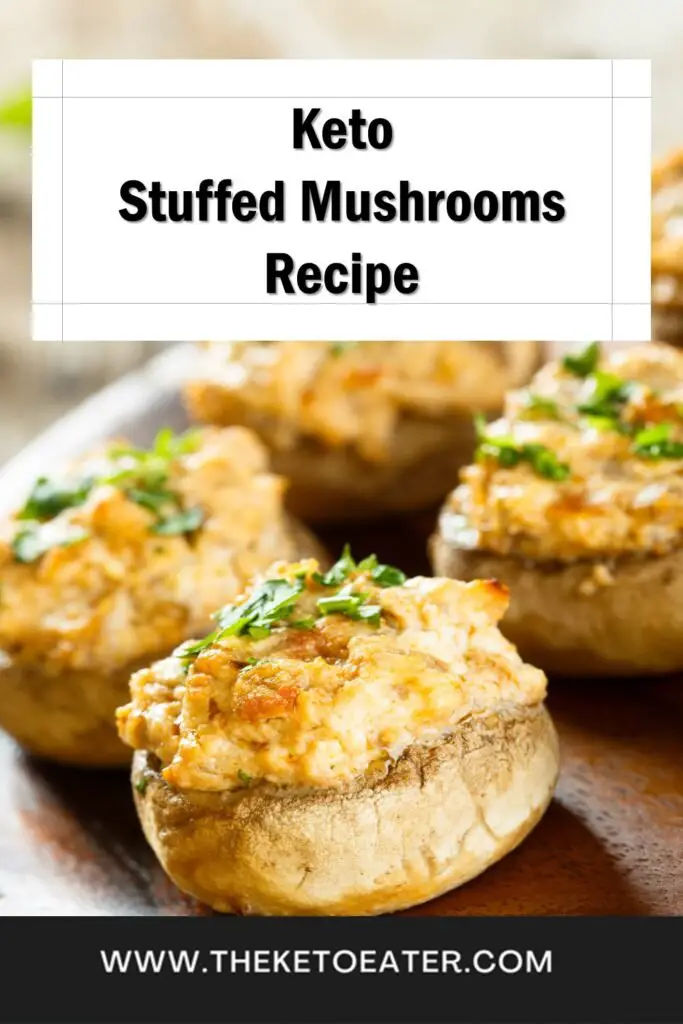 Get Creative With Your Stuffed Mushrooms
As with many of my recipes – your imagination is your only limit!
Have some left-over bolognese or chili? 'Stuff' it in a mushroom, top with cheese, and pop them in the oven.
Simple, quick, and easy stuffed mushrooms – what more could you want?
Keto Stuffed Mushrooms For Breakfast?
If you have leftovers from a breakfast (bacon, sausage, etc) why not chop these up into small pieces, whisk up an egg, pour over and top with cheese?
If you want some spinach or avocado with this – why not? Just add up your macros!
Stuffed mushrooms are so easy to adapt to your and your family's tastes and great for making a new meal from leftovers.
It's a simple way of keeping you on your keto journey and keeping your family happy without breaking the bank.
Check out our guide to eating Keto On A Budget and our Keto Hacks, to make your life easier and cheaper.
What Mushrooms Do I Need For Stuffing?
You can stuff the 'normal' white mushrooms that you would likely have on your fried breakfast.
Be warned!
These can be quite small and fiddly.
On the other hand, if you're creating this dish as a keto appetizer or tapas you may want to produce smaller ones to make your guests feel like they're getting more!
Personally, I like to use the portobello mushrooms for this recipe; they're the big flat ones if you're not sure!
They give you a lot of room inside for you to put all of your flavorsome keto goodness!
I usually cut out the stalk with a sharp knife to give me space to stuff!
What Is The Keto Alternative to Breadcrumbs?
When friends transition onto keto I always get messages starting "what is the keto alternative to xxxx"!
This question always makes me smile.
Why?
I think this makes me smile as it means that friends are not missing out on any of the foods that they love in life, they're just adapting to make them keto / low-carb friendly.
If you are looking for a keto alternative to spaghetti, check out our Courgetti recipe, or check out this guide if you are looking for Keto-Friendly Alternatives To Potatoes.
There are a number of different keto alternatives to breadcrumbs.
For this recipe, you have three main options.
3 Best Keto Alternatives to Breadcrumbs
1. Keto Breadcrumbs to Replace Breadcrumbs.
No, I haven't lost the plot! I use a number of different recipes for keto bread alternatives.
One of my favorites to turn into breadcrumbs is the Diet Doctor keto rolls.
These are brilliant as a keto alternative to a bread roll/bap/cob (and so on depending on where you are in the country!).
Like you would to make 'normal' (non-keto!) breadcrumbs, let your keto roll (one will do) dry out – either naturally or by ripping it into smaller pieces and putting it in the oven.
When it has dried out blitz it in your NutriBullet in order to create fine breadcrumbs
2. Pork Scratchings as Keto Breadcrumbs
Don't knock it until you try it!
Blitz up a small bag of plain pork scratchings and sprinkle over the top of your mushroom.
Why do I emphasize the word 'plain'?
Simple, one time I picked up the wrong flavor bag from the cupboard and ended up putting salt and vinegar pork scratchings onto my stuffed mushroom.
I'm sure some food mistakes are what have led to some of the gourmet advances of our time; salt caramel being a prime example.
This was not one of those cases. Although not inedible, it wasn't my best work!
3. No Breadcrumbs
Did I just say that?! Yes, this recipe works really well with your 'stuffed' ingredients being topped with cheese on its own.
So, if keto breadcrumbs or pork scratchings seem too much like hard work for you; don't use them!
Cheese on its own is enough to make these keto stuffed mushrooms dreamily good!
Short On time?
If you know you're going to be short on time you can make these the night before and store them in the fridge ready to be popped in the oven as you come in.
If you don't want to add the filling to the mushrooms in advance you can mix this and leave it in a bowl in the fridge and then 'stuff' your mushrooms at the last minute.
Check out how to make these keto stuffed mushrooms here;
Keto Stuffed Mushroom
Course: Starter, Side, Dinner, Lunch, Snack
Cuisine: Italian
Difficulty: Easy
Ingredients
2 slices bacon grilled and chopped

2 portobello mushrooms (the big flat ones!)

1 tablespoon olive oil

30g cream cheese

25 g mozzarella or cheddar

3 tablespoon fresh chives, finely chopped

1 teaspoon paprika powder

salt & pepper to taste
Directions
Preheat oven to 185C
with a sharp knife cut the stalk out of your mushrooms
Chop the stalks and add them to a bowl
With a pastry brush, brush your mushrooms with oil on all sides
mix all of the rest of your ingredients except for your mozzarella of cheddar in a bowl
Place mushrooms on a silicone baking sheet on an oven tray
Add your filling to your upturned mushroom
Top with Cheese (or 'keto breadcrumbs' and then cheese!)
Bake in the oven for 15- 20 mins until the cheese is bubbling on top and your mushrooms have turned golden brown
Notes
Play around with different fillings to make your perfect keto meal!
I know I have a lot of favorite foods, but this really is one. Mainly for its versatility.
Please, please comment below and let the whole community know your favorite keto stuffed mushroom fillings.