Mayonnaise is a staple for most people. Why not continue to enjoy it whilst eating keto? This 4 ingredient, keto mayo recipe is the perfect, creamy mayo to satisfy the most pedantic of connoisseurs. Give it a go and let me know what you think!
Disclosure: Some of the links in this article may be affiliate links, meaning that we may earn a small commission if you click through using our link and make a purchase. Please be assured that this will not cost you any extra money. Also, please be assured that we either use the products we recommend personally, or have been recommended by trusted friends who currently use them.
Is Mayonnaise Allowed on a Keto Diet?
Firstly, not all mayonnaises are made equal!
Good quality FULL FAT mayonnaise is fine for a keto / low carb way of eating.
Low-fat mayos will not be keto-friendly as they are full of sugars.
Full fat mayo is a good way to add fat to your diet without adding carbs.
Once you've found a full-fat mayo you will then need to check out the ingredients to ensure that they are keto-friendly, which we will go through below.
If you are new to keto, check out our Keto Beginners Guide, for everything you need to know to get you started on your keto journey.
Which Mayo is Best for Keto?
Full fat mayo is essential, low fat mayo will be full of sugar and therefore not keto-friendly. Hidden sugars in foods such as low-fat mayo have the potential to knock you out of ketosis.
If you didn't know, the base for most mayos is oil.
Not all oils are keto-friendly and therefore, if you are buying mayo in the shops you will need to check the base of the mayo.
The following oils are not keto and are ones to avoid;
Oils on Keto
Keto Friendly
Olive oil (extra virgin is best)
High-oleic sunflower or high-oleic safflower oil
Avocado oil
MCT oil
Coconut oil
Not Keto Friendly
Regular sunflower oil
Corn oil
Regular safflower oil
Cottonseed oil
Grapeseed oil
Soybean oil
Canola oil
Shop Bought Mayo
There are a number of mayos out there that you can buy. I personally use the Skinny mayo (and garlic mayo!!) if I need to buy it.
I normally have a bottle in the cupboard for my busy times!
Let's not judge, we don't all have time to make everything from scratch all of the time!
This Skinny Mayo is the closest to shop-bought mayo that my friends and I have found.
If you shop in Aldi, their mayo is also keto friendly, although slightly higher in carbs. If you know of a better one leave a comment below or drop me a message and I will try it and let you all know my thoughts!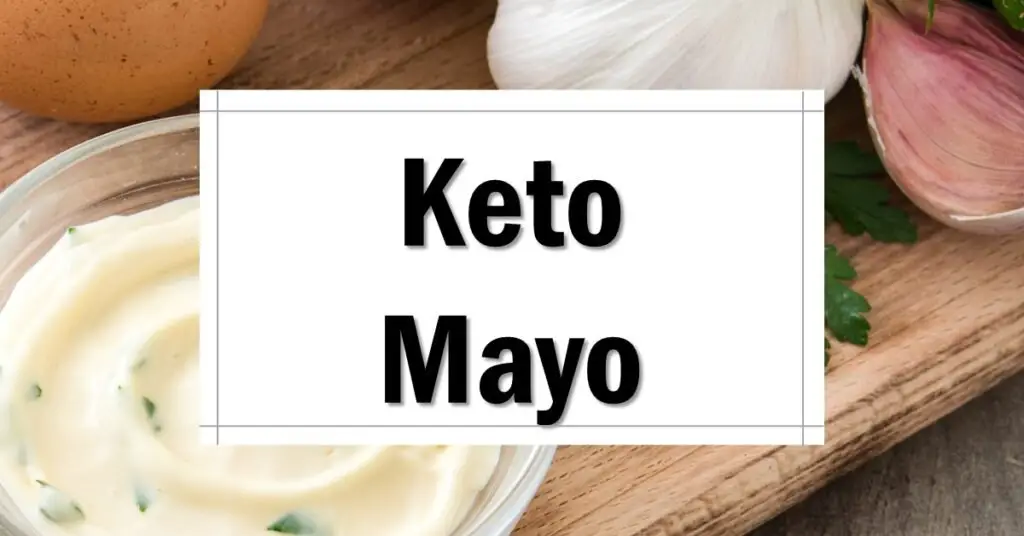 Homemade Keto Mayo
It's the way forward!
I do try and make my own mayo where possible.
I do go through a lot of it using it on salads, burgers, steak, and much more.
I make this once every couple of weeks and store it in the fridge.
It will last up to one week in an airtight container.
If I've got friends coming around, I will put this out on the table in a fancy pot of one of these little jars – nobody believes that this is a keto recipe.
Keto Mayonnaise Variants
There are loads of different options in relation to keto mayos – this is the simplest option that uses olive oil. I will add some of the other keto mayo recipes I use as we go along.
Others use avocado or avocado oil or coconut oil and they are all brilliant.
This is the original version and that's why I thought I would start on this one.
Can I Have Spicy Mayo on Keto?
Of course!
If you are dirty or lazy keto you can add a teaspoon if Siracha sauce to your 'regular', keto-friendly mayo to spice it up.
Siracha sauce does have a small amount of sugar in it, so if you are strict keto this may not be for you, otherwise, just ensure that it fits within your macros (IIFYM).
Check out these articles for more on Keto Terms and Keto Abbreviations to help you on your way.
Alternatively, you could try adding a teaspoon of hot paprika, this won't be as hot as siracha, but will give your mayo a kick.
Let me know what you think!
Easy Keto Mayo
Course: Lunch u0026amp; Dinner, Starters u0026amp; Sides
Ingredients
1 egg yolk

1 teaspoon Dijon mustard

250 ml (1 cup) olive oil

2 teaspoons white wine vinegar or lemon juice
Directions
Bring the egg and mustard to room temperature.
Mix egg and mustard in the NutriBullet
Add the oil slowly
The mayonnaise should begin to thicken. Continue to mix until all the oil has been added and the mayonnaise has thickened.
Add vinegar or lemon juice.
Mix some more and season with salt and pepper.
Leave the mayo in the fridge to rest before serving
STORAGE TIP
store in the fridge in an airtight container for up to 5 days
So, you're a mayo fan? Why not check out our keto tomato sauce recipe as an alternative?