Need to replace the carbs in spaghetti? Follow this quick keto courgetti recipe to replace those carbs in your life! Even my friend's daughter loves this keto courgetti – she doesn't even realize that she is eating veg! This may be the perfect, easy keto-friendly spaghetti alternative.
Disclosure: Some of the links in this article may be affiliate links, meaning that we may earn a small commission if you click through using our link and make a purchase. Please be assured that this will not cost you any extra money. Also, please be assured that we either use the products we recommend personally, or have been recommended by trusted friends who currently use them.
Keto-Friendly Spaghetti Alternative
Over the last decade, there has been a trend in using vegetables to replace carbs. We saw the humble cauliflower being made into pretty much everything. It wasn't going to be long before the humble courgette became the next savor!
This simple keto courgetti recipe makes the perfect, easy keto spaghetti alternative.
With a 100 gram portion of spaghetti having around 31 grams of carbs, finding a simple keto substitute for spaghetti was essential for me to survive on a keto lifestyle by staying within your macros and remaining in ketosis.
Also, you may feel that you need a 'side' to add to your main. This is a great option.
I'll be honest – I was skeptical about this one, but keto courgetti has become a staple in my house.
Why not try adding this courgetti recipe to these Italian meatballs; this is the perfect combination.
Keto courgetti is quick to cook and absorbs flavors well, therefore, makes a great keto substitute for spaghetti, and due to its relatively neutral flavor, it goes perfectly with everything!
This may be one of my favorite homemade keto substitutes for spaghetti.
Raw vs Cooked Courgetti
Courgetti can be eaten raw in a salad. I often do this for my lunches at work. If I am eating it raw I will toss it in a bit of lemon juice and season it with salt and pepper.
The lemon juice just helps to soften the courgetti a bit.
However, in this recipe, I am cooking the courgette.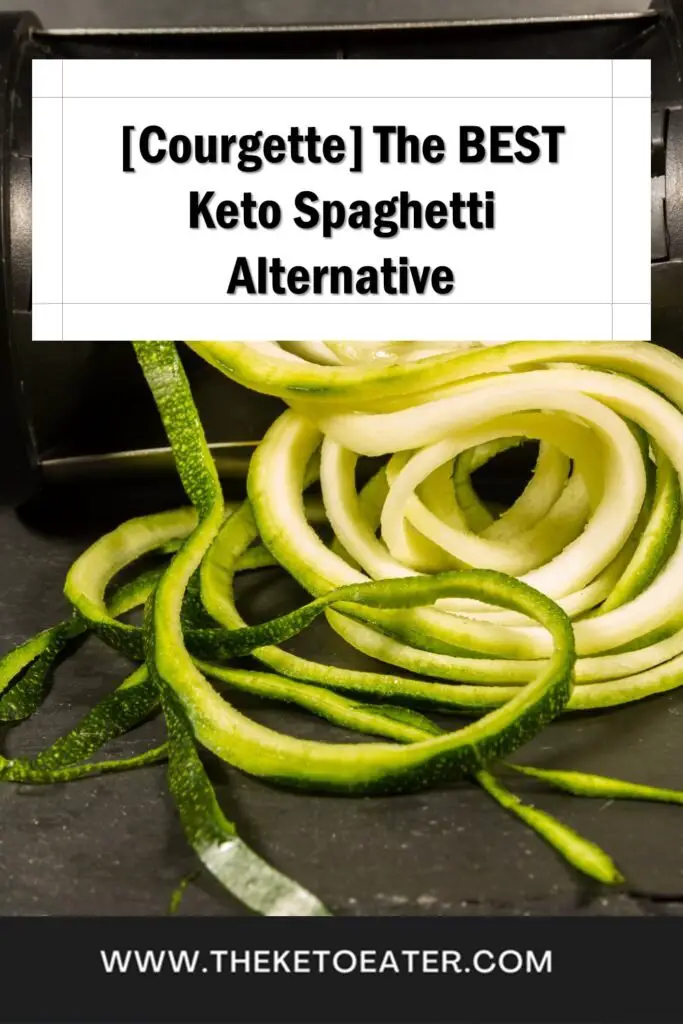 Cooked, I will use courgetti as a keto substitute for spaghetti and will eat it with anything I would have previously eaten spaghetti with – Chilli, Salmon, Bolognese, Meatballs, Grilled Chicken, etc.
This really is a great keto-friendly pasta alternative. Another way of eating it is to add it to soups, pho, or ramen-style broths that you would have added noodles or spaghetti to.
Why not try this on its own with a bit of parmesan grated on top – this makes for a perfect light lunch or guilt-free snack!
If you are looking for a rice alternative, why not try out this Cauliflower Rice; it is another fantastic keto-friendly pasta alternative to have with your keto meals.
Alongside finding a keto pasta alternative, a lot of people new to keto will be looking for alternatives to potato-based products too. If this is you, check out our Keto Potato Substitutes guide.
Also, if you are new to keto, you will find everything that you need to know to get started in our Keto for Beginners guide.
Cooking The Courgetti [Ready In 60 Seconds]
After heating oil in a pan, toss your courgetti using your silicone tongs so as not to burn yourself.
Do this for 30 – 60 seconds to ensure that they are cooked through. It really is that simple, which is what makes this dish a perfect 'go-to'!
If you have an air fryer you can use that too.
Give It A Go
Why not give it a go? If you like it please let me know! If you don't like it let me know why you didn't and I will see if I can adapt the recipe to suit your tastes.
Check out our Keto Spaghetti Alternative (aka Courgetti) here;
Courgetti (Spiralised Courgette)
Course: Sides, Main, Lunch
Cuisine: Italian, Mediterranean
Difficulty: Easy
Carbs: 1g Fat: 13g Calories: 156 – per serving
Ingredients
1 large courgette, spiralized

2 tablespoons olive oil

salt & pepper to taste
Directions
spiralize the courgette
heat oil in the pan
toss courgetti in pan for 30 – 60 seconds to ensure cooked through
season to taste
SERVING SUGGESTION
The perfect keto side dish for meats and fish or as a snack on its own
If you use MyFitnessPal why not check out this keto-friendly spaghetti alternative.