This keto kiwi & avocado smoothie is perfect as a keto-friendly breakfast on the go, or as a long drink on a hot summer's day. With only 4 main ingredients this smoothie couldn't be simpler to keep you on the keto-track. Need to use up almond milk or rapidly ripening avocados? Make this and freeze it for another smoothie day! Either way, throw it all in a Nutribullet and you're ready to go. This keto kiwi & avocado smoothie is perfect as a keto-friendly breakfast on the go or as a long drink on a hot summer's day.
Disclosure: Some of the links in this article may be affiliate links, meaning that we may earn a small commission if you click through using our link and make a purchase. Please be assured that this will not cost you any extra money. Also, please be assured that we either use the products we recommend personally, or have been recommended by trusted friends who currently use them.
Keto Kiwi & Avocado Smoothie: Perfect For On The Go
This keto kiwi and avocado smoothie recipe is creamy, deliciously satisfying, and nutritionally packed.
If I know I won't have time to sit and eat breakfast I will quickly blitz one of these up and put it in my flask for a keto breakfast on the go.
I also love this smoothie on a summer's days when I have time to spare.
I will sit in the garden taking in the morning sun sipping one of these for breakfast; it almost feels civilized.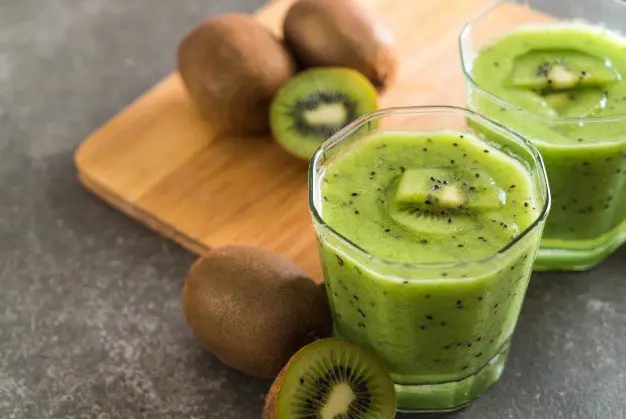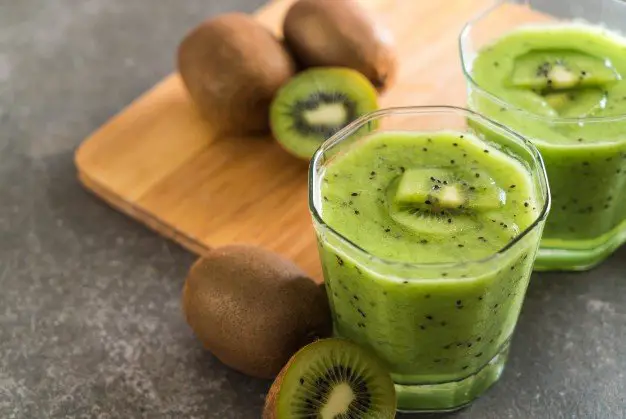 Guilt-Free Keto Smoothie
I have always loved smoothies. I used to be guilty of drinking these on the run thinking that I was being 'good'.
Initially, I would feel great, and then crash, looking for my next sugar fix.
In order for keto to work for me, I had to work out how to make wonderful tasting smoothies.
These provide me with an 'on the go' option for busier days. Keto smoothies are also a perfect keto breakfast alternative.
This keto kiwi & avocado smoothie does not disappoint.
It is low in carbs so can fit within your macros without spiking blood sugar and knocking you out of ketosis.
The Health Benefits of Kiwi on Keto
The kiwi gives a burst of freshness and summer that you sometimes just need.
The best bit?
Kiwi is packed with vitamin C. One kiwi has approximately the same amount as orange AND more potassium than a banana.
Kiwi fruit is also packed with antioxidants which have numerous health benefits.
Most importantly – they are really delicious!!
Avocados are like marmite, people love or hate them.
Even if you are a 'hater' try this smoothie. It's very different from eating them in their original form and combined with the almond milk they make for the smoothest, creamiest texture in this keto smoothie.
It makes the drink feel very creamy and decadent!
The Milk For Your Keto Smoothie
For this recipe, I use almond milk.
Almond milk is sold in most supermarkets. Be careful to look at the nutritional value on the back as some varieties (even the unsweetened ones) will have carbs in them or non-keto friendly sugars.
Keep looking and you will find ones with <0.5 grams per 100ml.
If you are unsure about what milks you can and cannot use on your keto diet, check out our keto eaters guide to milks on keto.
Over the years I've done a lot of research into this to find the best value products, I am currently looking at creating a 'keto pantry' with all of these ingredients listed to save you time.
If you are short on cash, or just living a frugal lifestyle, check out our article on how to do keto on a tight budget, and keto hacks, they will save you time and money.
There are several guides on how to make almond milk at home – I haven't tried this yet – there are only so many hours in a day!
If you try one though let me know how it goes and how long it takes – I am interested to know as it is something I intend to try at some point.
The Sweetener
This recipe doesn't specifically have sweeter added as the sweetness comes from the kiwi and the vanilla protein powder.
However, if you do have a sweeter tooth, powdered erythritol to taste would be the perfect addition to this keto smoothie.
Erythritol goes well in smoothies as it blends in without leaving a gritty or powdery taste as I've experienced with other keto sweeteners.
Making The Kiwi & Avocado Smoothie
It really is simple – I just place all of the ingredients in your Nutibullet and blend!
If you don't have a Nutibullet any blender will do.
Nutribullet cups are also travel-proof – so I don't end up with my handbag swimming in a smoothie!  
If I'm going to freeze this for another day I will pop it in my flask and freeze it.
I'll take it out of the freezer a few hours before I want to drink it or the night before and place it in the fridge so it doesn't get too warm!
Keto Kiwi & Almond Milk Smoothie
Course: Breakfast, smoothie
Cuisine: smoothie
Difficulty: Easy
Directions
Place all items in the Nutibullet and blitz until all of the ingredients have blended
Notes
Beautiful served over crushed ice