Beef tacos have always been a winner in my house. I don't know anybody who doesn't love these. These keto beef tacos are tasty, and vibrant. They are brilliant if you have family or friends gathered around the table for fun and laughter.
Disclosure: Some of the links in this article may be affiliate links, meaning that we may earn a small commission if you click through using our link and make a purchase. Please be assured that this will not cost you any extra money. Also, please be assured that we either use the products we recommend personally, or have been recommended by trusted friends who currently use them.
Nobody in my life doesn't like tacos – and these beef keto versions are no different.
I love eating and sharing food with friends, so 'picky' no-fuss food like this is perfect.
Are Beef Tacos Low-Carb / Keto-friendly?
The filling of most tacos is keto-friendly. If you break it down it's normally seasoned meat, salsa, guacamole, sour cream, and cheese. ?
All of my favorite foods are in one place!
I love the combination of the hot and cold ingredients, the spicy meat with the cooling cream, and the crisp of the taco shell with the creamy texture of the guacamole.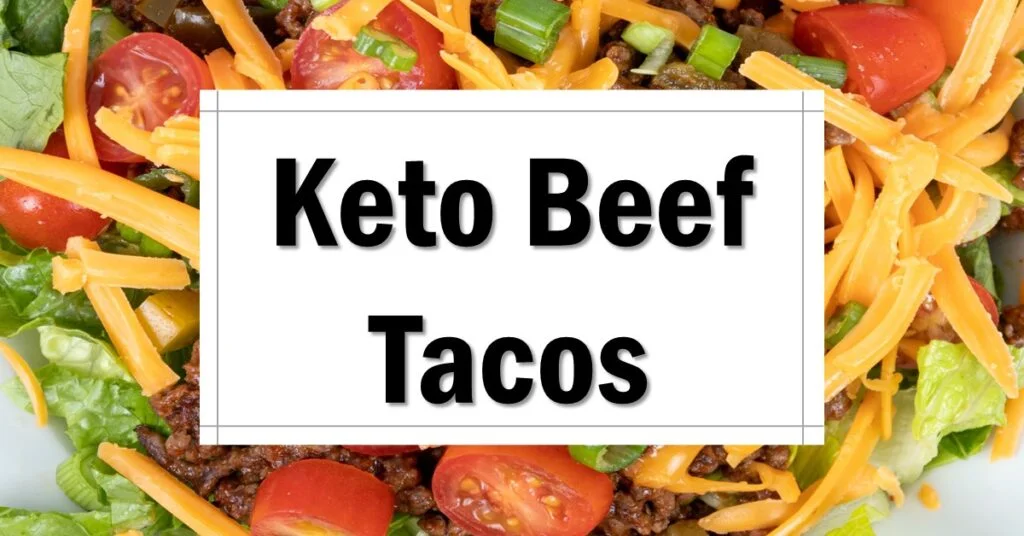 For anybody that follows me you will know that I purposely picked a keto way of living as I did not have to give up any of my favorite foods. Granted there are some substitutions made such as with the taco shells which I will discuss below.
However, on the whole, I eat all of the foods on keto that I did pre-keto; full of fun and flavor.
These keto beef tacos are no exception. I've been serving these up for years and for me to sustain a keto lifestyle there is no way that I would be passing these up.
Cooking your taco filling
For this I have used beef mince, there are a lot of other taco filling options for you. I will cover recipes on them over the coming months. Or if you can't wait for me why not check out some of these options?
Just remember to ensure that the ingredients are keto-friendly or that the ingredients that are not keto-friendly have been substituted.
What to cook my taco filling in?
I've had Tefal pans for years, and I thought they were great. Until recently that is. My lovely friend Jen bought me some amazing cast iron pans for my birthday (anybody that knows me, knows that this is the perfect present!).
These get super hot, which makes them amazing for searing meats and getting food crispy. They can also be thrown in the oven as the handles are metal. If you are at any point thinking of changing or 'upgrading' your pans, consider trying cast iron pans.
Keto Taco Shells – How to make them!
Taco shells are the 'carby' bit of any taco meal. There are a lot of different keto options to replace the non-keto taco shells.
One of my favorites is these cheesy taco shells.
I like these as they are close in 'crunch' to the non-keto taco shells that I used to eat pre-keto.
Check out this Keto Taco Shells 'how to'!
Lettuce is also another simple alternative to hold your taco filling. A fresh crispy iceberg or romaine lettuce will be up to the challenge.
What should I add to my keto beef tacos?
If you're anything like me you'll like to keep this simple, but full of flavor.
My favorite toppings for my keto beef tacos are;
Cheesy goodness (aka grated cheese) – cheddar, smoked cheddar, mozzarella, or monetary jack are all amazing options for adding to your beef tacos
Guacamole – most homemade guacamole recipes are keto-friendly – be careful with shop-bought ones as ingredients can be added to prolong the life of the product which is not keto-friendly. Never tried homemade? You're missing out! Check out this simple homemade keto guacamole and see what you think!
Sour cream – extra thick double cream works well too, or as an alternative, you can use full-fat Greek yogurt – they all have that lovely creamy cooling flavor and texture that teams perfectly with the spice of the filling
Salsa – again, homemade salsa is very keto-friendly. If you are using shop-bought just check the ingredients and carb count to ensure that it is keto-friendly.  
Have any more topping ideas? Let me know so I can share them with the amazing Absolutely Keto community!
Check out the keto beef tacos recipe here;
The BEST Keto Beef Tacos
Course: Deliciousness
Total time
1
hour
10
minutes
Ingredients
1 slice bacon, crispy, cooked

225g beef mince

45g tomato, chopped

1 garlic clove

35g onion, chopped

1 teaspoon taco seasoning

1 tablespoon olive oil

Salt and pepper, to taste
Directions
Add oil to heavy-based frying pan over medium heat, and then add bacon. Cook until done and then set aside. Then chop the bacon into small crispy bits for topping
Add oil to the pan over medium heat, and then add onion along with garlic and a sprinkle of salt, pepper and taco seasoning. Then add meat and cook while stirring often until nicely browned, for about 5 minutes.
When done, add to the taco shell and add toppings of your choice.
Love Mexican? Check out these other Keto-Friendly Mexican recipes, and why not enjoy these with an authentic tasting, keto-friendly margarita cocktail? You will not be disappointed!
If you have a keto Mexican recipe that you would like to see featured on this site, let us know and we will see what we can do for you!