It is hard to think of a better drink for the summertime than a margarita. If you're looking for a delicious, refreshing drink that won't pack on the sugar, take a look at this recipe for a low-sugar, homemade keto margarita cocktail. Perfect if you are on a low-carb, high-fat diet and one of our favorite keto tequila cocktails.
Disclosure: Some of the links in this article may be affiliate links, meaning that we may earn a small commission if you click through using our link and make a purchase. Please be assured that this will not cost you any extra money. Also, please be assured that we either use the products we recommend personally, or have been recommended by trusted friends who currently use them.
Low Sugar, Keto-friendly Margarita Cocktail Recipe
This Keto Margarita Cocktail is a drink that has great taste and doesn't have the sweetness of a regular margarita.
A traditional margarita is often very sweet, but with the low sugar margarita, you don't have to worry about the sugar content.
The low sugar margarita is ideal for those who are looking to watch their added sugar levels
Jump to Recipe
Origins Of The Margarita Cocktail
According to The National Geographic, the original recipe for the margarita is not known!
It is thought that it was developed by Mexican restaurant owner Carlos Herrera in 1938 for Ziegfeld showgirl and B-movie actress Marjorie King. King was allegedly allergic to all alcohol other than tequila but didn't like to drink it neat.
Carlos Herrera is thought to have solved the problem by adding the other ingredients to make the world's first margarita and for that, I think we all that Herrera!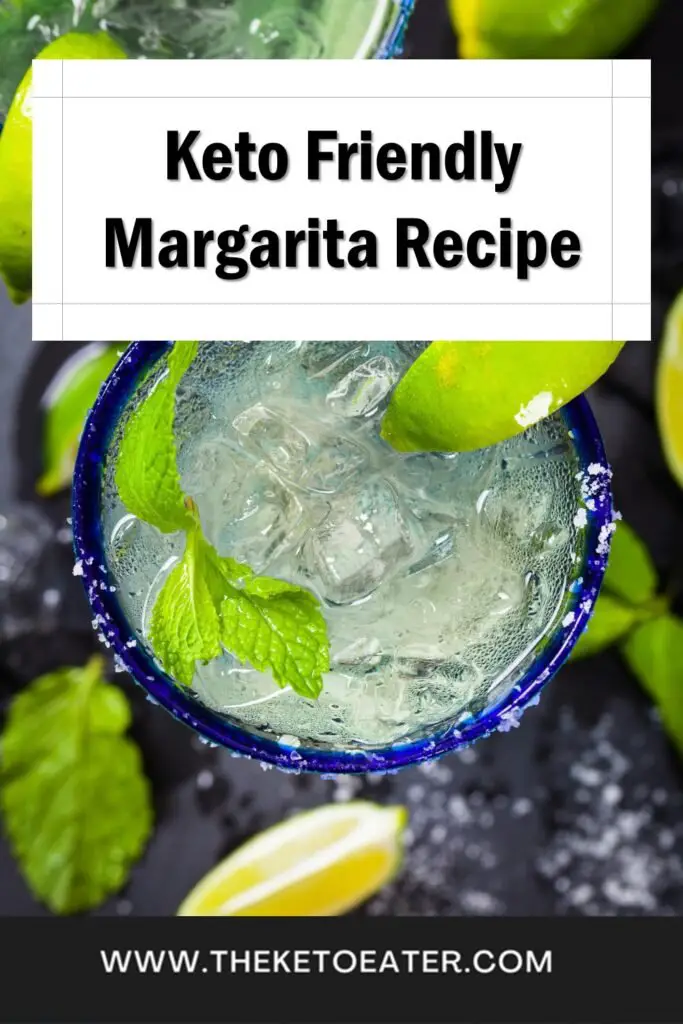 The original margarita involved mixing tequila and triple sec with lime juice and, sugar and the margarita was originally made with artificial sweeteners and limes.
Fast forward 60 years later, and the modern version of a margarita isn't all that different from the recipe that's been around since the 60s. The flavors of a margarita is the key ingredient in it being a classic.
While this keto Mexican margarita recipe has a few tweaks to the original recipe, the basic formula is pretty much unchanged and has the same fresh and tasty flavor, or its original counterpart and is better than restaurant margaritas.  
What Ingredients Do You Need For A Keto Margarita Cocktail?
The ingredients for the keto-friendly margarita mixture are really simple. If you don't already have these in your cupboard, they are easy to pick up online.
Moreover, once you have them, they will last in your cupboards for months. Or more likely, until you've drunk a fair few margaritas! Just be careful with pre-mixed margarita syrup as they can be packed with sugar.
Keto Margarita Ingredients
Serve with a slice of lime for garnish.
Is Tequila Keto Friendly?
Do you want the good news, tequila is keto-friendly! It has 0 grams of carbs per shot. This is not designed to encourage you to drink irresponsibly, just to reassure you that you can enjoy the odd treat like a keto-friendly cocktail, without knocking yourself out of ketosis.
If you want to know how many carbs are in different forms of alcohol, check out our guide to drinking alcohol on a keto diet.
Some people are very particular about the tequila they will drink, if you have a preferred tequila, let us know in the comments below so we can all give it a go! ???
Sugar Substitute For Keto Margaritas
EZ-Sweetz is my sugar of choice to make these delicious margaritas keto-friendly.
What Is EZ-Sweets?
EZ–Sweetz aka Liquid Sucralose is a concentrated liquid sweetener that has 0 carbs and 0 calories, making it perfect keto-friendly cocktail! It tastes like sugar, without any bitter aftertaste. It is easy to store and use. This is our low-carb sweetener of choice for these cocktails, we have tried powdered sweetener, but it did not dissolve properly.
Orange Extract
The Skinny Food Co (which I love!) is normally my go-to for sugar-free flavorings, however, I've just hopped over to their website and I can't find the orange flavor on there. I've scrolled the internet and I cannot find any other sugar-free, keto-friendly orange drops.
Traditionally orange-flavored liqueur would be used, unfortunately, there is too much sugar in these to use on keto.
There are a number of different orange drops available on Amazon, but none of these appears to be keto-friendly, so I'm afraid if you want to make this recipe it will have to be dirty keto and still fitting with your macros (IIFYM).
For more on macros check out this article
For more on keto terms like IIFYM, check out this article on keto abbreviation!
I don't mind using a little orange extract as I largely eat dirty keto most of the time anyway, and you will use such a small amount, I can make that sacrifice for these AMAZINGLY fresh and tangy keto-friendly margaritas!
If you want to know more about eating lazy, dirty, or strict keto, check out this article which will take you through everything that you need to know!
Mixing A Keto Margarita Cocktail
The key to a perfect keto margarita is in the mix. While you can easily find keto-friendly recipes on the internet, most of them do not include the right proportions of ingredients.
The biggest mistake people make when making margaritas is using a pre-made mix, which is full of carbs and sugar, despite advertising themselves as keto-friendly cocktail mixes.
If you are going for an authentic flare for your keto-friendly margarita, you will need to chill your glasses in the fridge first.
Mixing Your Keto Friendly Margarita Cocktail: The Slushy Method
I like my margaritas made in a blender with ice to make it like a slushy – for this you will either need an ice crusher or something like a NutriBullet that you can blitz up your ice with your other ingredients; blend until slushy or completely smooth, depending on which you prefer.
Be ready for brain-freeze!!
Mixing Your Keto Friendly Margarita Cocktail: The Shaker Method
If you are not using the slushy method, it's as simple as placing all of your ingredients in a cocktail shaker and giving it a good shake for 20-30 seconds, before pouring it into your perfectly chilled glasses with ice, et voila – the perfect keto-friendly margarita! 
Enjoying Your Keto Margarita Cocktail
Please remember to drink responsibly, and drink water in between cocktails! When you transition onto a keto diet, you can get drunk a lot quicker than before you stopped eating carbs.
Now I've done the responsible bit…why not embrace National Margarita Day or Cinco de Mayo and throw a keto Mexican-themed dinner party for your family and friends?
Nothing guarantees a keto dinner party success more than keto Mexican food and keto-friendly cocktails like this traditional margarita recipe!
Make sure you have some nice margarita glasses to serve your keto cocktail in.
Check out what you need and how to make your keto, low sugar margarita here;
Keto Margarita Cocktails: The No.1 Keto Recipe!
Course: Drinks
The Perfect Low-Carb Keto Margaritas
Ingredients
Serves 4 2g

100ml tequila

3 teaspoons Lemon juice (fresh squeezed)

3 teaspoons Lime juice (fresh squeezed)

14 drops EZ-Sweetz

2 drops Orange extract

Sugar-Free Tonic Water of Soda Water (optional)
Directions
Chill your margarita glass (the easiest way is to fill it with ice)
Put lots of ice and all of the ingredients into a shaker, then shake hard for about 30 seconds to chill the liquid really well
Run a lime wedge around the outside of the rim of your glass before rolling the rim in salt
Double strain the mix into the glass
TOP TIP!
If you want to make your Skinny Margarita a longer drink, you can add diet tonic water, soda water or any other low-carb mixer.
A Traditional Margarita: Made Keto
Alcohol consumption should be limited on a keto diet, however, now and then a cocktail is required. This margarita with its fresh and fruity flavor is the perfect drink and hits the spot every time. Give it a go today.
Want to see other keto-friendly cocktails on here? Let us know what your favorite cocktail is, and we will find a keto alternative for you and post it here.