The perfect chocolate chip cookie is the holy grail. These Keto Chocolate Chip Cookies are perfect for any occasion. These Keto Cookies have a beautifully soft center that we all crave in a cookie. Kids and adults will be fighting over these!
Disclosure: Some of the links in this article may be affiliate links, meaning that we may earn a small commission if you click through using our link and make a purchase. Please be assured that this will not cost you any extra money. Also, please be assured that we either use the products we recommend personally, or have been recommended by trusted friends who currently use them.
Keto Cookies: The Perfect Choice
These cookies are great if you want to bake with the children, have guests coming around, or if it's your turn to take the sweet treats into work.
These are particularly simple and quick to make if you find yourself having unexpected guests.
Keto Chocolate Chip Cookies With Almond Butter
Almond butter is used in this cookie recipe. I have several choc chip cookie recipes and the majority of them use almond flour as opposed to almond butter.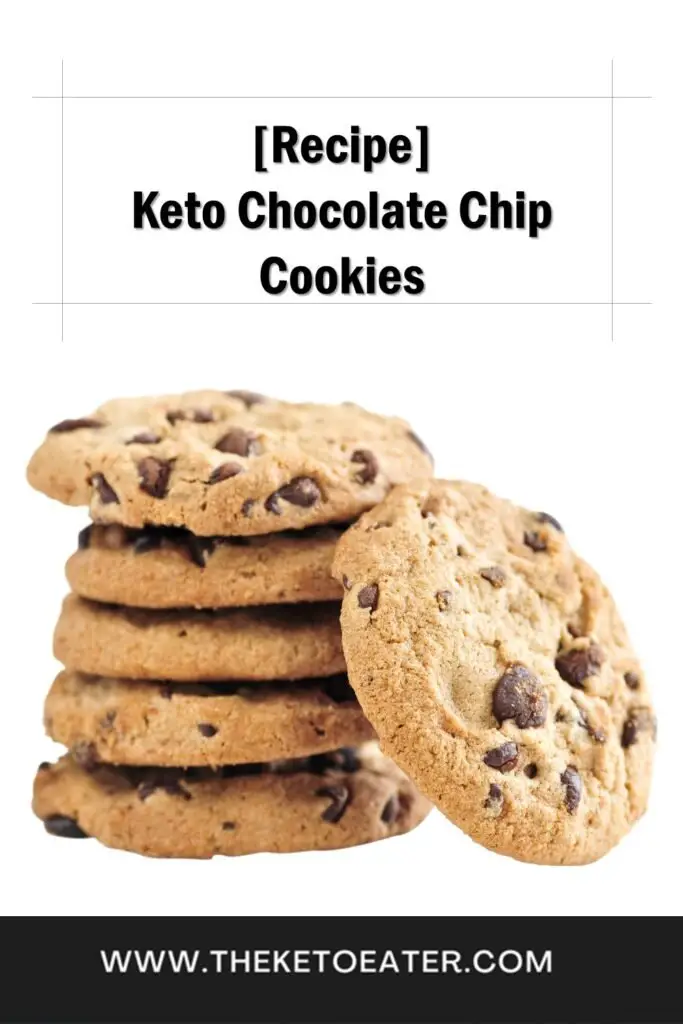 Almond butter will give you a soft cookie experience whereas using almond flour will give you more of a 'crispy on the outside and soft in the middle' cookie experience.
Let's face it – the distinction is necessary as some people can be very protective of their cookies.
What Sugar?
If you google this you will get an endless number of answers from truvia, stevia, xylitol, monk fruit, and many more.
I have experimented with all of these in these precious keto cookies.
By far the winner for this recipe is the Sukrin Gold which is keto-friendly.
It is a keto alternative for brown sugar.   
For more on keto friendly sugars, check out our guide here.
Can I Freeze My Keto Cookies?
Yes, you can!
Once your cookies have cooled you can pack them into an airtight box. Any of you that follow me will know that I use Lock & Lock for everything – including freezing!
To ensure that your cookies do not stick to each other place reusable silicone paper between the layers or baking parchment.
I only use silicone paper as it can be washed and re-used time and time again.
Leave out to come up to room temperature before serving.
Buying Keto Chocolate Chips
You can buy keto chocolate chips online.
I have bought them previously and they are lovely.  
They do work out quite expensive for the quantity that you get, but sometimes needs must!
DIY Keto Chocolate Chips?
If you've got time on your hands, you're wanting to save a few pennies or you're trying to occupy the kids, why not make your own keto chocolate chips?
I've got this really funky chocolate chip mold online and I make my own. Meltdown any chocolate that is at least  85% cocao. Pop them in the fridge for 1 – 1.5 hours before popping them out of the mold.
These can be stored in an airtight container in the cupboard or in the freezer.
Anyway – less of me talking about how wonderful these cookies are, give them a go and let me know what you think in the comments below!
Are these THE BEST Keto Chocolate Chip Cookies?
Course: Guidance
Ingredients
1 egg

70g creamy almond butter 

1 teaspoon vanilla 

35g brown sugar Sukrin Gold

6 tablespoon chocolate chips, sugar free or dark

1 teaspoon baking soda
Directions
Preheat the oven to 175C and line the cookie sheet using a silicone baking mat or parchment paper – spray with olive oil to lightly grease to ensure the cookies do not stick.
Combine all the ingredients into a bowl except the chocolate chips, and then mix everything well using a spoon until evenly and completely mixed through. When done, stir 35g of the chocolate chips into the mixture.
Prepare the dough balls by scooping 1 ½ tablespoon of the dough for every cookie, and then place the cookie on the silicone mat / lined baking sheet. Space the cookies well, about 2 inches apart, and then evenly spread the cookie surfaces with the remaining chocolate chips.
Allow the cookies to bake until puffed and have turned slightly golden brown, for about 8 minutes.
Although the baked cookies will look underdone, allow them to cool completely until fully set, and then remove them from the cookie sheet using a spatula
Enjoy with your favorite warm drink…possibly even a decadent keto hot chocolate
If there is a recipe that you are looking for and you cannot find, let us know in the comments below and we will see what we can do!