This keto tom kha gai soup recipe is a rich and creamy coconut broth that is loaded with keto-friendly, high-quality ingredients. This soup can be made in a slow cooker or pressure cooker (insta pot), and can be frozen in portions for a quick and easy meal any night of the week. This keto Thai Coconut Chicken soup recipe is a rich and creamy coconut broth that is loaded with keto-friendly, high-quality ingredients. This soup is made in a slow cooker or pressure cooker and can be frozen in portions for a quick and easy meal any night of the week.
Disclosure: Some of the links in this article may be affiliate links, meaning that we may earn a small commission if you click through using our link and make a purchase. Please be assured that this will not cost you any extra money. Also, please be assured that we either use the products we recommend personally, or have been recommended by trusted friends who currently use them.
This Keto alternative to the classic Tom Kha Gai Soup aka Keto Thai Coconut Chicken Soup is a force to be reckoned with!
The cream coconut undertone combined with the 'kick' from the red curry paste will leave you satisfied and wanting more, all at the same time!
This low carb Thai Coconut Chicken Soup proves that Keto Thai food can be quick and simple to make.
Why not wow your friends with the Keto Thai dinner party – don't tell them it's all low-carb and see if they can guess!
Is Thai Food Keto-Friendly?
While you might think that Thai food is off-limits on the keto diet, there are a few dishes that are perfectly keto-friendly.
Thai food is traditionally made with ingredients like fish sauce, which contains healthy fats and protein, and fresh vegetables, which can be enjoyed while staying low-carb, especially with a few substitutions.
In this article, we'll show you how you can enjoy Thai food and still stick to the keto diet!
Some restaurant-made Thai food will be keto-friendly, or with a few alterations, can soon be made Keto-Friendly.  
If you are eating out, it has always been my experience that restaurants are keen to help you and if you ring ahead and speak with them, they are normally happy to take on the challenge to make their dishes keto-friendly.
Homemade Thai food can easily be made keto-friendly and this low carb Thai Coconut Chicken Soup is no different.
There are a number of Keto Thai recipes already on this site – just type 'Thai' into the search bar and see what you can find!
If you don't find something that you would like to see – let me know in the comments below and I will see what I can do.
I love creating Keto-friendly Thai recipes just like this low carb Thai Coconut Chicken Soup.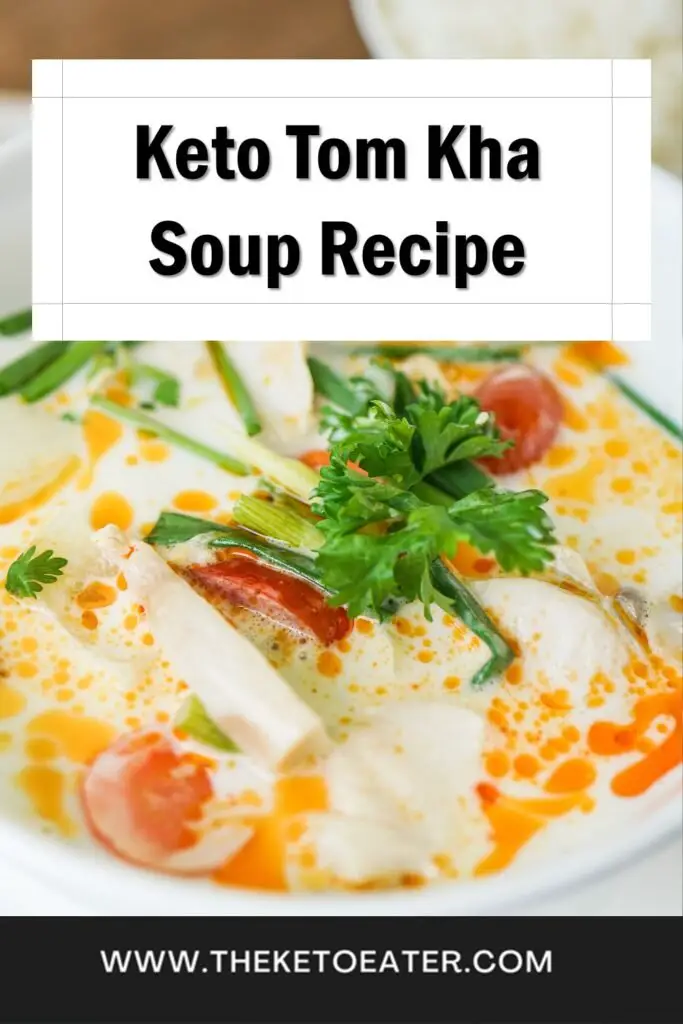 Authentic Keto Thai Recipes
It has been years since I traveled to Thailand. It has always been my intention to return, but there are so many amazing places in the world that I haven't made it back yet.
I tried A LOT of amazing food when I was there. At that time, I wasn't even eating low-carb, and I had never heard of Keto. I wasn't trying to deconstruct every taste to see how I could make the Thai flavors keto-friendly.
Even if you love Thai food, you may have trouble figuring out how to make keto Thai food taste good, and it's not because authentic Thai food is bad for keto.
Thankfully, with a few tweaks, you enjoy your favorite Asian flavors while staying true to your keto diet.
As you will see my Keto Thai Chicken Soup doesn't differ much from this non-keto version of the recipe.
Since this time, the closest I have come is my local Thai restaurant. It is amazing! My friend ordered this on one of our last visits, I tried a mouthful, and, honestly, it tasted just like this recipe!?
What ingredients do I need to make Keto Thai Chicken Soup?
I'm not going to lie to you, this Keto Thai Chicken Soup recipe does need a few more obscure ingredients. That being said, I live in a sleepy hollow, and if I can manage to find them, I am sure you can too!
Chicken Broth
There are a number of Chicken Broths / Stocks that you can buy in the supermarkets – please check the ingredients before you buy these. As with most things, they vary greatly in quality and ingredients.
The only way to guarantee that you are getting the best quality and minimal carbs for your Keto Thai Chicken Soup, is by making the broth / stock yourself.
Here is my recipe for Chicken Broth. It may look daunting at first, but once you have made it once, you'll see how simple it is!
Thai red curry paste
Thai cuisine is a combination of four fundamental taste senses in Thai food: spicy, sour, salty, and sweet. This is why a Thai curry is often known as a "four-in-one" dish since it typically packs the flavors of all of these in one dish.
Thai red curry paste is one of the most popular and flavourful ingredients in Thai cooking, and keto Thai cooking is no different! It gets its color from red chili peppers and a mix of spices.
You can buy red curry paste online or in some larger supermarkets, just be careful to check the carb count.
If you are feeling adventurous and want to make your own. Here is my recipe for red curry paste that I personally used in this low-carb, Keto Thai Chicken Soup recipe, and many more.
As with the chicken stock, this seems a lot of work the first time that you make it, but after that, it is simple and can be made in bulk and frozen and used for a variety of different recipes.
Fish Sauce vs Coconut Aminos?
If you are allergic to fish you can always skip the prawns. Also, if you do not want to use fish sauce in this recipe, you can substitute it for Coconut Aminos. I use these a lot in my Asian cooking.
Coconut aminos is a unique substitute for soy sauce and fish sauce that is gaining popularity in the keto community. With around 8g of carbs per tbsp, soy sauce is not ideal for the carb conscious!
Coconut aminos have just 1g of carbs per tbsp! It also has a sweeter taste than soy sauce, which makes it a great alternative.
This article takes you through all of the benefits of coconut aminos – there are plenty!! From a Keto point of view, Coconut aminos are low on the Glycaemic Index (GI) and therefore, so not spike blood sugar.
It makes a good alternate to Soy Sauce too, which can be high in carbs. I personally use it in this low carb Thai Chicken Soup recipe; it adds a wonderful sweetness to the recipe.
Mushrooms
This recipe calls for Oyster Mushrooms. They originate from Asia and are the most authentic to use in your Asian cooking.
This Low-carb Thai Chicken Soup is better for using Oyster mushrooms; however, they are slightly pricier than regular mushrooms.
I buy dried Oyster mushrooms, these last for months in the cupboard. They often work out cheaper than buying fresh, and I always have them when I need them!
If you can only get hold of regular mushrooms, you can use these too. The taste and texture are slightly different, but it's not a game changer!
Check Out This Keto Thai Coconut Chicken Soup
---
The BEST ever Authentic Keto Tom Kha Gai Soup aka Keto Thai Coconut Chicken Soup.
Course: Guidance
Cuisine: Thai
Ingredients
2 teaspoons fresh ginger, sliced

2 tablespoons coconut oil

225g skinless chicken thigh, boneless, cut into small pieces – (this is the rare occasion when I will say skinless!)

2 spring onions (scallions), sliced, white and green parts separated

140g chicken broth

380g coconut cream

1 tablespoon erythritol, granulated

170g oyster mushrooms

1½ teaspoon garlic powder

1 red pepper, seeded and cut into bite-size slices

8 prawns, peeled, cleaned (if you don't like fish or are allergic you can miss this out)

2 tablespoons Thai red curry paste

1 tablespoon fresh lime juice

2 tablespoon Fish Sauce or Coconut Aminos
Directions
Heat oil into the pan over medium heat, and then add the red pepper along with the white part of the spring onions (scallions), ginger, red curry paste and garlic powder. Cook while stirring more often for about 5 minutes until the red pepper and the spring onions (scallions) have softened.
Add the broth into the pot and bring to boil, and then reduce the heat to low for simmering. Simmer without closing the lid for at least 20 minutes and then add the chicken, mushrooms, coconut cream and the prawns.
Allow to simmer for about 10-15 minutes until the prawn and the chicken pieces are cooked through.
Then add the fish sauce along with tamari, erythritol and lime juice into the pot and cook for additional 3 minutes.
Adjust on flavors if desired and serve the soup into the bowls.
Garnish the soup with coriander leaves and green spring onions (scallions) and enjoy!