A good curry paste is the key to creating the perfect curry, whether you're eating, Indian, Malaysian or Indian. This is the perfect Keto-friendly Thai Red Curry Paste. What's more, nobody will know that is Thai red curry paste keto-friendly! Wow, your family and friends in an instant.
Disclosure: Some of the links in this article may be affiliate links, meaning that we may earn a small commission if you click through using our link and make a purchase. Please be assured that this will not cost you any extra money. Also, please be assured that we either use the products we recommend personally, or have been recommended by trusted friends who currently use them.
Authentic Keto Thai Red Curry Paste Recipe
OK, full disclosure, to make a truly authentic Thai curry paste there are a lot of ingredients that you would need that are hard to source in the UK or outside of Asia.
This is the closest I have found to creating an authentic taste whilst still being able to readily get hold of the ingredients. This Keto Thai Red Curry Paste Recipe truly deserves awards.
I cannot wait to travel around Thailand again to try some more authentic recipes and then make them keto-friendly!
Is Thai Red Curry Paste Keto Friendly?
How Many Carbs In Thai Red Curry Paste?
Shop bought Thai Red Curry Paste has on average around 4.5 grams of carbs per serving. All in all, I don't think that is too bad!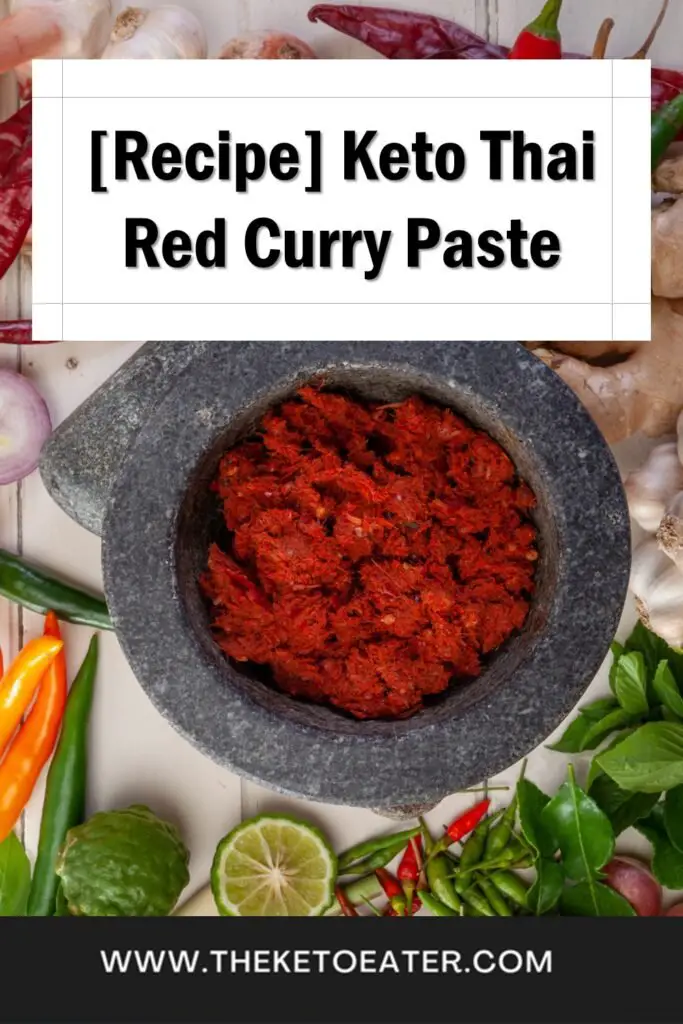 You have to be careful though, as some shop-bought pastes will contain sugar.
Why buy when you can have homemade Keto Thai Red Curry Paste?
Ok, so being realistic about this most shop-bought red curry pastes are keto-friendly. But, why buy when you can have your own, aromatic, homemade keto-friendly Thai Red Curry Paste and all of the smugness of knowing that you made it yourself?!
This homemade Keto Thai Red Curry Paste only has 3 grams of carbs. If you're like me and like the most bang for your buck…you're saving a whole 1.5 grams of carbs. ⚖️ You know what that means?? More food!!
Ingredients: Keto Friendly Thai Red Curry Paste
Don't worry! There are not 100's of complicated ingredients in this recipe. Galangal is the least common ingredient in this recipe.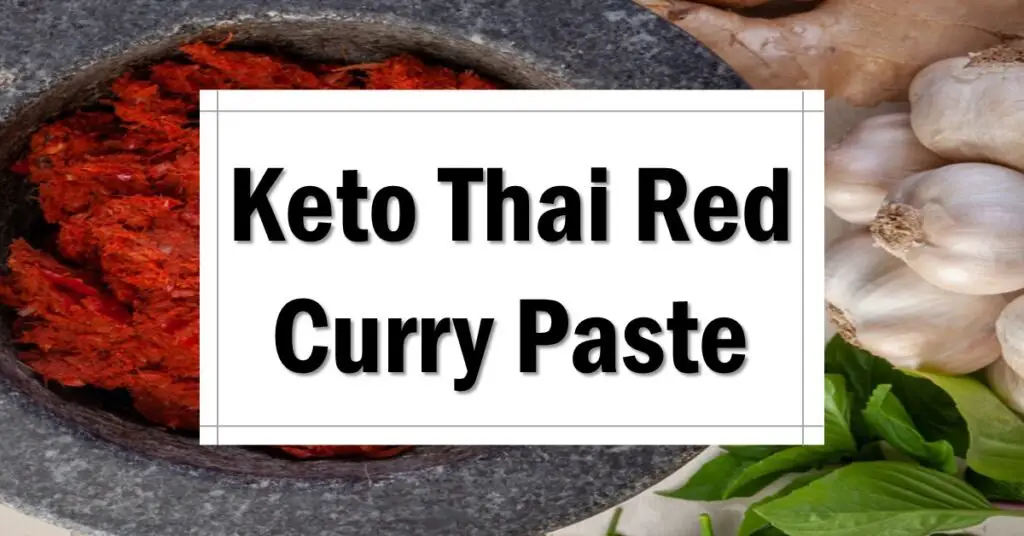 Galangal root is native to Southern Asia and is related to ginger and turmeric. Like ginger and turmeric, it has anti-inflammation benefits, which is great if you suffer with your joints, which often happens if you're carrying a bit of extra weight.
So basically, this keto-friendly Thai Red Curry Paste is medicinal!
Make In Advance
If you're like me and you are always rushing around, no matter how much you plan, you may want to make this in advance. I not only make this Keto Thai Curry Paste in advance (normally on a weekend when I'm off work) to use down the week when I know I'll be pushed for time.
I'm not going to lie though, there is a bit of work that goes into making this curry paste, so I do make this in bulk.
How To Store Keto Thai Red Curry Paste
If you are keeping your Curry Paste Fresh
This paste should last fresh in the fridge for 3-5 days. Keep it in an air-tight container, otherwise, everything in your fridge will smell of your paste.
If you are making this in bulk, why not freeze it?
I do make this in bulk and I freeze the paste in the freezer. I normally make this in batches of 6, purely based on the fact that I am lazy! I freeze these in batches of 20 grams. Freeze this in an air-tight container. It should be ok in your freezer for up to 3 months.
A 20 grams portion of this Keto Thai Red Curry Paste recipe should be enough to make two portions.
Serving Suggestions: Keto Thai Curry Paste?
  Keto Thai Red Curry Chicken Curry
  Keto Thai Red Shrimp Curry
Do you have some other suggestions on how you can use your Keto Thai Red Curry Paste? Share it with the group in the comments section below.
Check out your Keto Thai Red Curry Paste recipe below;
Simple and Authentic Keto-Friendly Thai Red Curry Paste: The No. 1 Recipe!
Course: Guidance
Ingredients
10g Thai Red Chillies dried

2 Fresh Thai Red Chillies

4 cloves garlic (increase if you like it extra garlicky!)

30g Thai Shallots

5g Coriander (dry will do or if you have fresh use the stalks for extra flavor)

15g Lemongrass

15g Galangal

1/2 teaspoon Shrimp Paste (or 1 teaspoon vegetarian stir fry sauce if allergic to fish)

1/2 teaspoon salt

1/2 teaspoon White Pepper Powder

1 Kafir Lime Just the zest we don't use the lime itself.
Directions
Whilst getting everything else prepped soak the dried chili in order to rehydrate them – once completed add to the spice grinder
Roughly chop the lemongrass and galangal
Add the fresh chilies, galangal, and lemongrass to the grinder and pulse until combined
Chop the coriander roots, shallots, and garlic and add those to the already pulsed ingredients
When combined add the zest of the Kafir lime and add that in – this should loosen the mixture.
Add the shrimp paste (or vegetarian stir-fry sauce) and blitz again
Finally, add the white pepper powder to taste
Alternatively, you can just put everything in a grinder/food processor with a tablespoon or two of water and blitz it.
Notes
This should last in the fridge for 3-5 days OR freeze in 20g portions
Have you tried this keto Thai red curry paste recipe? If so, what did you think? Let me know in the comments below.