Pork belly, is the ultimate cut of meat for the low carb, ketogenic dieter. With its rich flavor and fatty texture, it is universally loved by all. This recipe is sure to please your cravings with its sweet and spicy flavors, and tender pork belly.  Not only is this dish a treat for your taste buds, but it is an easy recipe to cook. This dish can be made in an electric pressure cooker, or in a slow cooker.
Disclosure: Some of the links in this article may be affiliate links, meaning that we may earn a small commission if you click through using our link and make a purchase.  Please be assured that this will not cost you any extra money. Also, please be assured that we either use any of the products we recommend personally or have been recommended by trusted friends who currently use them.
I love pork belly and this keto sweet and spicy pork belly is no exception! Let me just get this one out there – if keto didn't involve pork belly I would not be living the keto life.
This Keto sweet and spicy keto pork belly will not disappoint in any way.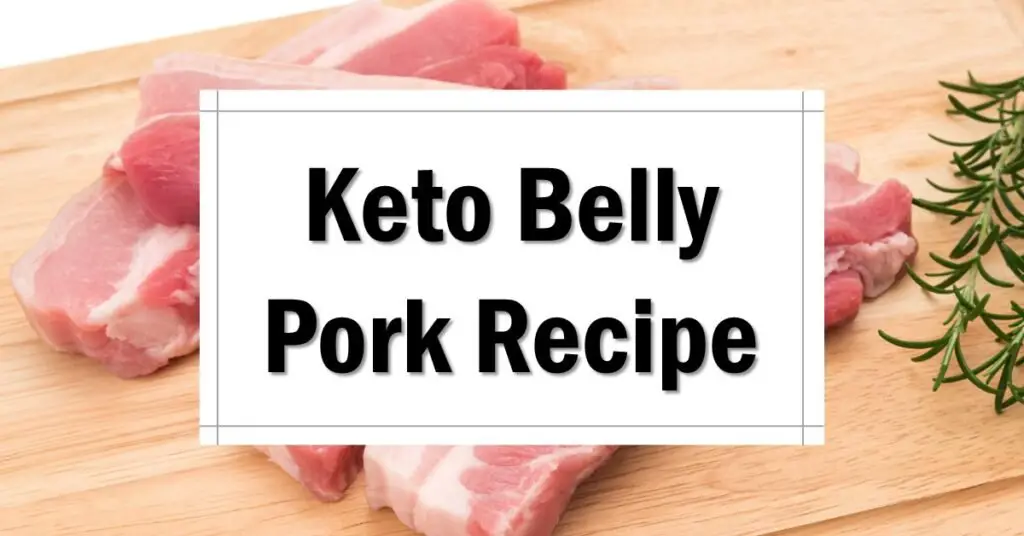 The best bit?
You only need one pan and it can be put together in advance and leave it to cook whilst you get on with your day.
Can You Eat Thai Food On Keto?
Generally, Thai food is known to be a bit on the sweet side thanks to the fact that much of it is prepared with coconut milk.
Thai dishes also tend to include ingredients like peanut sauce and sugar.  However, all hope is not lost if you're a fan of Thai food.  Even if you're eating the strict keto diet, you can still eat Thai food, with a few minor tweaks that can make Thai food keto-friendly.
If you want to find out more about lazy, dirty, and strict keto check out this article.
Where I live, there is only one Thai restaurant and it has never disappointed, if friends come from out of town, or those that have moved away come back to visit – we always go there.
Since going keto they have been very accommodating with me too …and the best bit? They now have an all-you-can-eat menu (dangerous I know!).
All you can eat can be great for us keto-ers as you can pick the bits that suit you without trying to share with other people and feel awkward when you're vetoing all of their choices!
Thai Food On Keto
I didn't realize how easy to adapt Thai food on Keto in order to make it sugar-free and low-carb! Thai food can easily be made keto-friendly with a few tweaks. Soy Sauce can be swapped out for Coconut Aminos and sugar can be switched out for erythritol.
Thai Pork Belly On Keto
One of the most delicious cuts of pork is pork belly (also called pork butt or pork shoulder). This cut of meat usually comes from the belly of the pork animal and is used to make bacon. While it is considered to be fattier meat, this makes it perfect for a keto lifestyle.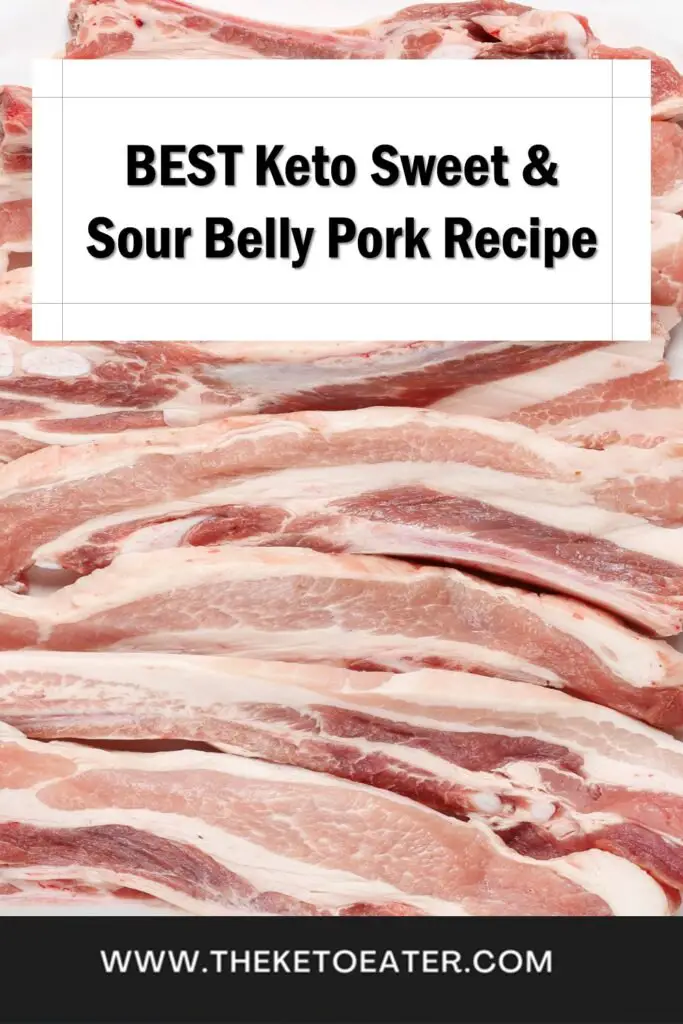 This Keto Thai Pork Belly is perfect for a keto diet due to its high-fat content. For me, belly pork is one of the best cuts of pork. Belly pork is full of flavor and it is normally a cheaper cut of meat.
As long as you cook pork belly long and slow it will be full of flavor as opposed to just being 'fatty'. With this Thai keto pork belly, I like to plan ahead and leave the meat marinating.
This gives all of the amazing flavors time to infuse with the pork belly.  
Oven Vs Slow Cooker?
The answer is simple, either!
If I know I'm going out for the day and it times better I will throw all of the ingredients into the slow cooker I will do that and leave it on low in the morning ready for the evening.
If I'm going to be in the house all day, or have got in from work early, I will cook my keto pork belly in the oven.  Both methods create the most amazingly soft and juicy pork – you won't be disappointed.
Keto-friendly Sides For Pork Belly
I love this with a plain side such as cauliflower rice – that way the star of the show is the pork belly with nothing distracting from the lovely flavors.
I'm not going to lie – I also love this with a glass of dry white wine – don't judge me!
I often eat dirty keto, so will enjoy a glass of dry white wine for around 3 grams of carbs. If you want to learn more about drinking alcohol on keto check out this article, it takes you through the carb counts of different types of alcohol, and, most importantly, how to avoid a keto hangover and stay in ketosis!
Check out how to make this Keto Sweet and Spicy Pork Belly here;
Keto Sweet and Spicy Pork Belly – Sugar-Free, Low Carb, Grain-Free Deliciousness!
Course: Guidance
Ingredients
Sauce

3 garlic cloves

500g pork belly, sliced

1 tablespoon apple cider vinegar

1 teaspoon ground ginger

¼ teaspoon of Thai Chili powder – or one fresh chili – Thai if you can get hold of them

1 tablespoon granulated sweetener (I like erythritol)

420ml chicken stock

Glaze

1 teaspoon chili pepper flakes

2 tablespoons olive oil

1 ½ tablespoons granulated sweetener

1 teaspoon ground ginger

2 tablespoons soy sauce or coconut aminos

Salt and pepper, to taste
Directions
If cooking in the oven preheat to 180C
Score the fat on the pork belly
Add chicken stock (and ¼ teaspoon of Thai chili powder) to the cooking pot over high heat along with the remaining sauce ingredients, and then stir well.
Bring to a boil and then add the pork belly.
If cooking in the slow cooker – add all of the above to the pot and leave on low for 6 hours or medium for 4 hours.
If cooking in the oven – place in a lidded casserole dish and in the oven for 1.5 hours.
For the glaze
Then add all the glaze ingredients to a frying pan and heat through until bubbling.
Add the pork to the pan either as a whole if you're serving it that way, or if you're going to serve it in slices or cubes, cut first before adding to the pan.
Fry until the pork has become sticky, dark, and slightly crispy.
Remove from heat and serve.
Do you have a favorite keto port belly recipe? Share it with us all below.