How can keto granola taste this good, be low-carb, sugar-free, and healthy?! This is the BEST homemade keto granola recipe you will find! It makes the perfect keto breakfast, dessert, or snack on the go!
Disclosure: Some of the links in this article may be affiliate links, meaning that we may earn a small commission if you click through using our link and make a purchase. Please be assured that this will not cost you any extra money. Also, please be assured that we either use the products we recommend personally, or have been recommended by trusted friends who currently use them.
This is the BEST low-carb, keto-friendly, sugar-free granola that you will find.
YES, IT IS!!
This homemade keto granola makes for a perfect keto breakfast on the go, snack, or dessert!  
You can make this Keto granola in advance and store it, ready for when you need it.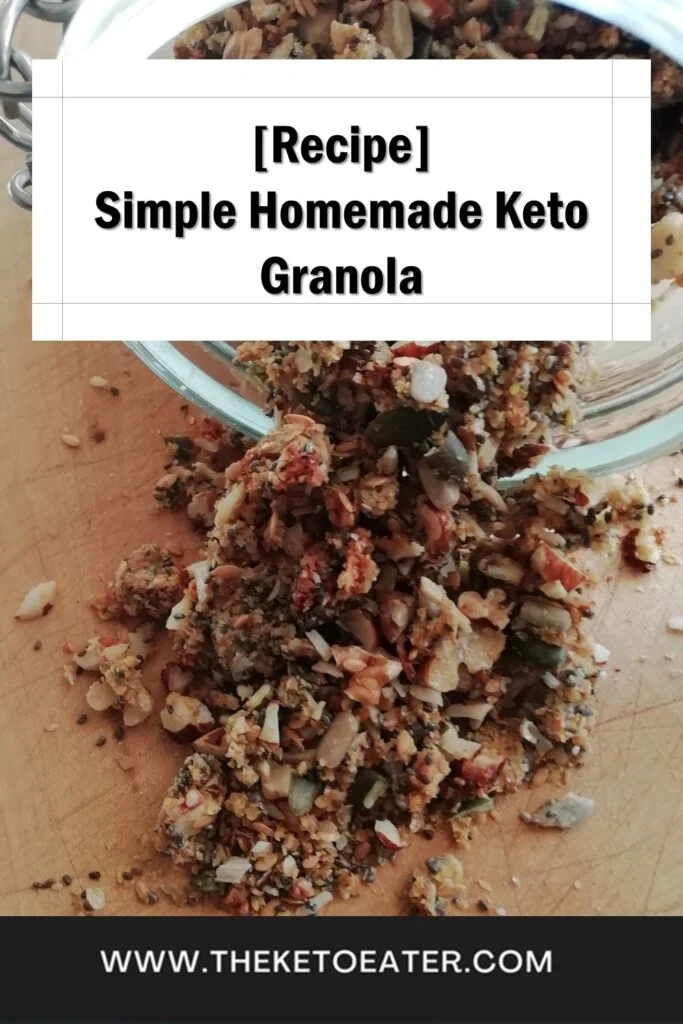 Is Granola Keto friendly?
For years I thought I was being healthy, eating homemade granola and low-fat yogurt for breakfast.
Now I understand all that this did was increase my blood sugar levels, meaning that I was hungry by mid-morning and looking for my next sugar-filled snack!
Even the good quality shop-bought granola has between 30-50 grams of carbohydrates per serving. This means that even if you are eating a low-carb diet, shop bought granola isn't going to be your friend!
Not a problem through – this homemade keto granola recipe is simple to make and can be made in bulk, so you don't have to faff too often.
Homemade Keto Nutty Granola
There are a lot of different low-carb granola recipes out there.
This one, I have tweaked and perfected over the years. This keto nut granola has a lot of different textures and tastes in it.
This recipe has the perfect balance of savory and sweet and teams perfect with full-fat yogurt in the morning as a Keto Breakfast or any time of the day as a keto-friendly snack or dessert.
Your only challenge will be not eating too much of it!
Altering Your Keto Granola Recipe
As perfect as I think this recipe is, – it's no good if you are allergic to or do not like nuts!
I make this for my mother all the time, but she doesn't like walnuts, so I leave them out and just add a little more of what you like.
The number of carbs in nuts can soon add up so you need to be mindful of your portion size.
How Many Carbs Are There In Keto Granola? 
This is a difficult one to answer as it depends if you keep this recipe as it is or substitute different nuts and quantities of each nut!
As made a 40-gram serving will have in the region of 7 grams of carbs, hence why you have to be careful as you can soon eat too much and go over your 20 grams of carbs a day.
This isn't too much of a worry if you are looking for a low-carb granola recipe as you can eat this liberally!!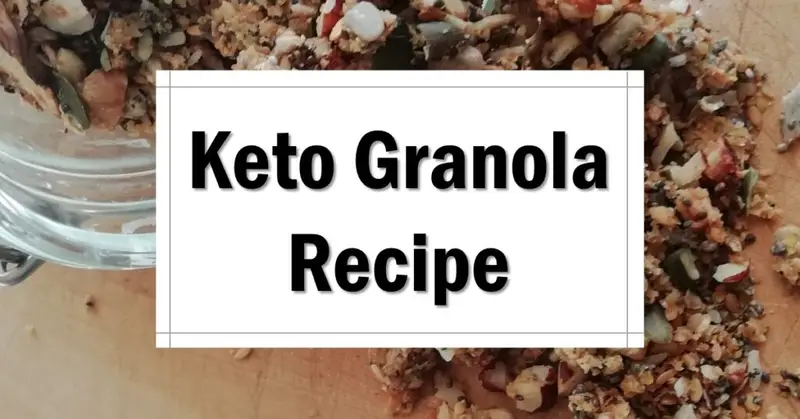 Making Your Keto Friendly Granola
Chopping Your Nuts And Seeds
How you like your keto granola is a really personal thing! Some people like their granola quite chunky and others like it quite fine.
Me? I like min somewhere in the middle!
I like some bigger crunchy bits; these take you longer to eat – it makes you feel like you've eaten more than you have!
Equally, I like some finer bits in there! The chia seeds give you this and a nice crunchy.
The great thing about this recipe is that you can make your low-carb keto granola the way you want it!
I am lazy and use my NutriBullet to chop the nuts – but you could do this on a chopping board (watch your fingers!) or in a food processor.
Chop or blitz to the size that you want them type by type and then add them to a bowl.
Baking your Low-Carb Granola
When you are ready to bake your granola, I put a silicone baking sheet on a large baking tray. For the amount in this normally takes two baking trays.
Spread the granola out over the baking tray and bake in the middle of the oven, on low heat. Keep an eye on your granola so it doesn't burn.
I take it out of the oven halfway through the process and turn it to make sure the granola is cooking evenly. Keep a close eye on your granola as it can soon burn.
Storing Your Delicious Sugar-Free Granola
I store mine in an air-tight large mason jar.
You could always store this in an air-tight Lock and Lock. If your keto granola is not stored in an air-tight container it will go soft, so whatever you use – please make sure it's airtight.
This lasted me around a month – I eat it several times a week!   
What are you waiting for? Give it a go today!
Check out the keto granola recipe here;
The BEST Keto Nutty Granola
Course: Breakfast
Ingredients
75 grams Brazil Nuts

75 grams Walnuts

75 grams Hazlenuts

100 grams Almonds

50 grams Pecans

25 grams Pumpkin Seed

25 grams Sunflower Seed

50 grams Chia Seeds

50 grams Milled Linseed

30 grams Erythritol

1 x egg white

1 teaspoon Vanilla essence
Directions
Preheat the overn to 145 degrees
Chop all nuts and seeds to your prefered size – either manually or in the NutriBullet
Spread out on a silicone baking sheet or large metal baking tray.
Bake in the oven for 15-20 minutes, trying half way through.
Remove from oven and allow to cool. When cool break up any large chunks and store in an airtight container
SERVING SUGGESTIONS
Serve with full-fat Greek Yoghurt and Vanilla Skinny Syrup for the perfect low-carb breakfast
What is your favourite keto breakfast? Let us know in the comments below!