In this guide, we will take you through everything you need to know about keto sushi. We will take you through which sushi is, and is not keto friendly, as well as our top tips to eating sushi out, as well as our favorite keto sushi recipes you can try and home to wow your friends and family with.
Sushi traditionally contains fish or meat as the main ingredient, there are some vegetarian alternatives. The majority of fish and meats are great for a keto diet as they are low in carbs, and some cuts can be high in fat.
This makes them great for hitting your keto macros. Fish is also high in Omega-3, which is great for any diet, not just for us keto eaters.
So, let's have a look at whether we can eat sushi on a keto diet.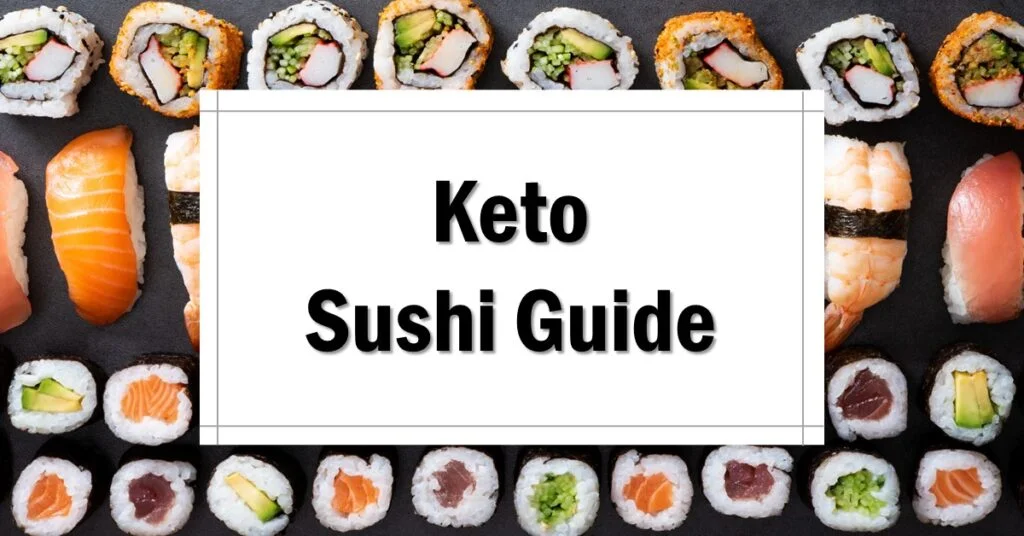 Is Sushi Keto Friendly?
Traditional Japanese cuisine includes lots of rice, which is typically in dishes like sushi rolls. But while many people think that eating sushi is healthy because it contains protein and vegetables, the reality, on a keto lifestyle is quite different.
Rice is actually very high in carbohydrates, making it one of the worst foods you could eat on a low carb diet.
The average sushi roll will have between 5-8 grams of net carbs per roll, making them too high in carbs to enjoy on a keto diet.
This is largely due to the rice found in the sushi rolls.
But thankfully, there are still lots of delicious and nutritious keto sushi options out there.
You can find creative recipes online from fellow keto eaters who have made some amazing keto friendly sushi options.
The average sushi roll will have between 5-8 grams of net carbs per roll
Before we jump into making your own keto sushi rolls, let's have a look at what is already available to you.
Below we have listed keto sushi options that you can order off the menu, as well as flagging the sushi options to avoid.
List of Keto Friendly Sushi Options
The following are keto friendly sushi options;
Temaki hand rolls (without the rice)
Naruto rolls
Poke bowls (build your own)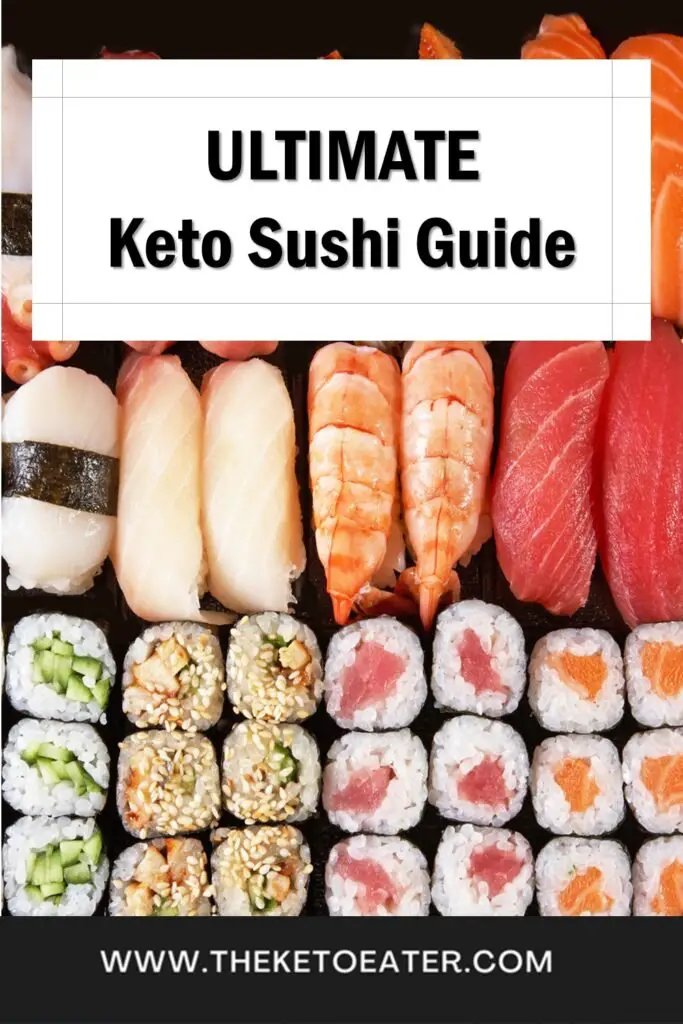 Which Sushi To Avoid On Keto
As discussed above, a lot of sushi is packed with white rice, meaning that sushi is not keto approved. Below is a list of sushi rolls to avoid if you are eating a keto diet.
Is Sushi Rice Keto Friendly?
The popular grain is often associated with Japanese cuisine, but it doesn't fit into the ketogenic diet. There are plenty of options out there for those looking to try the low carb way of eating.
In fact, you could even make your own version of sushi rice, which we will take you through later. You just need to know what to look for when shopping for a replacement.
Here are some tips to help you navigate the menu for your next trip to the sushi restaurant, as well as making our own low-carb delicacies at home.
How To Order Sushi On Keto
It can be difficult to find low carb options at restaurant chains when dining out. Eating at a sushi, or Japanese restaurant is no different.
Here are some tips to help keep in contact with your keto lifestyle while dining out:
Sashimi is always a great choice as it missed out the rice
Ask if they can make any of the sushi rolls without the rice. This can be tricky as it is normally the rice that binds everything together. If you know where you are eating in advance, why not call beforehand and see if they will be willing to substitute for cauliflower rice or another keto alternative to white rice.
For more on this, keep on reading and we will take you through some of our favorite keto rice alternatives.
The easiest rolls to make without the white rice are the below;
Alaska Roll with real crab
Boston Roll with poached shrimp
California Roll with real crab
Philadelphia Roll
Salmon Roll
Keto No-Rice Sushi Options [Alternatives]
If the restaurant is not willing to substitute the rice in the rolls, you still have some options available to you. This does not mean that you have to miss out on anything.
Sashimi is the easiest no-rice sushi option
Temaki hand rolls are served in a cone of seaweed (as opposed to being wrapped), these are easier to skip the rice in
Naruto rolls don't have rice in them. In these cucumber replaces the rice.
Poke bowls can be a great alternative as you can normally fill them with whatever you want, just make sure all of the ingredients are keto friendly.
Making Keto Sushi Without Rice
You can make your sushi keto friendly with a couple of simple substitutions. The easiest substitution to make is the white rice.
There are a number of keto substitutions for white rice in sushi for you.
We've rounded up some of our tried and tested favorites below.
Keto Sushi Rice [Substitutions]
Here are our favorite keto rice substitutions for sushi. If we have missed anything out, please let use know in the comments below.
Shirataki Rice
Shirataki rice is a Japanese food made from the konjac plant which has been processed into long strands. The texture resembles rice, but they are gluten free and contain no wheat flour.
They are often used for cooking Asian dishes such as ramen soup.
They normally come in rice or noodle format, obviously, we would recommend using the rice version here.
Shirataki rice does not have a strong flavor, it will take on the flavor of the sauces that you mix it with.
Cauliflower Rice
Cauliflower rice is a healthy alternative to regular white rice. It is made by grating a cauliflower head.
The process of making cauliflower rice is simple. We have a full step by step guide for making cauliflower rice here.
Broccoli Rice
Broccoli rice is an alternative to cauliflower rice. In the same way as cauliflower rice, it is made by grating a head of broccoli to make 'rice'.
The only negative to using this instead of cauliflower rice, is that it is green, so will color your sushi. Cauliflower rice is white, so it looks just like white rice.
Cream cheese is often used to bind the rice together, and this goes great with al of the above.
How To Make Keto Sushi
Wrapping Your Sushi
Nori is great for keto eaters because it is low in net carbs. It is also minimally processed and free of harmful ingredients, which makes it a great option.
Cucumber is also great for wrapping your sushi.
This also means that you don't have to find a keto alternative for your sushi rolls, these will keep your carb count low.
Keto sushi rolls are no different from their non-keto counterparts you need to pick a protein, vegetable, and sauce to make a taste explosion.
Sushi Protein
The protein in sushi is normally raw fish, but some will contain meat;
Crab (remember to request proper crab and avoid imitation crab meat)
Eel
Salmon
Shrimps
Beef
Pork Belly
Lobster
Yellowtail
Sea bass
Snapper
Canned tuna
Chicken
Tuna
Halibut
Squid
Octopus
Trout
Scallops
Sushi Vegetables & Flavors
There are all sorts of keto friendly vegetables and flavors that can be included in keto sushi.
Cucumber
Radish
Sprouts
Asparagus
Avocado
Kohlrabi
Jalapeno
Edamame
Green onion
Mushrooms
Cabbage
Carrots
Bell pepper
Onion
Ginger
Garlic chives
Paprika
Black sesame seeds
Sauces
There are a number of keto friendly sauce options available to go with your keto sushi rolls. Below we have listed some of our favorites.
Soy Sauce
Pickled Ginger (not really a sauce, but acts the same)
Spicy Mayo
Sesame Oil
Teriyaki Sauce (made keto friendly)
Ponzu Sauce
Make sure that you avoid sugary sauces.
Keto Sushi FAQs
Is rice paper keto friendly?
Rice paper is rarely used in traditional sushi, but no, it is not keto friendly. Soy wrappers, or ideally nori sheets are the best keto option.
Wrapping Up: Is Sushi Keto Friendly?
There are some keto sushi options available to you. You do not have to miss out. Select carefully, or have a go at making your own and you can enjoy sushi on keto.