Are you wondering about including fish oil on keto, and asking, is fish oil keto friendly? Or wondering how much fish oil you should take while following the keto diet? If yes, then you have reached the right page. Here we will discuss various health benefits the fish oil (omega-3) can offer and how you should incorporate this into your keto diet. 
Disclosure: Some of the links in this article may be affiliate links, meaning that we may earn a small commission if you click through using our link and make a purchase. Please be assured that this will not cost you any extra money. Also, please be assured that we either use the products we recommend personally, or have been recommended by trusted friends who currently use them.
Fish Oil And Keto
Fish oil is a good source of omega-3, and omega-3 can boost the impact of one keto diet. The body does not naturally produce a lot of omega-3, so giving your body a boost is going to help it along.
In this article we will take you through how to identify if you need more Omega-3 in your diet, the side effects of not having enough, how much is optimal, as well as our favorite keto friendly sources of omega-3.
Why May You Need Fish Oil (Omega-3) Supplements When Eating Keto?
If you're new to keto and want a bit more information, check out our keto beginners guide.
As a quick summary, if you need it, the keto (also known as the ketogenic diet) is a low-carb, high-fat diet (LCHF).
The whole concept of the keto diet is that your body transitions from burning glucose, in simple terms, sugars or carbohydrates, to burning fat as its primary fuel source.
For a keto diet, people will restrict their macros to eating;
70% of their calories are from fat
25% from protein
5% from carbohydrates
Sticking to these macros for a period of time will put your body into a state of ketosis. Ketosis is when your body has transitioned from burning carbohydrates as its primary fuel source to burning fat for fuel. It is at this point that you will start to see and feel the benefits of the keto diet.
It is the role of the liver to convert amino acids into small amounts of glucose. This process is called glucogenesis. This is when ketone bodies (ketones) are created.
Eventually, your body will become what is known as 'fat adapted'. In simple terms, this means that your body is accustomed to burning fat as its primary fuel source and it will function this way as its default setting.
There are a lot of new terms and abbreviations that you may come across, sometimes it can feel like a new language that you need to learn. In order to help you out and keep you on the right track, we have created a keto terms and keto abbreviations guide, bookmark these to make your keto journey easier.
Some people can be put off the keto diet because of the side effects, however, these are only short-lived and the health benefits of keto far outweigh the side effects.
There is no doubt that the process of getting into ketosis and remaining there is a massive change to the way your body is used to functioning.
Supplements may be able to assist your body with this transition and speed up your journey to your health and keto goals.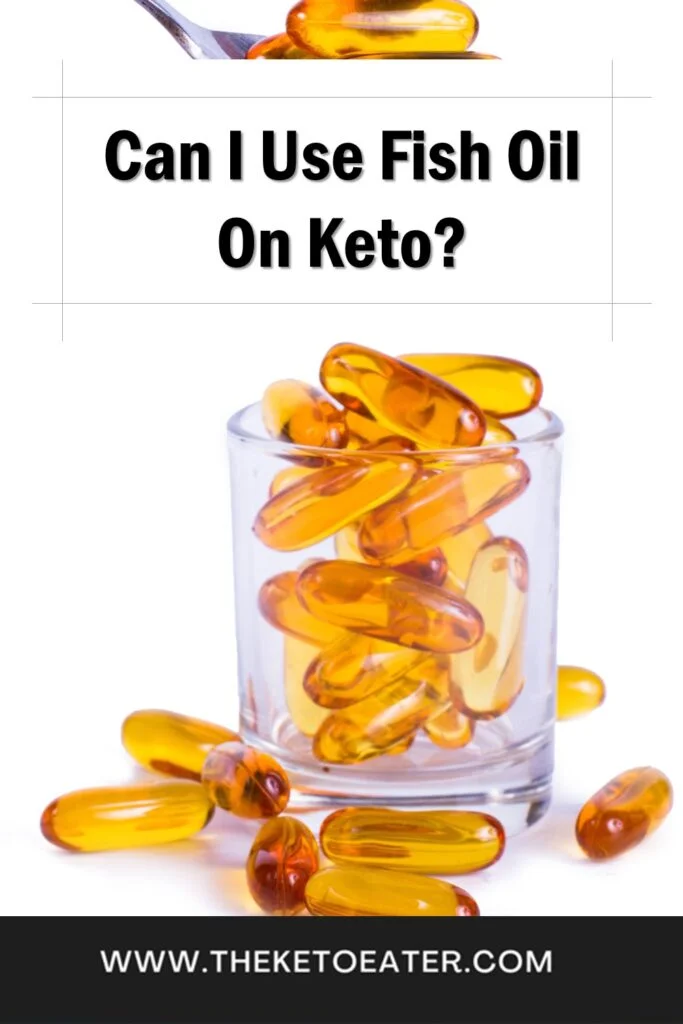 Why Do We Need Fish Oil On Keto?
Is fish oil good for keto?
Fish is a, high-quality protein, and fish oil is rich in omega-3 fatty acids, vitamin B2, and vitamin D. 
Besides that, it is a rich source of minerals, phosphorus, and calcium.
A keto diet supplemented with fish oil or omega-3 can reduce triglyceride, inflammation, and insulin.
Our bodies are not naturally capable of producing omega-3 fatty acids; we depend on external sources. Omega-3 fatty acids offer a wide range of benefits, such as –
It supports the health of your heart by improving cholesterol levels, decreasing triglycerides, maintaining blood pressure, and preventing plaque.
It improves your vision and keeps your eyes healthy
Treats certain mental health conditions; yes, it can lower the risk of psychotic disorders and schizophrenia
Helps in treating neurodegenerative issues and disorders such as dementia, Alzheimer's, or bipolar disorder
It keeps your skin healthy and promotes bone health
It helps in reducing liver fat
It helps people with depression
Enhances your ability to focus and improves hyperactivity in children
Now you know the benefits of including fish oil in your diet.
How Much Fish Oil Should I Be Getting On Keto?
It is evident that the keto diet puts strict restrictions on your diet, but it will be alright if you include fatty fish in your diet. The goal is to keep the carb-count low as much as possible.
If you do not eat fish or fish oil, you are probably lacking EPA and DHA as you cannot meet the optimum needs.
Including fatty fish in your diet will give you 500 mg of EPA and 500mg of DHA daily.
Symptoms of Too Little Fish Oil On Keto
Being on a low-carb diet like keto can cut people off from certain food consumption. And at this point, being concerned about proper nutrition is very normal. Fish oil is a rich source of omega-3 fatty acids and offers numerous benefits.
If you have or experience these symptoms, chances are your diet cannot fulfill the omega-3 requirement of your body. You have to modify your diet when experiencing these –
Dryness and skin irritation are the first symptoms you will have; if you lack omega-3, your skin will feel dry, sensitive, etc.
Depression – Omega-3 fatty acids are known to have anti-inflammatory and neuroprotective effects, and studies conclude that the lower the omega-3 in the body, the higher incidence of depression
Stiffness and joint pain – omega-3 helps reduce joint pain and improves your grip strength; it also helps people with osteoarthritis. This is why, as we get older, it is recommended that person take an omega-3 rich supplement.
Hair change – omega-3 not only helps in retaining moisture but also aids in keeping you healthy. If you see notable changes in your hair texture, density, and intensity, chances are you are lacking omega-3
Dry eyes – As mentioned above in the article, omega-3 helps keep your eyes healthy; having a lack of omega-3 can result in dry eyes and hazy vision.
Symptoms of Too Much Fish Oil On A Keto Diet
There are plenty of benefits to consuming fish oil. But, this does not mean you eat them in large amounts.
Here is what happens when you consume too much omega-3 or fish oil –
Increase in blood sugar
Your blood pressure falls
Bleeding
Acid reflux
Diarrhea
Vitamin A toxicity
Chances of stroke increases
Insomnia
Obviously, these are quite common symptoms for a number of health conditions, and if you have any of these, you should seek medical advice.
What Does It Mean If I Crave Fish Oil On Keto?
Craving fish oil is a very rare event. It certainly signs a lack of omega-3 and other micronutrients, which is a rare event.
How to Get Fish Oil On Keto
You can easily fulfill your fish oil or omega-3 requirement by including fatty fish in your diet!
An adult can tolerate 15mg to 3000mg of omega-3 in a day, but the best is to have 1000mg of omega-3 (500 mg of EPA + 500mg of DHA).
You can include salmon, anchovies, mackerels, and so forth into your diet.
Fish Oil Vs. Krill Oil On Keto
No wonder both fish oil and krill oils are excellent sources of omega-3 and other micronutrients, but there are some differences between the two –
The human body absorbs the krill oil better than fish oil
Krill oil contains more amount of antioxidants
Krill oil can improve your heart health conditions better
Fish oil is available cheaper compared to krill oil
Therefore, if you are looking for an omega-3 supplement for your keto diet, we would recommend Krill oil over regular fish oil.
Keto Foods That Contain Fish Oil
Here are the fatty fish types that are rich in omega-3, and other micronutrients, do include these in your diet –
Salmon
Mackerel
Tuna
Sardines
Herring
Cod-liver oil (as a supplement)
Anchovies
Check out our articles for more vitamins and supplements on a keto diet – learn which supplements you are likely to need and which you shouldn't.