This creamy keto mushroom soup is simple to make, warming, and delicious. It's low-carb, sugar-free, and can be made vegetarian. Not only that, it's quick to make and can be frozen, so it's ready to fit in with your busy life. This may not be the most exciting meal out there, but it certainly always satisfies!
Disclosure: Some of the links in this article may be affiliate links, meaning that we may earn a small commission if you click through using our link and make a purchase. Please be assured that this will not cost you any extra money. Also, please be assured that we either use the products we recommend personally, or have been recommended by trusted friends who currently use them.
Are Mushrooms Allowed on the Keto Diet?
Yes! Mushrooms are allowed on the keto diet. My friend was really surprised by this, and still don't understand why!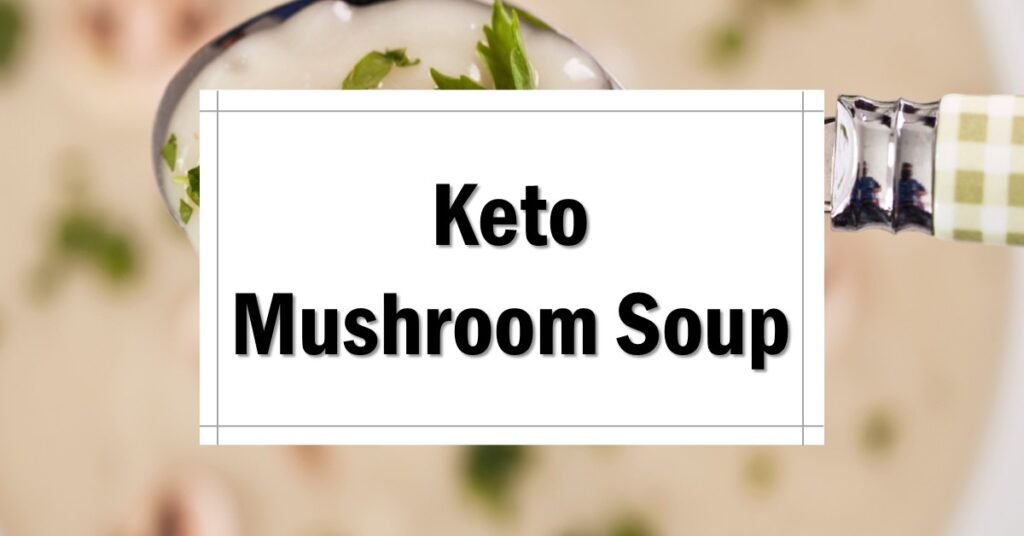 Per 100 grams, mushrooms have an average of 3 grams of carbs, making them perfect for your low-carb mushroom soup!
For mor information on the health benefits of mushrooms, check out this article.
Mushrooms are also full of a lovely earthly flavor and have a meaty texture. This combined with cream makes this keto mushroom soup truly heavenly!
Keto Mushroom Soup
This low-carb soup is full of flavor and is a meal in its own right. I used to view soup as a starter only. This creamy Keto soup is no support act, it's the star of its own show.
I use all of the mushrooms in this recipe and a variety of them too. This makes sure this creamy mushroom soup is full of flavor and sure to satisfy even the hungriest of people.
What Mushrooms should I use in my Keto Mushroom Soup?
You can choose whichever are your favorite mushrooms for your low-carb soup.
Personally, I love Chestnut and Porcini combined with regular white mushrooms.
I buy dried Chestnut and Porcini mushrooms, so I can use a few of them as I need.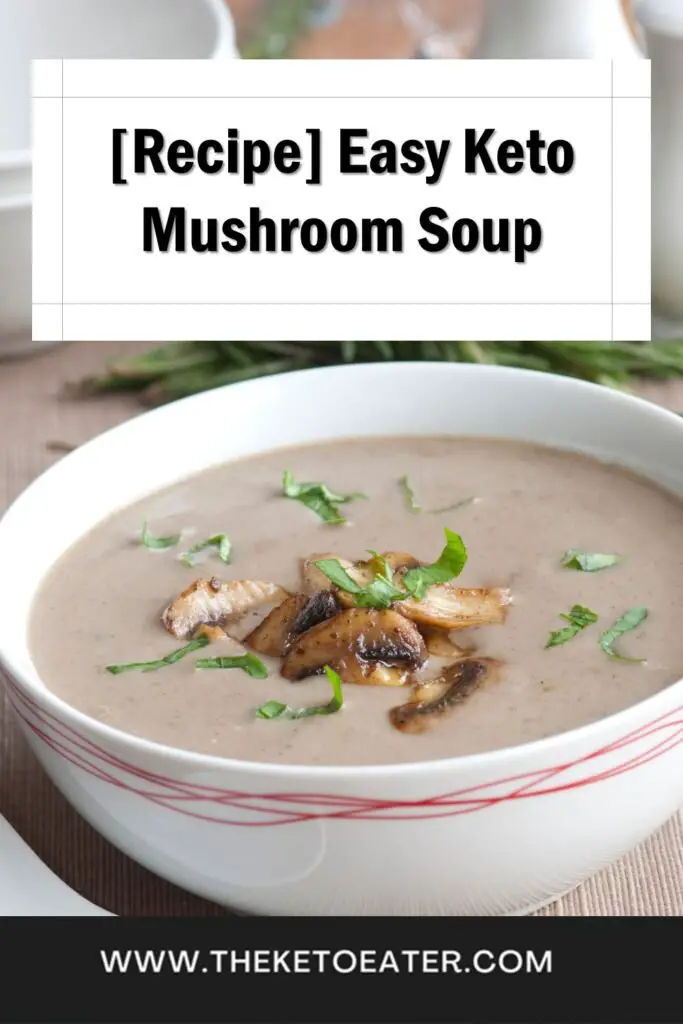 Making your Keto Mushroom Soup
How you make your creamy keto mushroom soup depends on how fancy your kitchen is with gadgets!
If you have a soup maker, you can follow the instructions on that. One day soon, I'm going to buy a soup maker – if you've got any recommendations, please let me know in the comments below! 
Other than that I fry off my ingredients and then blend the items in my NutriBullet before returning them to the pan to add the stock and cream.
Making Your Keto Mushroom Soup Vegetarian
For this delicious low-carb soup, I have used beef broth (stock), and have been known to fry up and add a couple of slices of bacon to it.
However, if you want to make this vegetarian, just use vegetable stock instead. You can make your own or buy it in most supermarkets, just check out the ingredients and carb content before you use it.
Can I make my own stock for this low-carb mushroom soup?
I would always encourage you to make your own stock! Once you've tried it once, you'll see how simple it is.
I will make a batch of broth and freeze it in smaller portions, so it's ready when I want to make a low-carb soup or another delicious Keto recipe.
Check out this recipe if you want to have a go at making your own stock.
How long can I keep my Keto Mushroom Soup for?
Storing you Mushroom Soup in the Fridge
If you are keeping your fresh homemade soup in the refrigerator it should easily last 2-3 days, at a push 4 days. I know I have eaten it after 4 days and it has been fine, but I wouldn't want to advise anybody else to do this!
Can I freeze my Mushroom Soup?
This Keto Mushroom soup is perfect for freezing. I always make extra of this Keto soup with the sole purpose of freezing it. That way, if I need a lunch to take to work – when I know I will have access to a microwave, I always have one of these in reserve!
In order to freeze your Keto Mushroom Soup, portion it out between some Lock & Lock (or any airtight containers) and wait for it to cool. Once your soup has cooled, pop on the lid and place it in the freezer.
Don't be put off if your soup looks a yellow colour, when you take it out of the freezer, this is just the fats separating. Once your Keto Mushroom Soup is fully defrosted and you've given it a stir, it will look 'normal' again.
How long can I freeze mushroom soup for?
This Keto Mushroom soup will freeze fine for up to two months. I've never left it in there for longer than this.
Creamy Keto Mushroom Soup – Simple and Delicious!
Course: Guidance
Ingredients
2 garlic cloves

35g butter

2 tablespoons butter

70g mozzarella cheese

140g double cream

840g mushrooms sliced

560g beef broth

Salt and Pepper, to taste

1 teaspoon garlic powder
Directions
Add 2 tablespoons of butter into a frying pan along with garlic and cook for a minute. Then add mushrooms and fry for 10 minutes until tender and nicely browned.
Add the broth into the pot, simmer for 10 minutes and then scoop out a cup of mushrooms and set aside.
Add the mushrooms to a blender along with beef stock and process u
Allow the soup to boil and then add butter along with the heavy cream and boil once more. Then add mozzarella cheese and then season the soup with the desired salt, pepper, and garlic powder.
Stir gently until well combined and then allow the soup to simmer for about 20-30 minutes. Serve and enjoy!
Notes
To make this vegetarian, switch out the beef broth (stock) for vegetable stock.
Why not check out some of these other soup recipes?
If you have tried this keto recipe, let us know what you think in the comments below. Or if you have a recipe you would like to see a recipe featured, let us know and we will see what we can do!