This simple homemade Keto tomato sauce /ketchup is perfect for dipping your keto chips! This has all of the taste of shop-bought tomato sauce with none of the sugar or additives. This is perfect if you are living a keto, low-carb lifestyle, or if you are trying to keep the family healthy!
Disclosure: Some of the links in this article may be affiliate links, meaning that we may earn a small commission if you click through using our link and make a purchase. Please be assured that this will not cost you any extra money. Also, please be assured that we either use the products we recommend personally, or have been recommended by trusted friends who currently use them.
Is Shop-Bought Tomato Sauce Keto Friendly?
In short -no! The average shop-bought tomato sauce contains 3.5 grams of carbs per 15ml serving. This is soon going to tip you over your 20g of net carbs if you are trying to leave a keto lifestyle. Even if you are not living keto and you are just trying to reduce the amount of sugar that your family is eating, sugars in dips/sauces like sauce can soon add up. This recipe will provide you with a sugar-free tomato sauce that all the family will love.
Low Sugar Shop-Bought Tomato Sauce
There are a number of low sugar versions of tomato sauce that you can buy in-store. You can normally find these in the larger supermarkets. You can also buy them online if you do not want to spend your days going in and out of supermarkets. Be warned though – these are one of the few keto-friendly foods that cost more to buy online!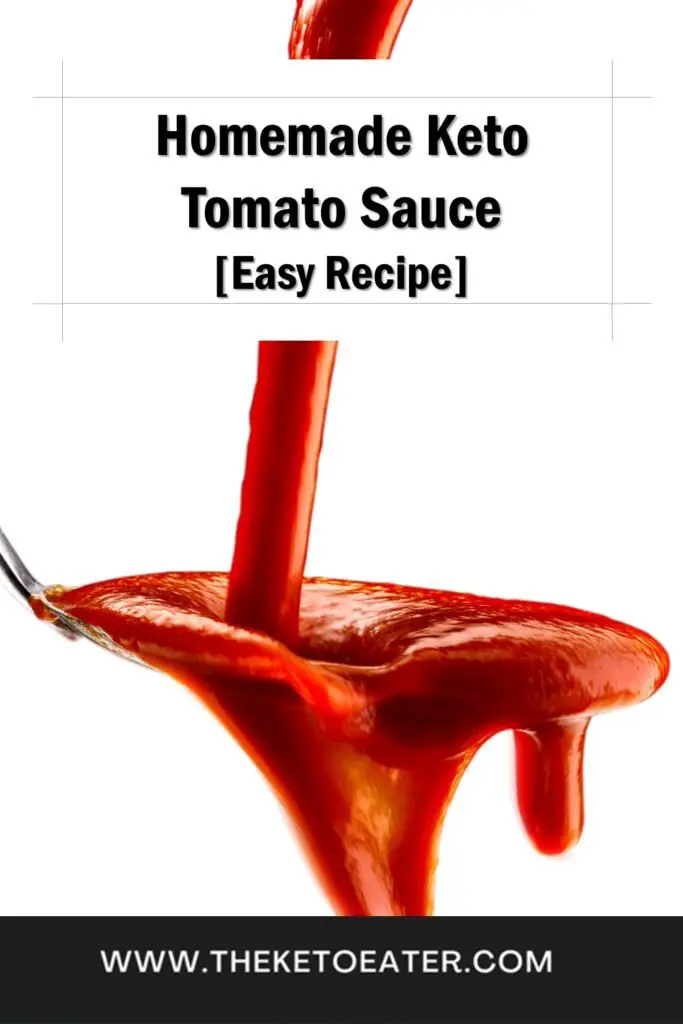 Why Buy When You Can Make Your Own?
Bought sauces are great and convenient, but if you have the time, why not try making your own? All of the ingredients are readily available and if really only does take 10 minutes to make, beginning to end.
If you have a NutiBullet or blender this is really quick and easy. All ingredients need to be put in the NutriBullet and blitzed a few times until all of the ingredients are well mixed. This should make around 8-10 portions (depending on how much sauce you like!) – but if your family will have more or less – just increase or decrease the quantities to suit.
Bought Vs Homemade
Below are all of the ingredients I use to make my keto tomato sauce.
How To Store Keto Tomato Sauce
This will tomato sauce will store in the fridge for up to a week – just make sure that it is stored in an airtight container so no bacteria gets into it.
I was making mine and putting it in an old glass sauce bottle (it was put through the dishwasher each time!).
This looked really tatty – so I moved onto an old olive jar…my friends just laughed at me.
Freezing Keto Tomato Sauce
I hadn't thought about this until I'd had a super busy week and hadn't had time to do all of my meal prep that I would usually do.
I'd run out of the sauce.
Normally I do have a store-bought one in the cupboard as an emergency backup – but I'd used that one too.
So next time I made a double batch and froze some in my gin ice cube tray. Yes, in my world I have ice cubes specifically for gin!!
When not in use for gin ice cubes these are the perfect size for freezing individual portions of your keto tomato sauce.
When you've frozen these, pop them out and put them in a freezer bag or box. I try to take these out in the morning and leave them in a ramekin in the fridge to defrost naturally or gently defrost in the microwave.
When you're ready to serve sit to make sure they're well mixed and serve! It's a little hack like this that will keep you from falling off the keto wagon!
Keto Tomato Sauce
Course: Lunch u0026amp; Dinner
Total time
1
hour
10
minutes
Enjoy this amazin keto tomato sauce / ketchup!
Ingredients
85g Tomato paste / puree

70 ml water (tap of filtered – whatever is your preference)

20 ml (1.5 tbsp) White vinegar (or apple cider vinegar if you have it in for Keto bread!)

20g Powdered erythritol

1/2 tsp fine Himalayan sea salt

1/4 tsp Onion powder

1/4 tsp Garlic powder

1/8 tsp Paprika

1/16 tsp Ground cloves

1/16 tsp Mustard powder
Directions
In NutriBullet add all ingredients and pulse until well combine – leave in the fridge for at least 30 mins (ideally overnight) in order to let the flavours to develop.
This should last in the fridge for 5-7 days if kept in an airtight jar.
We hope that you enjoy your Homemade Keto Tomato Sauce, this recipe has taken us years to perfect.
If you have another keto sauce or any recipe that you would like to see on this site, let us know in the comments below and we will try and develop a recipe, just for you!