This keto chili chicken is more of an Indian take all the chili than a Mexican one.  Is full of flavor and can be made in advance making it perfect for any keto kitchen. This homecooked, keto chili chicken is perfect for batch cooking and freezing to keep you on your keto journey. 
Disclosure: Some of the links in this article may be affiliate links, meaning that we may earn a small commission if you click through using our link and make a purchase. Please be assured that this will not cost you any extra money. Also, please be assured that we either use the products we recommend personally, or have been recommended by trusted friends who currently use them.
Chilli is always one of my go-tos when I need a warm home-cooked dinner, I always make too much and freeze some to take to work at a later date. 
If I know I've got a big day on I will take this for lunch as it gives me something to look forward to! 
This chili chicken recipe has more of an Indian/Oriental vibe to it with garlic and lime.  This makes it completely different from the traditional beef chili con carne that we all know and love.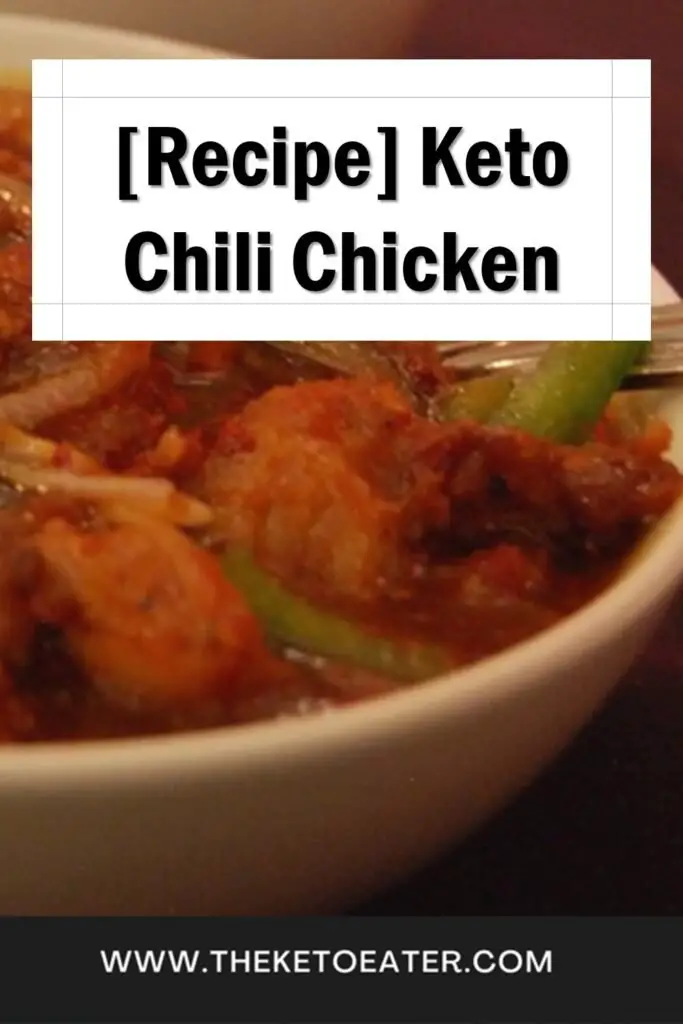 If you are looking for a traditional Mexican style beef mince chili, check out my recipe here!
What chicken do I use for my keto chili chicken?
I have used both chicken breast and boneless chicken thighs for this recipe – both are amazing, so the choice is really yours!
Make your keto chili chicken in advance
What I love about this chili chicken recipe is that it can be made in advance so when you are in a hurry it can be thrown together at the last minute. 
The chicken can be left to marinate overnight so it is ready for cooking when you get in from work. 
Even better still, you can batch cook this. It freezes really well. So if you want a portion to reheat at work, or to have in the freezer for emergencies this chili chicken is perfect!
Cooking your Keto Chilli Chicken
Cooking your Keto Chilli Chicken in the slow cooker
I have regularly cooked this keto chili chicken in the slow cooker. 
As above I will marinate my meat overnight in the fridge, then in the morning I will post all of the ingredients into the slow cooker and leave it on a timer to cook for 8 hours on low heat. 
That way when I come home from work it is ready and waiting for me and the house smells lovely!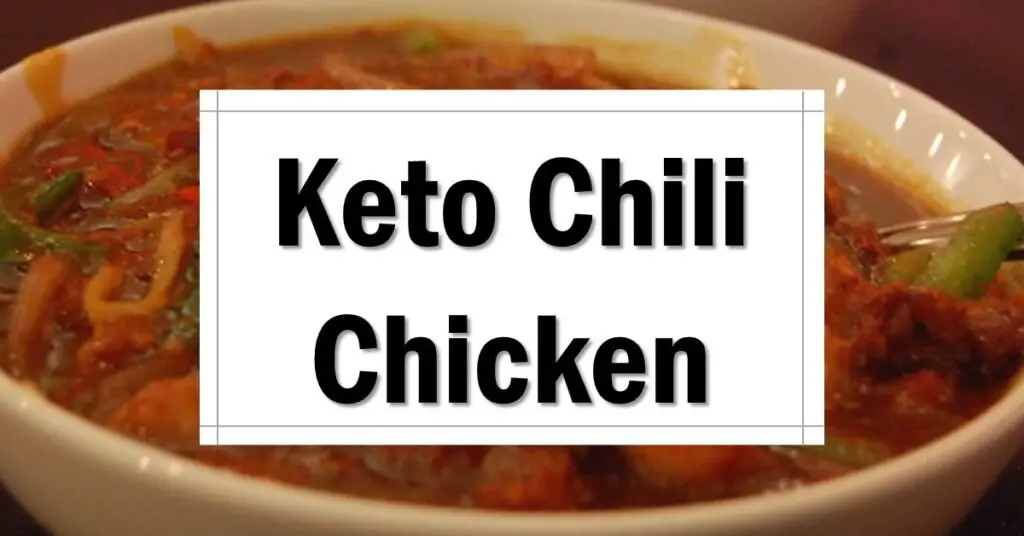 As I come in from work, I will put the heat up to medium for 20 minutes whilst I a kick off my shoes two ensure that it is piping hot for serving.
Cooking your Keto Chilli Chicken in the pressure cooker (insta pot)
We've all got in from work or life later than expected. All of the planning you've done for your dinner has gone out of the window.
At this point it's easy to dial for take away or eat some junk food…..with a pressure cooker, you don't need to worry about that.
You have your full chili chicken cooked quicker than you can get delivery. Plus, you get to feel smug that you are still rocking life, even when it throws you a curveball!
As with cooking your keto chili chicken, let your chicken marinate for overnight if you want. This will help intensify the flavor of the chicken.
Cook for 8-10 minutes, depending on your model of the pressure cooker (insta pot), let it de-pressurize as normal.
When you can release the lid, take out the chicken and shred it using two forks or using a bear claw if you have them.
I personally love mine – I use them for several different recipes, including my amazing (if I do say so myself!) pulled pork.
What to serve your keto chili chicken with….
I am quite happy to eat this on its own, however, sometimes you need a little extra! When this is the case I will per this with;
Keto Broccoli Rice
Keto Courgetti (spiralized courgette)
Roasted Celeriac – I haven't tried this Keto Chilli Chicken with this yet – my friend recommended it – now it's on the list!
Freezing your keto chili chicken
I regularly make too much of this chili chicken recipe and will freeze a couple of portions so they are there waiting for me when I need them. 
Doing this stops me from reaching for non-keto food when I'm in a rush. More importantly, means I only have the effort of making it once and the mess to clean up once! I freeze this in Lock & Lock.
Not only does it not leak in my freezer, but using Lock & Lock means I can throw this into my work bag, safe in the knowledge that it will not leak everywhere!
I've bought cheap storage boxes before, but they've all cost me more in the long run!
Keto Chilli Chicken
Course: Lunch u0026amp; Dinner
Cuisine: Asian
Ingredients
500 grams boneless chicken (breast or thighs)

150 grams (1 cup) green bell pepper cubed

1 white onion sliced

1 tablespoons ginger-garlic paste

1 teaspoon chopped green chilies

1 teaspoon soya sauce or Tamari sauce

1 teaspoon lime juice

1 teaspoon sesame oil

Salt to taste

1 teaspoon finely ground black pepper

2 teaspoon smoked paprika powder

1 tablespoon olive oil
Directions
Marinate the chicken with the salt, pepper, ginger-garlic paste, soya sauce, lime juice, paprika powder, and sesame oil. Marinate the chicken for 15 to 20 minutes but if you want you can leave them in the fridge overnight.
Cooking your Keto Chilli Chicken in the Slow Cooker
lightly fry your onions in a pan before adding to the slow cooker, cook on low for 8 hours, turning up to high for the last 20 minutes before serving.
Cooking your Keto Chilli Chicken in the Pressure Cooker / Insta Pot
Add all ingredients into the pressure cooker. Cook for 8-10 minutes, depending on the model. Let the lid release as normal (this will take around 10 mins).
Keto chilli chicken is ready. Serve hot.
If you've tried this recipe, or have a recipe that you would like to see on the site, let us know in the comments below and we will see what we can do!