These Almond Flour tortillas are vegetarian, paleo, keto and low carb friendly. What's more important? Mexican nights are not a thing of the past if you're living a keto/ low-carb lifestyle! You can use them as a wrap for your enchiladas, bake your Quesada or use them for your fajitas – either way, you will not be disappointed!
Almond Flour Tortillas
These may not be the prettiest tortillas that you have ever seen – but what they lack in beauty they make up for in flavor and versatility (a bit like yours truly!)
The psyllium husk and gelatin ensure that these tortillas remain soft and flexible and moist, so they can be used to wrap around your favorite foods!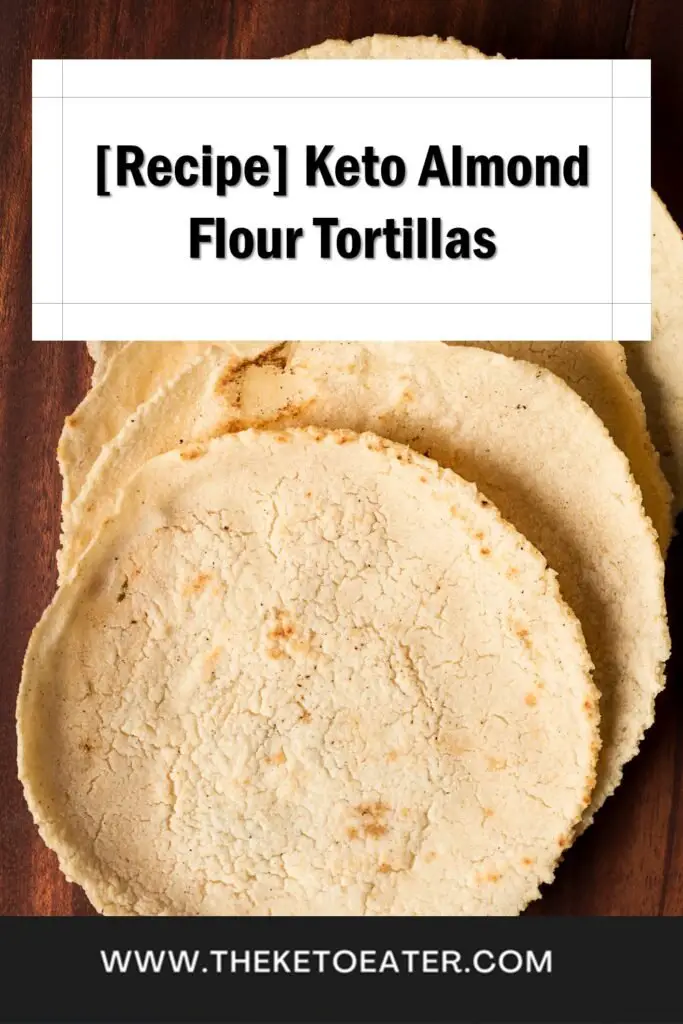 These keto almond four tortillas can be great with chili, fajitas, or just as a sandwich wrap.
They can be made in advance and stored in the freezer. This can save you time why you are busy.
Net Carbs In Almond Flour Tortillas
In shop bought tortillas there are normally around 21 grams of carbs per wrap. This obviously rules them out for a keto / low -carb lifestyle. However, these beauties are only 2.5 grams per wrap, making them perfect for a keto / healthy lifestyle. That doesn't mean that you can eat 10 of them!
What Is Psyllium Husk?
Psyllium husk is an ingredient that regularly pops up in keto / low-carb recipes, especially here!
It is nothing to be afraid of.
Psyllium is a form of fiber made from the husks of the Plantago ovata plant's seeds; it is naturally high in fiber and low in carbs making it a great ingredient for us keto eaters.
Making The Tortillas
In order to make these I place all of the dry ingredients in the food processor (or NutriBullet) and give them a quick blitz to ensure that they are well combined.
If you have a bread maker you can also use this with a dough hook as you would use for making bread.
You will see in the instructions below that I recommend leaving the dough to rest for 10 minutes after all of the ingredients are combined – this gives the psyllium husk time to absorb all of the liquid which makes the dough easier to work with.
Rolling Out The Tortillas
In order to do this, I highly recommend using two silicone baking sheets and rolling the dough out between these.
If you find that the dough is sticking even to the silicone you can lightly spray them with olive oil first.
You can use an old spray bottle or an atomizer for this – whatever you have handy!
Cooking The Tortillas
I would recommend using a heavy-based frying pan for these. These stop the tortilla dough from sticking to the bottom of the pan.
Let me know below what you have eaten your almond flour tortillas with!
Almond Flour Tortilla
Course: Deliciousness
Cuisine: Mexican
Difficulty: Easy
Ingredients
170g almond flour

1 tablespoon psyllium husk powder

2 teaspoons unflavored gelatin powder

1 pinch sea salt

2 large eggs

3 tablespoons lukewarm water

Olive Oil for frying the tortillas
Directions
Add the almond flour, psyllium husk powder, gelatin powder, and sea salt in a food processor or NutriBullet. Process until they mix evenly.
Add the eggs and water. Process until the dough pulls away from the sides and forms a ball. Let the mixture rest for 10 minutes.
Cut the dough into 6 sections.
Shape the tortillas. Roll each section into a ball and flatten the tortillas into a 1/8-inch thick circle with a rolling pin. (use silicone mats to roll between if the dough is sticking)
Lightly oil a pan over medium heat and cook the tortilla for about 1 to 2 minutes per side, until golden.
Why not fill your almond four tortillas with some keto fajita veg, and have a keto margarita to go with it?