Eating a ketogenic diet can be a great way to lose weight and maintain your health. But it can be difficult to know what foods are allowed and which ones should be avoided. One food that is often questioned is fajita veggies – are they keto friendly? The answer is yes, but there are some things you need to consider when preparing them. In this article, we'll discuss the basics of the keto diet and how to make sure your fajita veggies fit into your meal plan. We'll also look at some tips for making delicious and nutritious fajita dishes that will help you stay in ketosis.
Disclosure: Some of the links in this article may be affiliate links, meaning that we may earn a small commission if you click through using our link and make a purchase. Please be assured that this will not cost you any extra money. Also, please be assured that we either use the products we recommend personally, or have been recommended by trusted friends who currently use them.
Sometimes it is difficult to find delicious and keto friendly foods when we want to eat out. This is evident by the requests that we get every day asking "Is x food keto?". The answer is usually the same: it depends on what is in it.
Take this example. You go to a restaurant and order yourself a steak and a salad – very safe for a keto meal, even if it is lacking a bit of fat. Maybe a little butter in the steak will help.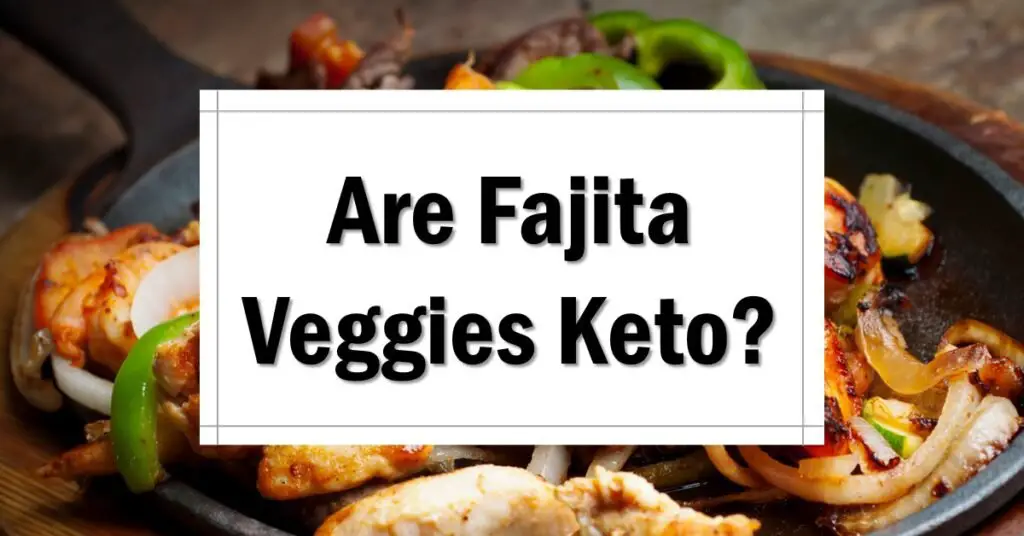 However, when it arrives, you discover that the steak has been basted in a sweet marinade that is loaded with sugar, and the salad has a sweet honey dressing and is packed with croutons.
If you didn't check how these dishes were prepared, then you might find yourself being surprised by how many carbs can be packed into a seemingly innocuous meal.
 anyway, back to answering the question, 'Are Fajita Veggies Keto?'
What Veggies Are In Fajitas?
Fajitas typically include bell peppers and onions, though other vegetables such as mushrooms, zucchini, and squash can also be used.
In their own right, most of these are low in carbs, however, the number of carbs can soon add up, which we will explore further below.
Guacamole, sour cream, and cheese are common accompaniments to fajitas. In my opinion, these are just as important as the veggies!
How Many Net Carbs are In Fajita Veggies?
Fajita veggies usually consist of bell peppers, onions, and maybe some mushrooms. Bell peppers are generally low in carbs, with only 6g of net carbs per cup. Onions have 7g of net carbs per cup, and mushrooms have 3g of net carbs per cup.
So depending on the vegetable mix you're using, your net carb count for fajita veggies should be between 3-13g.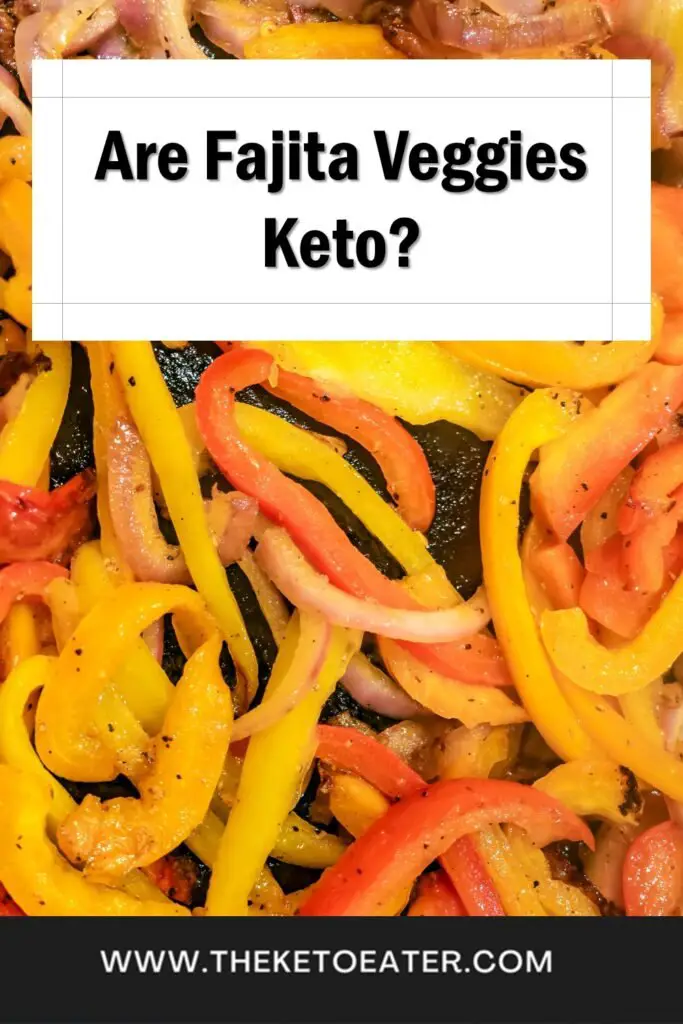 For this reason, we advise cutting down on the amount of onion that you use in your fajita veggie mix, and upping the number of mushrooms, and bell peppers.
You can also add a chopped salad, or some romaine lettuce, or fresh tomato salsa, to bulk out your fajitas without adding excessive carbs.
You can also up the amount of meat, such as chicken thighs, or steak, this is a great source of healthy fats. Steak fajitas are my personal favorite.
If steak is your thing, check out our article on how much steak you can eat on keto – you may be surprised!
Also, you need to be mindful of the seasoning that you are using, as this will add extra carbs.
How to Approach Meals on Keto
You must know that you can make low-carbohydrate dishes at home. This makes it easy for you to stay in ketosis.
Some people worry about their health when they switch to a ketogenic diet but if you are taking supplements and vitamins then you shouldn't have any issues.
If you eat low carb, you may lose weight quickly. But you can maintain your weight easily by counting your calories.
It is important that you eat a balanced diet.
This is because you will find that carbohydrates and fats both have calories. Eating too much fat or carbohydrates can make you gain weight. A balanced diet will keep you healthy and slim.
You may be wondering whether or not the food that you eat is good for you. Most people know that they shouldn't eat too much sugar, and this is totally understandable.
No matter what meal you choose, you need to understand the macros that your meal is made of.
Answering the Question: Are Fajita Veggies Keto?
So now that we understand the methodology that we apply to food selection, we have to look at the core question – are fajita veggies keto? The answer is, yes, the veggies are – but it is a close call that is ultimately decided by your selection of seasonings and flavors.
Onions, green peppers, garlic, and other base vegetables that we find in fajita veggies are indeed keto friendly. They have low net carbs per 100g serving, making them ideal ingredients in any veggie dish.
The veggies are not the issue in a fajita dish, clearly. We all know what the delicious culprit is – the tortilla that normally accompanies the dish.
That means that you can take the filling and put keto friendly fats on it like sour cream, butter, coconut oil, or any other delicious keto topping that you can think of.
Wrapping Up: (Fajita Pun Intended)
With the right serving size, fajita veggies can be made into a full meal if you adjust to your appetite and taste. Additionally, you need to make sure that you eat the right foods.
These are easy to prepare and they taste fantastic. To make them, you just need a few ingredients. You will need about three to five vegetables such as onions, bell peppers, and lettuce. Fajita veggies are delicious, nutritious, and filling.
So the answer is yes, fajita veggies are keto friendly, and they are delicious. Make sure you avoid the tortilla, or try to find an alternative to wrap them in. Some people like to use lettuce or cabbage leave to wrap up their fajita veggies, so this could be an option for you too.