Who doesn't like pancakes?  These keto-friendly, low-carb savory pancakes are made with almond flour and coconut flour making them gluten-free, light and fluffy, and most importantly, delicious. Have them for a low-carb breakfast, lunch, dinner, or snack. Fill your keto pancakes to your heart's content. So, are these really the best keto savory pancakes? You decide.
Disclosure: Some of the links in this article may be affiliate links, meaning that we may earn a small commission if you click through using our link and make a purchase. Please be assured that this will not cost you any extra money. Also, please be assured that any of the products we recommend, we either use personally or have been recommended by trusted friends who currently use them.
The Fluffiest Keto Savory Pancakes
I love these keto pancakes at any time of the day. 
They make the perfect weekend keto breakfast or on an evening when I don't know what I want to eat to need a pick me up, or even as a keto-friendly dessert. 
With only six ingredients, these a quick and simple to make.
Almond Flour And Coconut Flour Combined?
I have tried this recipe with just almond flour and just coconut flour, however, why decide on just one? 
I love combining the two of these flours, they provided the pancakes with a completely different texture. 
Both almond flour and coconut flour are low in carbs making them perfect for any keto lifestyle, so why not mix them up?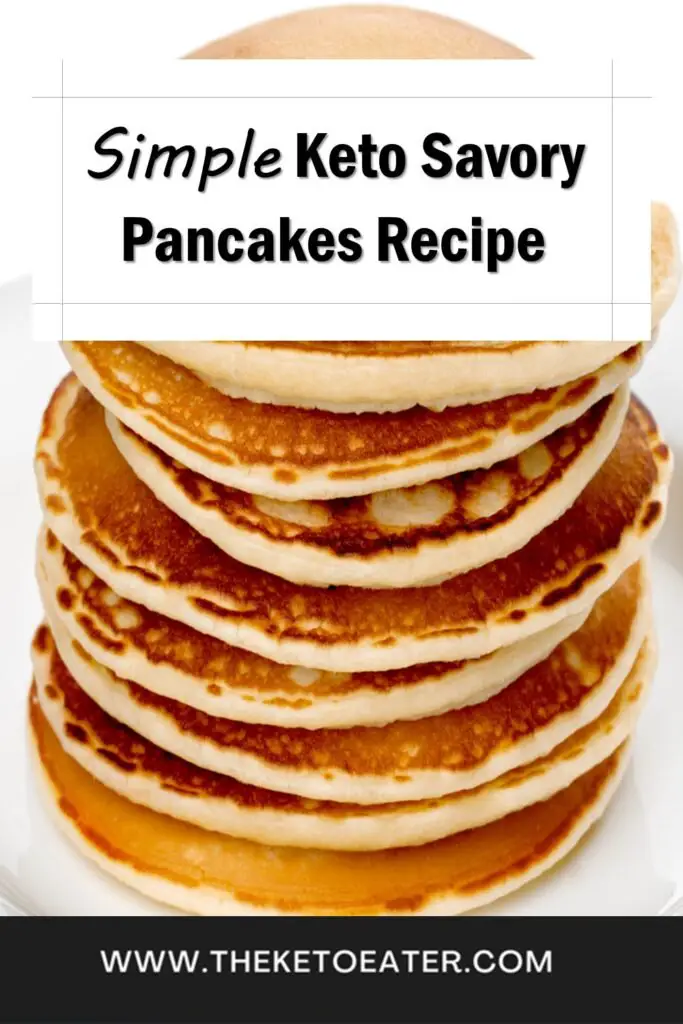 Almond Flour On A Keto Lifestyle
The most popular keto flour used by those following a keto/low-carb lifestyle by far is almond flour. 
A 100g of almond flour contains 14g of fat 6g of protein and only 10g of carbs; making it a good flour substitute for a keto lifestyle. 
Almond flour is made from finely ground almonds, with their skins removed. 
Almond flour can be found in most supermarkets, or be bought online. 
However, I have found that it can be quite expensive within the supermarkets and it can be found cheaper online, especially when bought in bulk.
This can be great if you are trying to do keto on a budget.
You can also make your own almond flour at home which will create almond milk as a by-product of the process.
I keep promising myself that I am going to try this one weekend, but I haven't gotten around to it yet!
Nutribullet v Food Processor
For those of you that follow my recipes, you will notice that I do tend to use my NutriBullet a lot! 
I use my NutriBullet for sauces, dressings, dips, smoothies, Yorkshire puddings, and pancakes, to name but a few. 
However, if you do not have a Nutribullet, a food processor will do the job just as well. Make sure plenty of air gets into the mixture, ensuring that your keto pancakes are wonderfully light and fluffy.
Keto Savoury Pancakes
Course: Breakfast, Deserts, Lunch, Snacks
Cuisine: American
Difficulty: Easy
The BEST Keto Savoury Pancakes that you will ever try!
Ingredients
35 grams almond flour

30 grams of coconut flour

3 eggs

½ tablespoon apple cider vinegar (ACV)

Salt to taste

Butter for brushing pan
Directions
Take a Nutribullet. Add almond flour, coconut flour, eggs, apple cider vinegar, grated parmesan cheese, salt, black pepper, and thyme. Mix until smooth.
Brush butter on a frying pan.
Add 2 tablespoons pancake batter. Cook for 3 to 4 minutes. Flip and cook for an additional 3 minutes. Don't forget to keep the frying pan on medium heat.
Do the same with the remaining batter. Serve hot
Fancy something sweet? Why not try out these almond flour waffles?