Is Vodka Sauce keto friendly? Vodka sauce is a more or less keto-friendly product, both store-bought, and home-cooked. While you might encounter some recipes out there that claim to be more keto-friendly than what is being sold at stores – the overall net carb amount is usually the same, as long as you stick to the sauce without added sugar.
Disclosure: Some of the links in this article may be affiliate links, meaning that we may earn a small commission if you click through using our link and make a purchase. Please be assured that this will not cost you any extra money. Also, please be assured that we either use the products we recommend personally, or have been recommended by trusted friends who currently use them.
The pitfall lies in traditionally large serving sizes that make incorporating vodka sauce in a keto diet a bit more dangerous.
What Is Vodka Sauce?
Vodka sauce is an Italian-American sauce made by combining tomatoes with heavy cream, which gives the sauce its signature orange-pink color.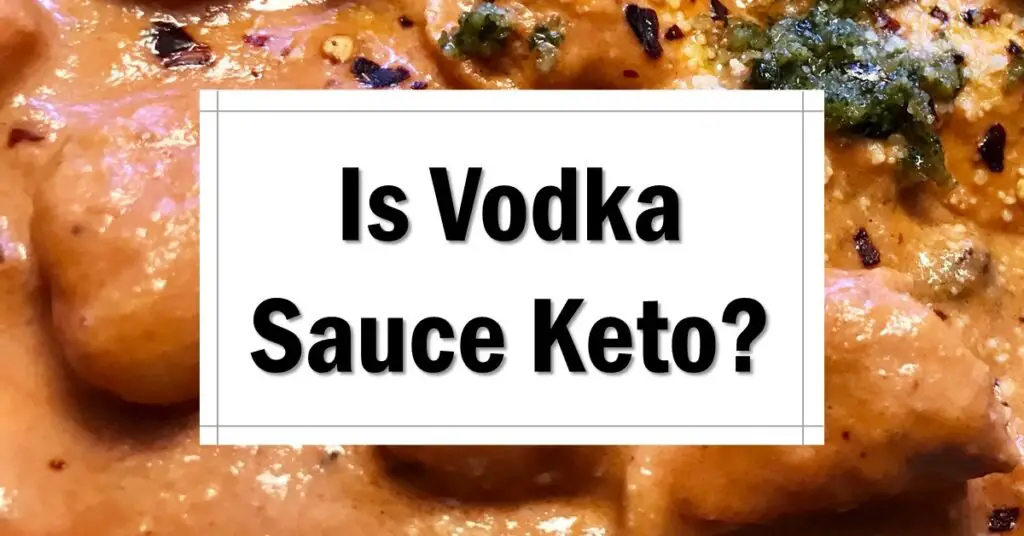 Additional ingredients include, of course, a generous amount of vodka, a type of hard cheese (Parmesan and/or Pecorino Romano), onions, olive oil, and seasonings.
Often garlic and prosciutto are added for additional flavor.
Despite vodka being one of the major ingredients, the sauce isn't alcoholic in nature. The alcohol evaporates during the cooking process, leaving only vodka flavor behind. Delicious!
Nutritional Value Of Vodka Sauce
Getting a clear picture of vodka sauce nutritional value is easier if we count per standard serving, instead of 100 milliliters or grams. In this article, we define standard serving size as around ½ cup or 113g – using data from one of the largest mass producers of canned vodka sauce.
The approximate nutritional value of vodka sauce per standard serving (113g):
Carbs: 6 grams
Protein: 3 grams
Fat: 4.5 grams
Fiber: 1 gram
Sugar: 6 grams
Calories: ~80
Net Carbs In Vodka Sauce
Per standard serving of vodka sauce, you get around 5g net carbs.
You calculate the net carbs in the product by deducting the amount of fiber from the overall carb amount of the product.
Is Vodka Sauce Keto Friendly?
At first glance, vodka sauce is quite a keto-friendly product. But it can be dangerous because it's a sauce.
If we were talking about a separate dish, then 5g net carbs would be not just a perfectly acceptable amount of net carbs per serving, but would downright get a gold star.
But as a sauce it acts as an additional element of the dish, upping the net carb number your dish likely already contains.
Unless the dish itself counts 0g net carbs or as low as possible, or you are eating OMAD, it's likely a good idea to skip vodka sauce and use a more keto-friendly alternative.
Best Keto Alternatives To Vodka Sauce?
If you want to keep your net carbs to a minimum, you should opt for a simpler cream-based sauce, with lower carb content, or tweak the vodka sauce recipe to lower carb content (more cream, fewer tomatoes).
Yo Mama's vodka sauce is a great option. It is great served with a grilled chicken sliced into a bowl of zoodles.
The vodka itself is, luckily a fully keto product, so you can use it to your heart's desire.
Enhance your keto cooking with our article on ketogenic sauce options and the ones to steer clear of, ensuring your diet remains both delicious and low-carb.
Summary: Is Vodka Sauce Keto Friendly?
So, is vodka sauce keto friendly? In terms of ingredients, vodka sauce is keto. However, the tomatoes used in this will increase the carb content so you will need to be careful as to how much you consume. A perfect alternative is to buy a specific keto-friendly brand as recommended above, or, make the sauce yourself. Either way, this sauce is delicious.