Is Japachae Keto? Let's find out. Unfortunately, japchae in its classical iteration is absolutely NOT keto-friendly. Most of the ingredients that go into the dish, including the main one – glass noodles – are simply too high in net carbs. However, that doesn't mean the dish can't be 'ketofied', read on to find out more.
Disclosure: Some of the links in this article may be affiliate links, meaning that we may earn a small commission if you click through using our link and make a purchase. Please be assured that this will not cost you any extra money. Also, please be assured that we either use the products we recommend personally, or have been recommended by trusted friends who currently use them.
What Is Japchae?
Japchae is a traditional Korean dish, a stir-fry made with glass noodles and vegetables. The name japchae literally translates to "mixed (jap) vegetables (chae)".
As with many traditional dishes, there's no one exact recipe for japchae that every cook follows, but the general idea stays the same: noodles with lots of vegetables, with soy-based sugary sauce.
Mushrooms, carrots, garlic, onions, bell peppers, and spinach are usually the vegetables that are added to japchae at restaurants. The non-vegetarian version often adds some kind of meat, either beef or pork, to the dish.
What Is The Nutritional Value Of Japchae?
Per serving of japchae (~260g), which would include potato starch glass noodles, marinated meat, various (not always keto-friendly) vegetables, and sauce, you'd be getting approximately:
Carbs: 38 grams
Protein: 14 grams
Fat: 11.5 grams
Fiber: 4.6 grams
Sugar: 11 grams
Calories: ~302
*A lot of macros depend on what's been added to japchae, but overall macros are unlikely to change in any significant way to be more keto-friendly.
How Many Net Carbs Are There In Japchae?
Japchae is high in overall carbs but low in fiber, which means the amount of net carbs doesn't lessen in any significant way once we've done the math.
As always, we calculate net carbs by deducting the total amount of fiber from the overall number of carbs.
You get around 38g of carbs per serving of japchae but only around 4.6g of fiber, leaving you with around 33.4g net carbs.
Is Japchae Keto Friendly?
Unfortunately, japchae is NOT keto-friendly, in its traditional form. With around 33g of net carb per serving, it's almost double the net carbs that your daily macros would allow.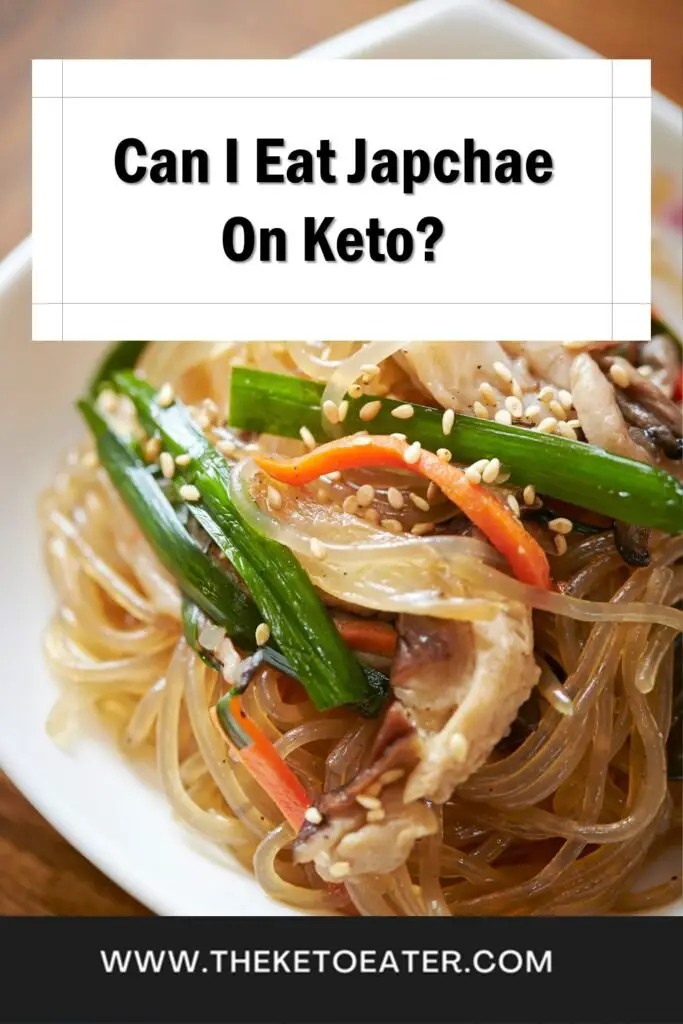 There's simply no viable way to incorporate japchae into a keto diet unless some rather major changes are made.
What Are The Best Keto Alternatives To Classic Japchae?
Sweet potato starch noodles are far too high in net carbs to be consumed on a keto diet. But luckily there are low-carb alternatives you can substitute with if you miss japchae.
Shirataki (konjac) noodles and kelp noodles are popular alternatives when it comes to keto noodle dishes. And the last one, in particular, is similar in texture to glass noodles.
Courgetti is another amazing option for getting more veg into your meal whilst drastically lowering the carb count.
Also, either skip the sugar in the marinade/sauce or substitute it with keto-friendly sweetener or swap it up for coconut aminos.
You'll find that the final result is much closer to the japchae you miss than you might think.
For more on substitutes for Asian cooking, check out our guide here.
Staying hydrated on the keto diet is really important, for more on how much water you should be drinking, check out our guide to staying hydrated on the keto diet.
If you're planning on dehydrating yourself(!) and drinking alcohol on the keto diet, check out our ultimate guide to drinking alcohol on a keto diet. Also, you may be interested in, how to recover from a cheat day.
Summary: Is Japchae Keto Friendly?
Unfortunately, no, Japachae in its traditional form is not keto friendly, however, with a few quick substitutions, you can soon switch up your Japachae in order to make it keto friendly, so you don't have to miss out on the amazing flavors. Give it a go and let us know what you think!