Is Chinese Keto-friendly? Can I eat Chinese on Keto? Hell yes! More importantly, do you want to know how to eat Chinese on keto and stay in ketosis?! In our guide to eating Chinese on keto, you'll learn what Chinese dishes are Keto friendly and how to make your own delicious, authentic Keto Chinese Fakeaway, which Chinese sauces are keto-friendly, and much more….read on to learn how to enjoy Chinese on keto.
Disclosure: Some of the links in this article may be affiliate links, meaning that we may earn a small commission if you click through using our link and make a purchase. Please be assured that this will not cost you any extra money. Also, please be assured that we either use the products we recommend personally, or have been recommended by trusted friends who currently use them.
Keto Chinese – Takeaway Or Restaurant
Chinese does tend to be high in carbs due to being full of sugar and starch. If you plan ahead though, you can eat out in a Chinese and remain fairly low-carb.
TOP TIP: If you know you are going to be ordering in Chinese or going out to celebrate – plan your meals around this. If you can fast before the meal, or plan to eat extremely low-carb. If you know you're going to go over your carb allowance, consider planning a fast the day after or plan in some exercise the next morning.
If the restaurant/takeaway has a menu online – use it!!
Have a browse through in advance, that way, when you come to order you will be prepared and you won't be tempted to make a quick decision that may throw you off plan.
Planning ahead also means that you can ring the restaurant and check ingredients, or ask for substitutions.
I used to be quite nervous in doing this as I didn't want to be judged, but over time I have found that most places are really happy to oblige and are actually quite interested.
One of my local restaurants now actually advertises that it is 'keto-friendly' and will make keto substitutions where it can!
Eating out on keto does not have to be stressful.
Eating Keto At The Chinese Restaurant
This is a bit misleading, as you cannot assume that all Chinese restaurants cook using the same ingredients, techniques etc, so it is always best to enquire with the restaurant before you order, the following tend to be dishes that lend themselves to being lower in carbs.
Clear thin soups: These may be a good option as a starter, as they are not thickened, they naturally lower in carbs
Egg foo young/ yung: This is always a good choice as other than the soy sauce (which most restaurants will substitute for Tamari Sauce)
Black Bean Sauce dishes: This does not tend to be as high in carbs as some of the other dishes, although there will be a small number of black beans in the sauce – if you are really dedicated, you can normally avoid these.
Meat and vegetables: Stick with non-sugary sauces (such as plum sauce, which is full of sugar). One of my personal favorites is chicken with mushrooms (in many places), Szechuan beef, and Walnut chicken.
Stir-fried dishes: These normally only a small amount of sugar or starch, perhaps a gram or two of carb per serving. Ask them to leave out the corn starch or ask them to use xanthan gum in the preparation of the dish.
Walnut chicken: I love this and it is naturally very low in carbs, this is always a good 'go-to' for me.
Questions To Ask Before Ordering
Q – Does the dish contain cornstarch? – if so, can this be skipped or substituted?
Q – Do the sauces have extra cornstarch or sugar included?
Q – Can rice be substituted with steamed vegetables?
Q – What are low carb options would the restaurant recommend?
What Chinese Dishes To Avoid At The Chinese Restaurant / Takeaway?
Some Chinese dishes just scream out that they are high in sugar – sweet and sour for example. Others are not so obvious, that's why planning will be your best friend!
General guidance on what to avoid;
Noodle based dishes such as Chow Mein
As I have said above – avoid any sweet sauces;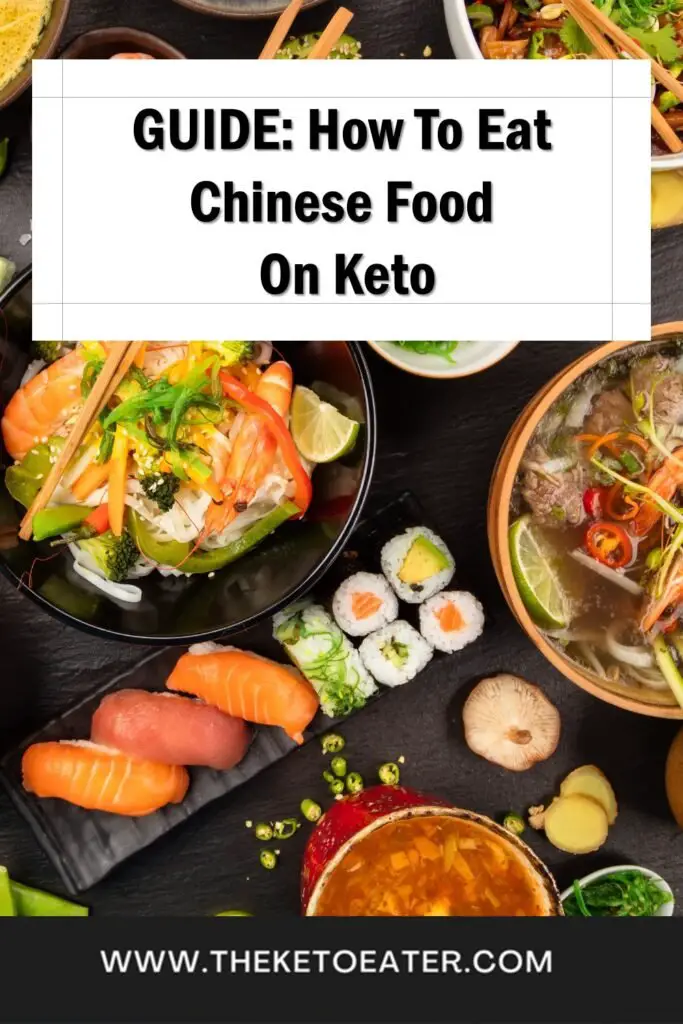 Are Chinese Ribs Keto Friendly?
As with everything we have been through so far, some are better than others.
Chinese dry salt and chili spare ribs are by far the best option another alternative is the salt and pepper ribs. Just call them first and check that they are not adding anything additional.
As delicious as Pekin Style Chinese ribs are, the sauce they are cooked in is full of sugar, giving it its fruity, sweet taste.
What Chinese Noodles Are Keto Friendly?
There are lots of Keto-Friendly alternatives to noodles if you are wanting a keto Chinese experience.
Below is a round-up of some of my favorite alternatives to traditional wheat noodles. Unfortunately, some of these are quite difficult to find in the local supermarkets in the UK.
If you have a Chinses supermarket nearby you may be in luck. My local Chinese sells Shirataki Noodles, but that's it. They can all be bought online if you can't find them locally.
Keto Friendly Rice
Just like noodles – rice is a staple of Chinese meals. Good keto alternatives to rice are;
Is MSG Keto?
Monosodium glutamate (MSG) is a flavor enhancer commonly used in many processed foods, including some sauces, soups, and snacks. From a macronutrient perspective, MSG itself contains minimal carbohydrates, fat, and protein, which makes it low in calories. However, when following a ketogenic diet, it's important to consider the potential effects of MSG on your body and overall health.
While MSG is generally recognized as safe by regulatory bodies, some people may experience adverse reactions to it, such as headaches, flushing, sweating, or other symptoms collectively known as "Chinese Restaurant Syndrome." These reactions can vary from person to person.
From a keto perspective, MSG doesn't directly impact ketosis because it doesn't contain significant amounts of carbohydrates that can raise blood sugar levels.
However, it's important to be mindful of the foods that may contain MSG, as they could potentially have hidden sources of carbohydrates. For example, certain sauces or seasonings that contain MSG might also include sugar or other carb-rich ingredients.
Keto Chinese Fakeaway – Want To Know How To Make Keto Chinese Food?
Chinese always makes the perfect Keto dinner party. It sharing food at its best!
What Chinese Food Is Low Carb?
As discussed above the Chinese dishes lowest in carbs are the below;
What Chinese Sauces Are Keto Friendly?
Sugar-Fee Sweet Chili Sauce
Sugar-free Sweet and Sticky Teriyaki Sauce
Szechwan (a personal favorite of mine!)
Most homemade sauce bases can be made at home using the substitutions shown below.
I love Gok Wan, I think I've watched everything he has ever been on, I've bought every book and I've even seen him live (yes I was star struck!!).
I loved his Chinese Cooking program.
I still use his book now, I just switch out sugar for erythritol, cornstarch for xanthan gum, and I stay away from the sweet sauces, that having been said – his two cookbooks were when he was on a health kick, so there are very few 'sweet' recipes.
Keto Chinese Substitutes
Chinese food traditionally features a lot of elements that are not keto-friendly, (for example rice, wheat, tapioca, and thickening agents such as corn starch and sugars).
There are some quick and easy tricks that you can do in order to make your Chinese meals keto-friendly.
Rice can be substituted for cauliflower rice, Slim rice, or Shirataki Rice (Konjak Rice)
Noodles can be substituted for a number of different options; Shirataki Noodles (Konjak Noodles), Heart of Palm, Kelp Noodles, Edamame Noodles
Thickening agents such as corn starch can be substituted for Xanthan Gum
Coconut Oil, Walnut Oil, or Avocado Oil can be used instead of traditional Vegetable oil
If the recipe calls for pancakes (like one of my favorites- duck in pancakes – use lettuce leaves or long thin slices of cucumber to wrap your keto Chinese goodness in!
Keto-Friendly Chinese Vegetables
The below are all keto-friendly Chinese vegetables and their approximate net carb value. If you are cooking at home you can incorporate these into your Keto Chinese meals to
Alfalfa sprouts – 2 grams net carbs /100 grams
Green or Yellow Garlic Chives – 3 grams net carbs /100 grams
Baby Bok Choy – 3.5 grams net carbs /100 grams
Radish – 4 grams net carbs /100 grams
Chinese Kale – 4 grams net carbs /100 grams
Chinese Celery – 5 grams net carbs /100 grams
Mushroom Variety – 5 grams net carbs /100 grams
Pea Shoots – 6 grams net carbs /100 grams
Mung Bean Sprouts – 6 grams net carbs /100 grams
Chinese Long Bean – 8 grams net carbs /100 grams
Tofu Noodles (ok technically not a vegetable) – 3 grams net carbs /30 grams
Keto Chinese Recipes
I love to cook and eat Chinese. Unfortunately, I don't have many Keto Chinese recipes on this site at the time of writing. That's for two reasons;
1. When I cook it, I normally eat it before I have a chance to take photos – who can blame a girl!
2. I'm always experimenting with flavors and never write down what I've done to be able to pass it on to you wonderful people. I will try harder.
In the meantime check out the keto Chinese recipes I do have on this site – although, there are many, many amazing keto Chinese recipes out there!
If there is a specific recipe that you would like to see here – let me know and I will get working on it asap! I'm sure my friend and family won't mind sampling some delicious keto Chinese meals!
If Thai is more your thing, check out our guide here.
Keto Chinese Recipe Book
If you can't wait for me to eat my body weight (or my pre-keto body weight!) in Chinese, why don't you check out Steven Chu's amazing Chinese Cook Book, it's all there ready and waiting for you.
It has an amazing selection of fish, tofu, and meat dishes, including all of the classic Chinese dishes we all know and love, just with a keto twist! The Keto Crisp Skin Chicken and Garlic and Ginger Bok Choy are particular favorites of mine.
If you don't know where to find your favorite keto ingredients in the supermarket? Or want to ensure that you get the best quality and value products?
Check out the Pantry where I have lists of all of my favorite keto, low carb products, and kitchen gadgets!
Please, please – send me some pictures of your Keto Chinese delicacies!
Do you have a favorite keto Chinese meal? Let us know in the comments below.