You CAN do keto on a budget! One of the biggest myths is that a keto lifestyle is expensive. Keto does not have to be expensive. This article will take you through how to do keto on a budget, whilst enjoying amazing food! Make sure you read to the bottom for some of my favourite keto on a budget top tips!
Disclosure: Some of the links in this article may be affiliate links, meaning that we may earn a small commission if you click through using our link and make a purchase. Please be assured that this will not cost you any extra money. Also, please be assured that we either use the products we recommend personally, or have been recommended by trusted friends who currently use them.
Is Keto Expensive?
One of the things we hear the most is, "I'd love to try keto, but I don't have the spare money right now".
This always really confuses me, I've never seen anything on a keto forum, or the like, saying that keto is expensive.
When people see 'low-carb', they start thinking about expensive cuts of meat and expensive cheeses.
In reality, as keto focuses on fats first and then protein, your diet does not have to be full of expensive items. Therefore, a keto lifestyle does not have to be expensive.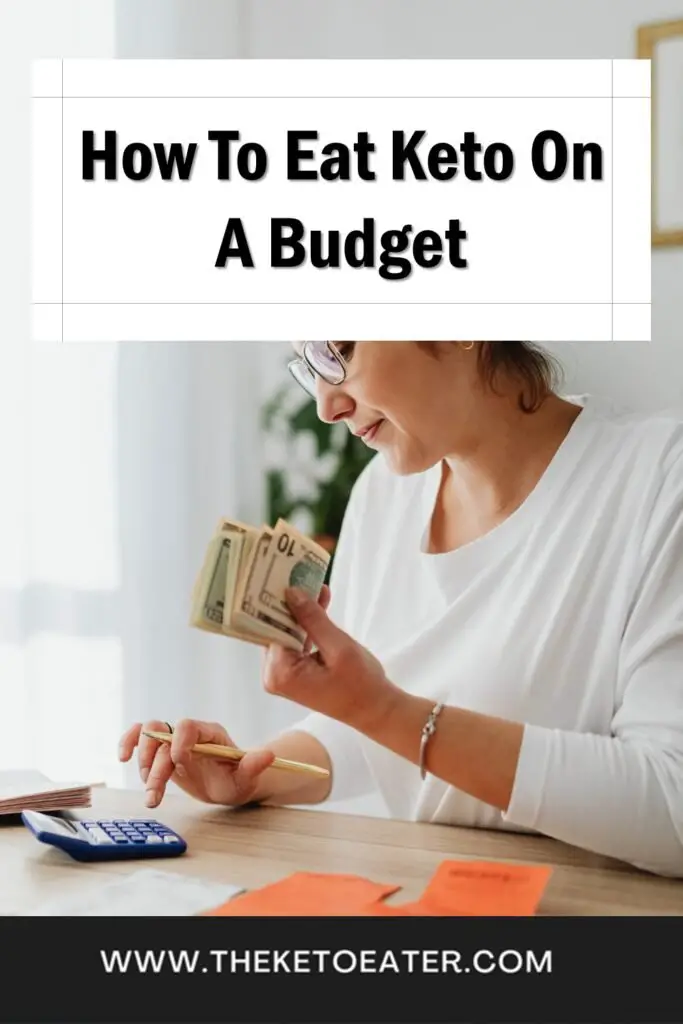 Can you do Keto on a tight budget?
You can definitely live a keto lifestyle if you are on a tight budget. By focusing on the fatty foods and following the guidance below, keto on a tight budget is definitely achievable.
People are often surprised by how much money they can actually save on a keto lifestyle. When you transition onto keto, people often end up eating less and, therefore, will be spending less on food.
If you are wanting to know about the other benefits of keto, check out this article.
How do I do Keto on a Budget?
In order to write this article, we've done a whip around all of the team here at absolutely-keto to pool all of our top tips for living a keto lifestyle on a budget.
Below you will find some of our top tips for completing keto on a budget. If you have any of your own tips, why not let us know in the comments below, so we can all learn.
Keto on a Budget – Tip One – Keep your meals simple!
Your meals do not have to win Michelin Star! They don't have to be complicated, with a lot of obscure ingredients. Keep your meals simple.
If you keep your meals simple, at least at first you will not have to spend a lot of money on new ingredients. This is how I personally started out. This also leads nicely into Top Tip Two below.
Keto on a Budget – Tip Two – Plan your meals!
When I started on keto mapped out my first months' worth of meals, so I knew exactly what I needed ingredients-wise.
I actually did this to make sure that I stayed on track.
However, this also meant that I did not have any food waste.
If I had Keto Mac & Cheese one night, I may have Keto Butter Chicken with Cauliflower Rice later in the week, then I may make keto hash browns with any leftover cauliflower after that. This way there was no waste.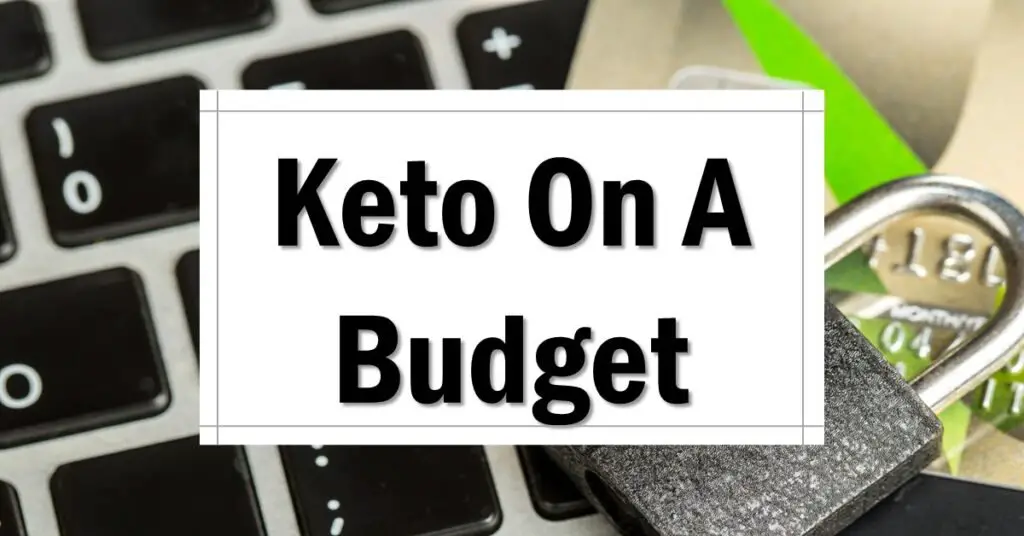 By planning exactly what you are going to eat, you can write a shopping list. The next challenge is to stick to your list.
Keto on a Budget – Tip Three – Learn to Love your freezer!
Although this does not necessarily save you money on the ingredients, it saves you pennies on having your gas/electricity running every day. This also saves you time!
Every 4th week at work, I have a hellish week. Reports galore are all due, and I end up working long hours every day. Want to know how I survive?
I don't cook for the week!!!
For the other three weeks, for every meal, I will make additional portions. (normally 2-4 extra portions) and freeze them.
This way, if I am late in, or just can't be bothered to cook, I can just grab a meal out of the freezer and I'm good to go!
Not only am I saving time, but I'm also not putting the hob, oven, and kitchen gadget on for nearly a week (just the microwave on reheat!!).
Keto on a Budget – Tip Four – Keep an eye out for Sales!
We all love grabbing a bargin! If you're doing keto on a budget this is no different. You can do this in more than one way.
Firstly, when you're in the supermarket (or wherever you like to shop), check out the items that you love to eat and stock up the cupboards when they are on offer. Don't be afraid to fill your freezer!
Secondly, don't be afraid to make friends with your local greengrocer and butcher. Ask them if they sell off items when they come near their date, or if they ever run any offers.
Keto on a Budget – Tip Five – Buy in Bulk!
In line with looking out for the best sales, buying in bulk can save you a lot of money!
I wouldn't advise doing this until you are confident that you like the product. I once did this with some psyllium husk that was terrible. I was then left with loads of it! After a year, it got thrown out!
Mistakes like this can make keto expensive – but that's no different to any other way of eating!
Keto on a Budget – Tip Six – Buy Frozen
There is nothing wrong with buying frozen vegetables in order to remain frugal on keto. There is no problem with either buying fresh when it's on offer (meat, cheese, veg) and freezing them for use when it suits you.
Find what works for you and go with it!
When I first started doing keto, I was on a tight budget. I used to buy cheese in bulk, grate it in big batches and freeze it.
Not only did this save me money, but it also made life easier – when I needed cheese – it was there and grated with no faff!!
Keto on a Budget – Tip Seven – Buy in Season
If you are looking to save money on keto a good option is always to buy fruit and veg when it is in season.
This also helps to mix up your meals, so you don't become bored! For example, I eat a lot of courgettes in the summer, when they are in season.
In winter, I will move on to more winter vegetables, like cabbage and brussels sprouts.
Keto on a Budget – Tip Eight – Grow your own Keto!
This may sound a little radical – but if you have got the room in your garden or even in your home, why not grow your own?!
This is easier than it sounds. In summer, my garden is full of fruit and veg, I do freeze this as I go so I have as much as I can stock for the winter months when not a lot grows in the UK!
Keto on a Budget – Tip Nine – Don't buy processed products
There are a lot of pre-packed products out there that claim to be 'keto-friendly'.
You have to be really careful with these as not all are keto-friendly.
Also, these can be unnecessarily expensive. Often you can make this at home.
Keto on a Budget – Tip Ten – Join our Facebook Group!
Finally, why not join the Facebook page. Here we are building a fantastic community of people, who are all on their own keto journey.
Here people share their top keto tips.
BONUS!!!! Keto on a Budget – Tip Eleven – Use Pinterest
I know I named this article 'Top 10 Tops of nailing Keto on a Budget!', but I forgot about this one, and we felt it was too important to miss out.
Pinterest is full of amazing keto recipes and guidance. There are some fantastic group boards that you can join. I have one specific board which is dedicated to doing Keto on a Budget- it includes guidance and cheap recipes.
If you have any other top tips for doing keto on a budget, drop us a message or add them in the comments below.
Oh and don't forget to join our Keto Community on Facebook and Pinterest.