You don't have to be a child to enjoy these perfect, simple, 5 ingredient keto peanut butter cookies. Quick, Keto, and kid-friendly, what more could you want?!
Disclosure: Some of the links in this article may be affiliate links, meaning that we may earn a small commission if you click through using our link and make a purchase. Please be assured that this will not cost you any extra money. Also, please be assured that we either use the products we recommend personally, or have been recommended by trusted friends who currently use them.
Can I Eat Cookies On Keto
Yes!!! Was that a good answer?!
I often get asked if you can eat cookies and such like on a keto / low carb way of eating.
An average shop-bought peanut butter cookie will have around 9 grams of carbs per cookie.
This means that if you had 2 cookies in a day that would be all you could eat and keep under your keto macros of 20 grams of carbs a day.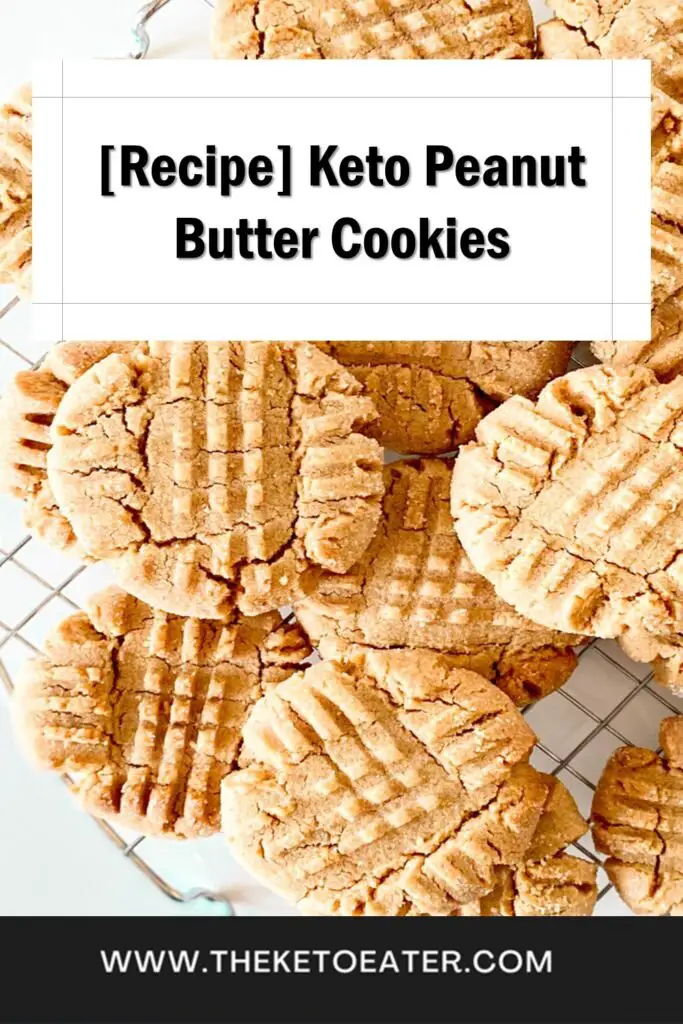 This is before you even look at all of the ingredients that are in the cookies that are likely to kick you out of ketosis.
New to keto? Try this keto guide for beginners
Need to know more about keto macros and how to work them out? Check out this article
What this means is that shop bought cookies are a no-go on a keto diet.
However, this does not mean that you cannot have cookies.
This simple recipe will talk you through how to make perfect keto-friendly peanut butter cookies that with rival any that you will find in a shop.
Is Peanut Butter Keto Friendly?
Peanut butter is high in monounsaturated fat; this contributes to reducing cardiovascular risk and studies have even shown that it can lower blood pressure. [1]
It is one of the most popular spreads with people eating it for breakfast, lunch and dinner – how tragic would it be if you couldn't eat peanut butter on keto?!
Not all peanut butters are created equal.
A lot are full of sugars and inflammatory ingredients like hydrogenated oils and trans fats.
When looking at the ingredients list on peanut butter, the fewer ingredients you see the better the quality of the peanut butter.
Ideally, you do not want to see and added Palm Oil, Sugar, or Peanut Oil.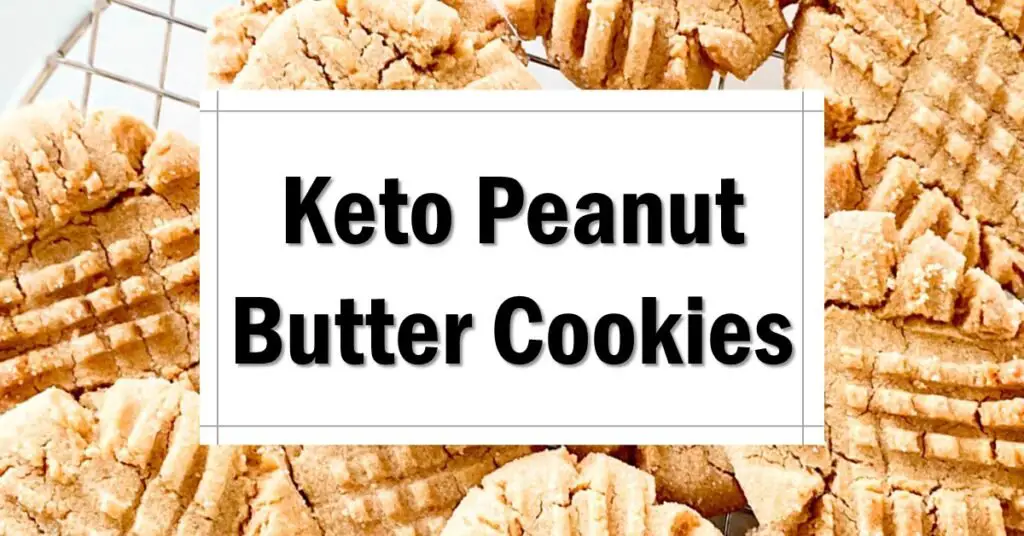 The best quality (and keto-friendly) peanut butters will only contain peanuts and maybe salt as a flavor enhancer.
Unfortunately, a lot of the big brand peanut butters are full of additional ingredients like sugar. This is to make the peanut butter sweet and 'tasty', unfortunately, all of these additions push up the number of carbs.
What should I look for in my peanut butter?;
⦁ Only Peanuts (potentially salt) as an ingredient.
⦁ Carb count of around 10g per 100g.
Check out our guide to peanut butter here.
How Many Carbs In Peanut Butter?
As above, a lot of commercial brands of peanut butter will add additional ingredients (including sugars) into the butter. This will increase the number of carbs in the peanut butter.
Your average commercial brand will have over 16 grams carbs per 100 grams.
Better quality keto-friendly peanut butters will be lower in carbs (around 10 grams of cabs per 100 grams).
Chunky Or Smooth?
Only you can answer this one! For these keto peanut butter cookies, you and use smooth or crunchie, depending on what you like. My normal rule is that if I am eating peanut butter as a snack – I like crunch peanut butter.
It adds a nice texture and the crunchy peanuts mean I need to chew more and it takes me longer to eat my keto snacks!! If I am baking I tend to use smooth peanut butter.
Net Carbs Per Cookie
So back to these cookies! These peanut butter cookies are not only super simple to make – but they also only contain 1g carb per cookie. I'm not trying to encourage you – but this means that you can have a couple of these without knocking yourself out of ketosis.
Sugar
In this recipe I use erythritol – for me, this is the closest in taste and texture to 'normal' granulated sugar (cane sugar).
It does not leave you with a bad aftertaste as some keto-friendly sugars can.
Erythritol has no effect on blood glucose or insulin levels; meaning it is a safe sugar substitute if you have diabetes or are living a keto lifestyle. It has no carbs and no calories.
Why not enjoy one with a delicious keto-friendly hot chocolate?
Leave me a picture below of your keto peanut butter cookies.
Peanut Butter Cookies
Course: Dessert, Snacks
Cuisine: American
Ingredients
1 egg

200g peanut butter (smooth or crunchy – your choice!)

1 teaspoon vanilla extract

100g erythritol sugar

1/2 teaspoon Himalayan sea salt
Directions
Preheat the oven to 165C
Get your silicone baking mat out and ready (maybe worth placing this onto a baking tray) OR line a baking sheet with parchment paper and spray it with olive oil in order to lightly grease the surface to ensure those gorgeous cookies slide off the paper after baking.
Beat together peanut butter together with egg and sweetener in a bowl, and then add little salt along with vanilla extract. (I do this with either my trusty Nutribulet or my hand mixer)
Prepare balls by scooping 1 tablespoon of the dough for each ball, mold them into balls using your hands and then place the cookie balls on the silicone / grease proof tray.
Flatten the cookies by using a fork to create a criss-cross pattern, in order to allow even cooking.
Allow the cookies to bake for about 10 minutes until slightly golden brown, and then remove them from the cookie sheet and place them on a cooling rack.
Let the cookies cool and then serve.
If you enjoyed this recipe, let us know in the comments below. If you have a recipe that you would like to see here, let us know and we will see what we can do to help you out.