Are you just starting keto or have you been on keto a while? You are probably asking questions such as how many macros should I be eating on Keto? When you've got the hang of these you're probably asking, do I need to recalculate my macros? Or how often should I recalculate my macros on keto? Don't worry, this article will answer all of these questions and more!
Disclosure: Some of the links in this article may be affiliate links, meaning that we may earn a small commission if you click through using our link and make a purchase. Please be assured that this will not cost you any extra money. Also, please be assured that we either use the products we recommend personally, or have been recommended by trusted friends who currently use them.
How many macros should I be eating on Keto?
Let's start at the very beginning! If you are new to Keto, you have probably heard a lot about 'macros'. Macros, is the abbreviation for 'macronutrients'. Macronutrients make up all of the foods that we eat.
In simple terms macronutrients are broken down into;
For a Keto (Ketogenic) lifestyle approximately 5% of your macros should come from Carbs, 25% from Protein, and 70% from Fats.
If you need to calculate your macros check out the calculator here on Ruled.me. This is by far the best macro calculator that I have found.
If you need to know more about Macros and how they fit within the Ketogenic lifestyle, check out this article.
If you are new to Keto, check out our getting started on keto guide.
Confused by all of the terminology and abbreviations on Keto? This or this article will help you out!
Now we are up to speed on what macros are, let's move on to calculating your macros.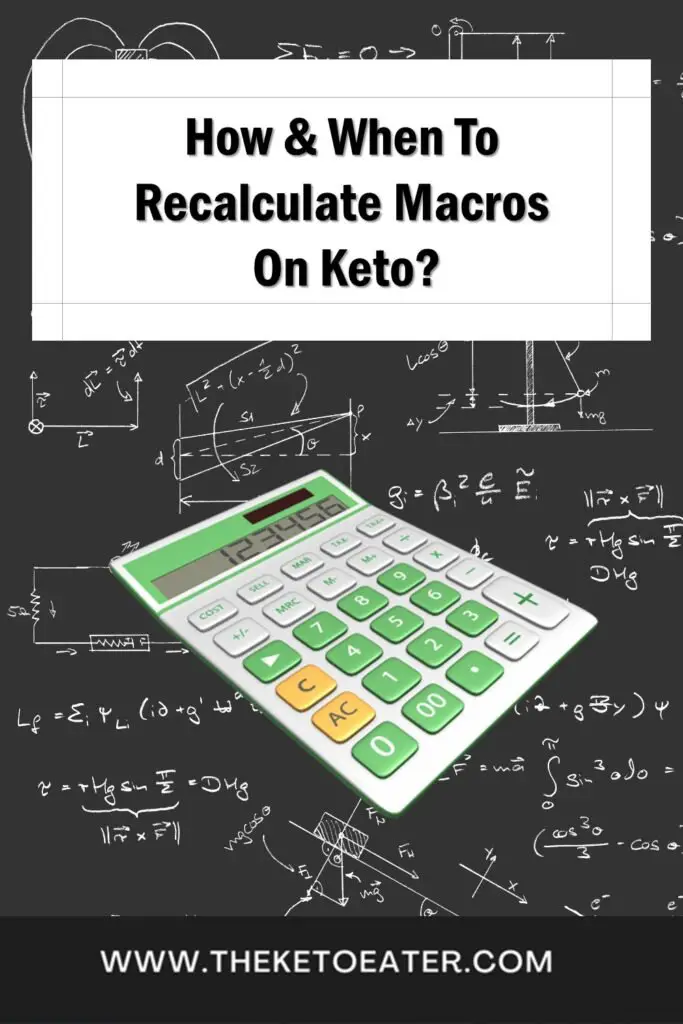 So, How Often Should You Recalculate Your Macros?
How often should I recalculate my macros on Keto is a question that I get asked a lot.
There are a lot of different thoughts out there as to how often you should recalculate your macros, however, I have found that every 10 lbs is perfect for me.
I recalculate my macros every 10 lbs (4.5 kg).
When Should I Adjust My Macros On Keto?
I know I have said that I adjust my macros every 10lbs (ish) loss, however, there will come a time in your keto journey when your weight loss will slow down.
It was at this point I started paying more attention to my macros and started tracking what I was eating.
This slowing down is often also known as a keto stall. There are things you can do to break a keto stall, recalculating your macros is one of these things.
4 Ways To Know When To Adjust Your Macros On Keto
No.1: Adjust your Macros when you have lost a large amount of weight
We have already covered this above. When you have lost a large amount of weight (10 lbs or 4.5 kgs) it will be time to recalculate your macros.
The amount of energy that you need to get through day-to-day life, also known as your Total Daily Energy Expenditure (TDEE) will have reduced.
This, in simple terms, is because there is less of you to move around, so you need less energy to do it.
No.2: Adjust your Macros When Your Weight Loss Has Slowed Down
When you have less weight to lose, you lose it at a slower rate.
At this point, I would recalculate my macros more regularly to make sure I was eating the right amount for my goals, and I will also spend more time tracking what I eat. 
If you have hit a stall in your weight loss journey, it may be time to adjust your macros and start tracking what you are eating in order to ensure that you are meeting those macros.
Once you have recalculated your macros, stick with these for 4-6 weeks to give your body time to adjust, before recalculating them again.
No.3: Adjust your Macros When You Are Not Feeling Your Best
If you are well into your Keto journey, and over the keto flu and any of the side effects that people have when starting their keto journey and you don't feel well, it may be time to consider adjusting your macros. 
This relies on you knowing your own body and what 'normal' is for you.
Your normal energy levels and general wellbeing.
If you are feeling this way, for a prolonged period of time, it may be worth considering recalculating your macros.
Obviously, if you are feeling this way after adjusting your macros, please go and see your doctor!
No.4: Adjust Your Macros If Your Goal Has Changed
This is a big one for me! Originally, when I started eating keto, my goal was to fit into some skinny jeans I had from years ago. 
I had them back in a time when I liked me, and how I felt about me. There was no weight on the scale attached.
This is what we call a non scale victory (NSV). When you get into keto, you will soon realize that these victories are much more important than the number on the scales.
My macros were calculated against this goal. Once I had got into these, my goal changed, therefore I adjusted my macros accordingly.  
Summary
In answer to the question: How often should you adjust your macros on Keto:
When you have lost a large amount of weight (10lbs / 4.5kgs)
When your weight loss has stalled
When you are not feeling yourself for a prolonged period of time
When your goals have changed
We hope this article has helped you to understand more about your macros on Keto and when you should recalculate your macros.
If you enjoyed this article; let us know in the comments below. Also, why not check out one of the other Keto Guidance articles?