Worcestershire Sauce is a staple in most kitchens, and the question often gets asked, 'Is Worcestershire Sauce Keto Friendly?'. Unfortunately, there is no simple answer to this. However, we lay out all of your options below, including a list of keto friendly substitutes for Worcestershire Sauce and our own favorite keto Worcestershire Sauce recipe, just for you. Read on to find out more.
Disclosure: Some of the links in this article may be affiliate links, meaning that we may earn a small commission if you click through using our link and make a purchase. Please be assured that this will not cost you any extra money. Also, please be assured that we either use the products we recommend personally, or have been recommended by trusted friends who currently use them.
Before we get into the detail to answer, is Worcestershire Sauce keto friendly, we will quickly do a recap of what the keto diet is. If this is not new to you, scroll past it!
The Keto Diet: A Brief Recap
The whole ethos of a keto diet is to keep your macros to 70% Fat, 25% Protein, and 5% Carbohydrates (Carbs).
This 5% of Carbs should not exceed 20 grams per day for a traditional keto diet.
Depending on whether you are doing lazy, dirty, or clean keto diet, will depend on how strictly you track these macros, and how willing you are to eat sugars.
In order to keep your carb consumption under 20 grams, you need to be conscious of what you are eating and stick to low carbs healthy foods, that are also low on the glycaemic index.
The reason for this is so as not to spike your blood sugar and knock you out of ketosis.
If keto is new to you, why not check out our getting started guide, which should take you through all of the basics you need to get started.
What Is Worcestershire Sauce?
Created in Worcester in Worcestershire, England at the beginning of the 19th century; Worcestershire sauce is a fermented liquid condiment.
The creators were two pharmacists John Lea and William Perrins, who went on to form the well-known company Lea & Perrins, which is still the main manufacturer to date.
INTERESTING FACT: Lee & Perrins Worcestershire Sauce claims to be the oldest condement in the US.
Most countries have their own take and names for this sauce, but the base ingredients are largely similar. For more about its history, check out this article.
Worcestershire sauce makes an amazing addition to any number of dishes; cheese on toast, steak even to add a splash of flavor to the soup, oh, and don't forget a classic Bloody Mary, but, is Worcestershire Sauce keto friendly?
Read on and we will get into the detail.…
What Is The Nutritional Value Of Worcestershire Sauce?
The nutritional values of Worcestershire Sauce per 100ml are;
Carbs: 21 grams.
Protein: 0.8 grams.
Fat: 0.9 grams.
Fiber: 0 grams.
Sugar: 18.8 grams.
Calories: 96 cal
As you can see, Worcestershire sauce appears to be high in carbs, however, in reality, we would struggle to consume 100g in one go.
The average serving size of Worcestershire Sauce is only 5ml.
How Many Net Carbs Are There In Worcestershire Sauce?
Net carbs are calculated by deducting the amount of fiber from the total number of carbs.
There are 21 grams of net carbs in Worcestershire Sauce; (21 grams of carbs – 0 grams of fiber = 0 grams of net carbs).
As discussed above, if you are eating a traditional keto diet, your aim is to stay below 20 grams of carbs in a day.
An average serving of Worcestershire Sauce is 5ml meaning that you will be eating less than 1.1 grams of net carbs per serving.
So, initially, when asking whether you can eat Worcestershire Sauce on a keto diet, it looks like you can, as long as you are only using 1.1 grams of carbs out of your 20 grams daily carbohydrate intake allowance and IIFYM (if it fits your macros) this could work for you.
However, we need to look a little deeper into the ingredients in Worcestershire Sauce and whether these ingredients are keto friendly.
For more on keto terms and keto abbreviations, like IIFYM, check out these two articles we have collated to help make your keto life easier.
What Are The Main Ingredients In Worcestershire Sauce?
The original ingredients in a bottle of Worcestershire sauce are:
Barley malt vinegar
Spirit vinegar
Sugar
Salt
Anchovies
Tamarind extract
Shallots (or onions)
Garlic
Spice
Flavorings
Molasses and Sugar are high on the GI (Glycaemic Index), these amounts of sugar are likely to increase your blood sugar levels, which has the potential to knock you out of ketosis.
For more on keto friendly sugars, check out our article which will take you through which sugars are keto friendly, and which to avoid.
The anchovies in Worcestershire Sauce mean that it is not vegan friendly.
Is Worcestershire Sauce Keto Friendly?
Due to the large volume of molasses and/or fructose used in the production of this sauce, traditional Worcestershire Sauce is not keto friendly.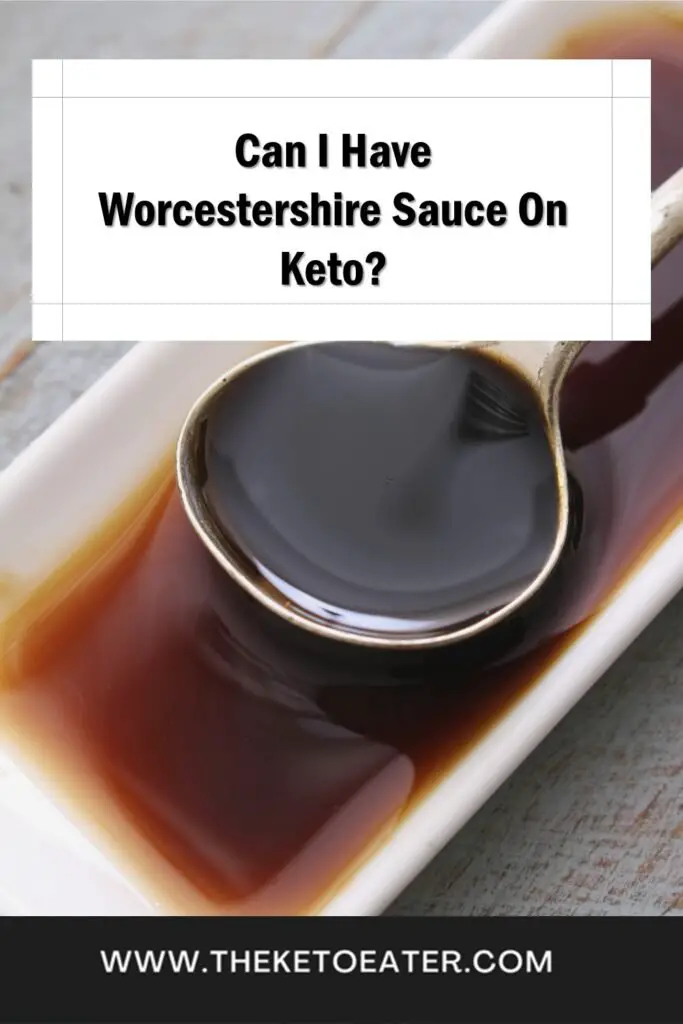 Normally, if you are eating a dirty keto diet and are not worried about the quality of the foods you are eating, you would get away with eating something like Worcestershire Sauce.
You would have to be careful with the amount you are using as the carb count could soon add up.
If you are eating clean keto, you will be concerned about the quality of the ingredients that you are eating in your food, and eating any sugar will not be an option for you.
Therefore Worcestershire Sauce will not be on your keto menu, sorry.
Don't worry though, this does not mean that you have to miss out on your favorite steak sauce, we have some alternatives for you below.
As always, we are adamant that you never have to give anything up in order to eat a keto diet, you just have to think of creative alternatives. This way you can enjoy all of the foods that you love, without having to sacrifice anything.
In doing this you can improve your health and lose weight!
Is Worcestershire Sauce Low Carb Friendly?
Worcestershire Sauce only has 1.1 grams of carbs per serving, so it is definitely low carb friendly. Even on a low-carb diet, you need to be conscious of how many carbs you are eating, a few extra shakes can soon add up the carbs, so be careful how much you are using.
Keto Substitute for Worcestershire Sauce
If you are looking for the keto substitute for Worcestershire Sauce, you're not short of options. Here we have rounded up some of our favorite Worcestershire Sauce substitutes for a keto diet.
Best Keto Alternatives to Worcestershire Sauce
Tamari Sauce
Soy Sauce
The liquid byproduct from rehydrating porcini mushrooms
Reduced Sodium HP Sauce (it's also reduced sugar)
Sugar-Free BBQ Sauce (check out our BBQ Sauce Recipe)
What is your favorite Worcestershire Sauce keto substitute? Share with everybody in the comments below.
If you don't like the substitutions we have recommended above, why not check out our keto Worcestershire Sauce recipe below.
Keto Worcestershire Sauce Recipe
Keto Friendly Worcestershire Sauce
Course: Sauces
Cuisine: British, American
Difficulty: Easy
Ingredients
120 ml (½ cup) Apple Cider Vinegar

1 ½ tablespoons Swerve brown sugar substitute

1 tablespoon Coconut Aminos

1 teaspoon Ginger Paste

¼ teaspoon Ground Mustard

3 tablespoon Water

1 teaspoon Minced Garlic

¼ teaspoon Onion Powder

¼ teaspoon Cinnamon Powder

Salt and pepper to taste
Directions
Add all ingredients to a bowl/food processor or NutriBullet
Mix together until smooth
Notes
Store in the refrigerator in an airtight container.
Why not try adding a splash of your keto Worcestershire sauce to our keto garlic mushrooms, wow!
Final Thoughts: Can You Have Worcestershire Sauce on the Keto Diet
The Ketogenic diet's focus is to change your metabolism from carbohydrates to fats through achieving a state of ketosis. Eating sugars high on the glycaemic index can interrupt this metabolic state. Depending on how strict you are with your keto diet, you may want to skip the shop-bought Worcestershire Sauce and either choose a substitute or make your own.