A good BBQ seasoning rub is like a partner – easy to find, and hard to tweak until it is just perfect! This Keto BBQ rub has taken me years of tweaking to get the perfect balance of sweet and smoky with a good depth of flavor. This makes a perfect keto BBQ seasoning rub for chicken wings, thighs, and drumsticks as well as on pulled pork and ribs. The best bit is that add a couple of ingredients to the run and voila – beautiful BBQ Sauce, ready in seconds!  
Disclosure: Some of the links in this article may be affiliate links, meaning that we may earn a small commission if you click through using our link and make a purchase.  Please be assured that this will not cost you any extra money. Also, please be assured that we either use any of the products we recommend personally or have been recommended by trusted friends who currently use them.
Can You Have BBQ Seasoning Rub On Keto?
Yes, yes, yes! Was that too enthusiastic?
Yes, you can have BBQ seasoning rub and sauce on keto. In the UK keto BBQ sauce and rub is difficult to find in most stores.
I do use the Skinny Sauce BBQ sauce now and again, but sometimes you want a dry rub as opposed to the sauce version! It is a lovely alternative if you do not have time (or inclination) to make your own at home.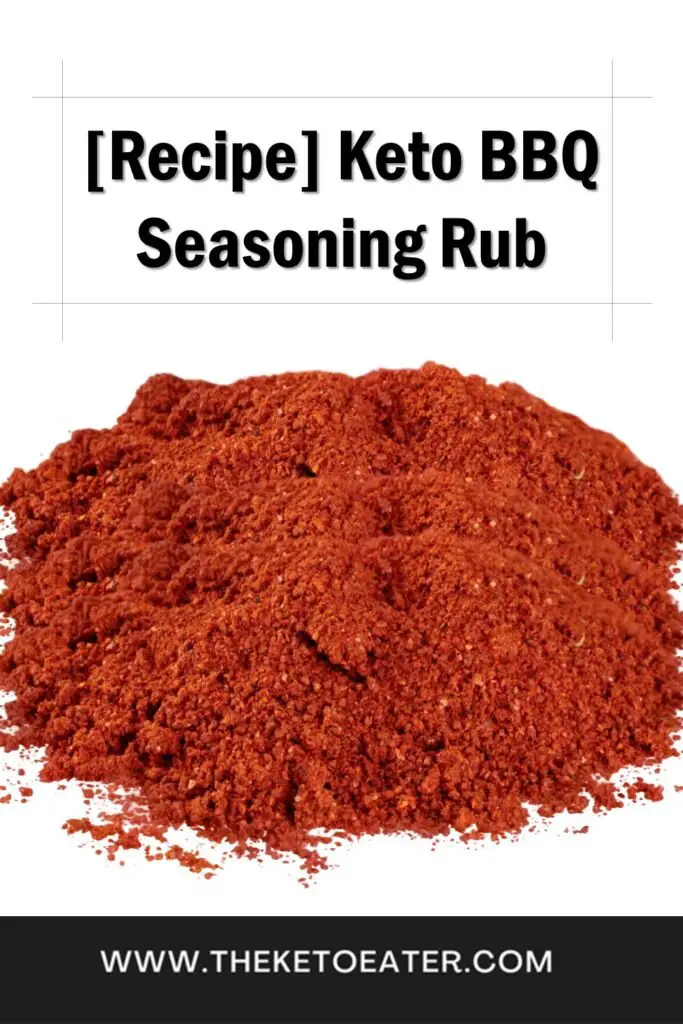 I'm a busy woman, I don't always have time to make everything from scratch, and I'm sure you're the same. There's no guilt in buying products online at all. 
However, it can be just as easy to make at home and it is there and waiting for you whenever you want it.
Keto BBQ Seasoning Rub vs Shop Bought
Traditional shop-bought (non-keto) BBQ rubs are full of hidden sugars that could easily knock you out of ketosis.
Also, if you've been on keto for a while any shop-bought sauce would probably taste 'off'.
Since going keto, my tastes have changed, if I eat anything with sugar in now (inadvertently or intentionally), food never tastes how I remember it.
I'm always disappointed by how non-keto food tastes now. They all taste very artificial to me.
This keto alternative has all of the flavors without any sugar.
What Spices Can I Use On Keto?
Spices are a really great way of adding a lot of flavor to food without breaking your carb limit and impacting your macros.
Lower-carb spices include basil, coriander, tarragon, thyme, mint, cinnamon, and ginger.
Oregano, paprika, cumin, onion powder, garlic, mustard, and cayenne spices are slightly higher in carbs.
As long as none of these is used in excess, they will all keep you in ketosis and keep you on your keto journey. 
How to make this Simple Keto BBQ Rub
It's all about the rub!
This spice rub can be a bit faffy to make. (I'm sure 'faffy' is a technical term!). Want to know my cheat?
I make it in batches and store it in jars for up to 3 months.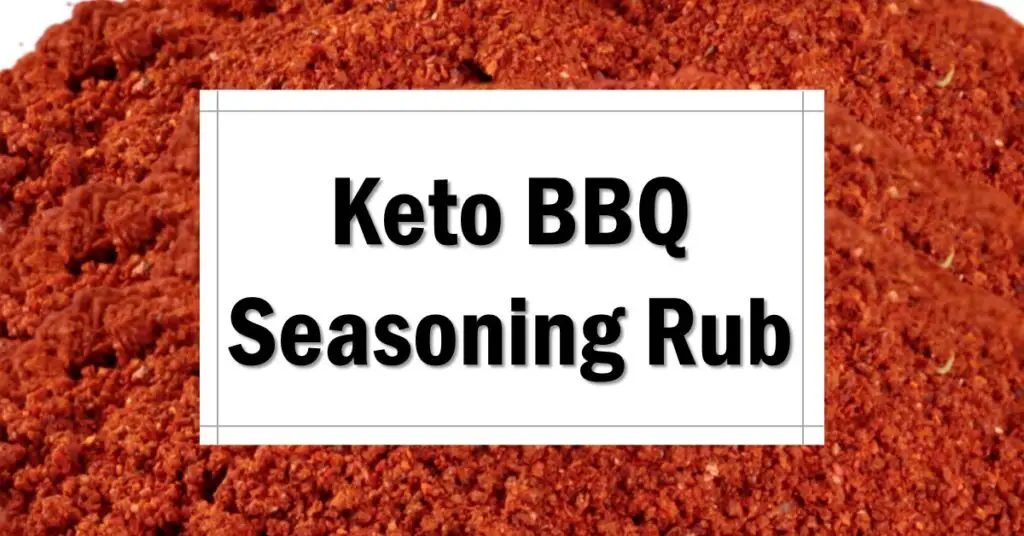 The recipe below is for 4 servings.
I know I make these keto BBQ chicken wings once to twice a month so I will make a big batch (4 x the amount below) and store it.  It is not necessary at all, but if you have a NutriBullet or a spice grinder, throw all of the ingredients in there and give them a quick blitz to ensure that the rub is really fine.
Storing Your Homemade Keto BBQ Rub
Depending on how big the batches you are making, you may be able to store this in an old spice jar that has been thoroughly cleaned and dried before adding your spice to it.
If still damp your spices will clump together and will mold before you get the opportunity to use them – which is a waste of your time and effort!
Store it in an airtight jar in a cool dry place. This should last for up to 3 months and is ready for whenever you need it.
Make It Into A Sauce
Simple!
Depending on how you're wanting to use this you can add a tablespoon of olive oil to turn this from a dry rub into more of a marinade.
Want to make this into a sauce for a keto pulled pork or BBQ ribs? Add a teaspoon of tomato puree with a tablespoon of water to loosen up your mix.
OR if you have a tablespoon of passata left over this can be mixed in with some water to create more of a liquid sauce. A more liquid sauce is perfect for juicy and tender keto BBQ ribs or keto pulled pork.
Tomato, not your thing? Why not try mixing the BBQ rub with some full-fat Greek yogurt before marinating your meat.
Personally, I like the dry version of this rub on my chicken. This really is the most versatile keto BBQ seasoning rub. This is why I suggest that you make this in batches at a time. 
Marinate Overnight
If you're good at meal planning and prepping your food in advance you can leave your meat in the fridge overnight (or during the day), just like these BBQ chicken pieces.
That will give the flavors from the spices plenty of time to seep into your meat ensuring a rich and deep flavor throughout.
Ideally, meat needs to marinate for a minimum of 3 hours. Although, if you don't have the time and are cooking in a rush this step is not essential.
Keto BBQ seasoning rub
Course: Main, BBQ, Snacks
Difficulty: Easy
Keto BBQ seasoning rub
Ingredients
1/4 teaspoon chilli powder

1/2 teaspoon salt

3/4 teaspoon garlic powder

1/2 teaspoon cracked black pepper

1 teaspoon onion powder

1 ½ tablespoons paprika

1/2 teaspoon mustard powder

3 tablespoons Golden Lakanto or additional brown sugar (this is perfect for this)
Directions
Mix all ingredients together until well combined. If you have a spice grinder, use this to blitz it all together.
We love hearing from you here at the Absolutely-Keto community, so if you've tried this recipe, want to see a recipe featured, or have a question for us, let us know in the comments below and we will get one of our keto gurus to respond to you.