Is Polenta keto freindly? Unfortunately, no. If you are a polenta lover like me, you may have to throw it out of the cupboard, even if you are eating dirty keto, you will not be able to make it fit within your macros. Don't worry, we have some amazing polenta keto alternatives for you. However, if you are eating a low carb lifestyle, you may be in luck!
Disclosure: Some of the links in this article may be affiliate links, meaning that we may earn a small commission if you click through using our link and make a purchase. Please be assured that this will not cost you any extra money. Also, please be assured that we either use the products we recommend personally, or have been recommended by trusted friends who currently use them.
Are Polenta And Cornmeal The Same Thing?
The consistency of the grain is what distinguishes polenta and cornmeal, except that they are almost exactly the same product.
Polenta is much more coarsely ground, which makes the end product less mushy, and it has a little more bite to it than cornmeal.
This is a question we get asked a lot so we thought we better address this first. For more on polenta, check out this article.
If you have been eating keto for any time you will know the whole focus of a keto diet is to keep your macros to 70% Fat, 25% Protein, and 5% Carbohydrates (Carbs).
This 5% of carbs should not exceed 20 grams for a traditional keto diet. Depending on whether you are doing lazy, dirty, or strict (aka clean) keto, will depend on how you track these macros.
In order to keep your carb content under 20 grams, you need to be conscious of what you are eating and stick to low carbs foods.
These low-carb foods also need to be low on the glycemic index, so as not to spike your blood sugar and knock you out of ketosis.
If keto is new to you, why not check out our keto guide for beginners and returners.
Now, let's get into the detail of the nutritional value of polenta to decide whether they are appropriate for a keto lifestyle.
What Is The Nutritional Value Of Polenta?
The nutritional value of polenta per 100 grams is;
Carbs: 79 grams.
Protein: 7 grams.
Fat: 0.1 grams.
Fiber: 3.9 grams.
Sugar: 1.6 grams.
Calories: 370 cal
As you can see, polenta is high in carbs and very low in fat and protein. Perfect if you are eating a low-calorie and low-fat diet.
However, is polenta keto friendly? Let's have a look at the net carbs in order to ask that question.
How Many Net Carbs In Polenta?
Net carbs are calculated by deducting the amount of fiber from the total number of carbs.
There are 75.1 grams of net carbs in polenta; (79 grams of carbs – 3.9 grams of fiber = 75.1 grams of net carbs per 100 grams). WOW, that is high!
As discussed above, if you are eating a traditional keto diet, your aim is to stay below 20 grams of carbs in a day.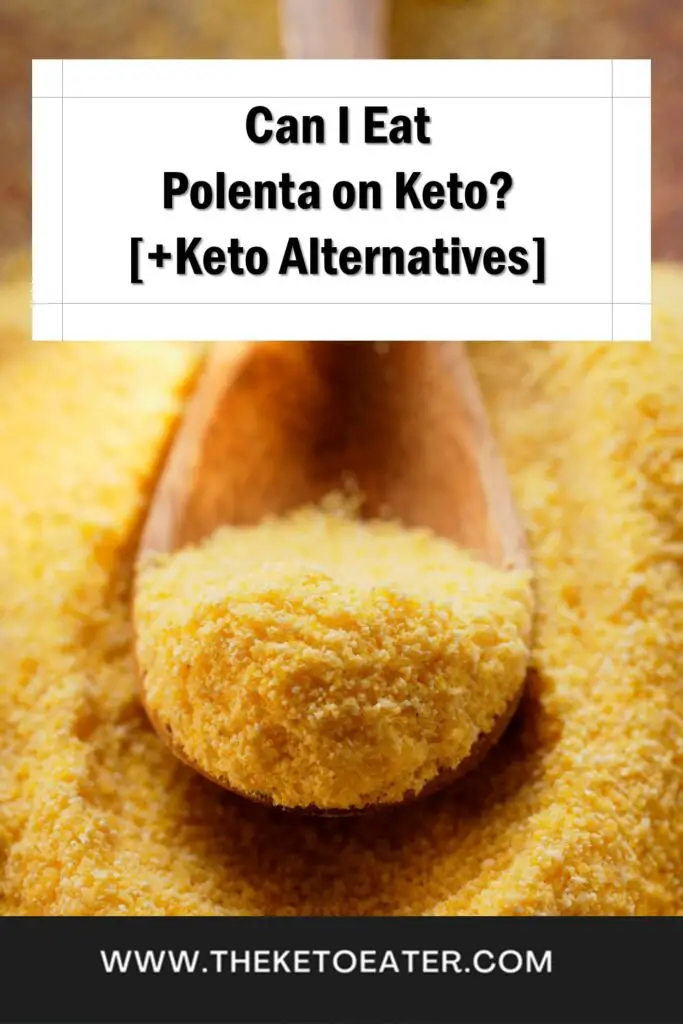 So, Is Polenta Keto-Friendly?
In no way is polenta keto friendly. With over 75 grams of net carbs per 100 grams, there is no way to may polenta keto friendly.
What is more is that polenta is low in fat too, which is the exact opposite of what we are looking for on a keto diet.
Is It Ok To Eat Polenta On A Low Carb Diet?
We've established that polenta is not suitable for the keto diet, but is it ok to eat on a low carb diet? This is a really difficult one as the average serving size of polenta is 125 grams. This would be over 100 grams of net carbs per serving.
A low carb diet normally sees people eating between 50 to 100 grams of net carbs per day, which would make eating a 'normal' sized portion of polenta difficult.
There are plenty of amazing low carb polenta meals you can enjoy.
However, if you are very strict and only have a small portion of polenta, and plan the rest of your meals around this, you may be able to eat polenta on a low carb diet.
Cheesy polenta is a great low carb meal, although this is not keto approved.
However, why waste so many carbs on polenta when there are some fantastic polenta keto alternatives? These are low in carbs and high in taste, making them the perfect keto alternative for polenta.
Keto Alternatives To Polenta
We have two amazing keto polenta alternatives for you;
Here is where the humbler cauliflower comes into its own again. Follow our cauliflower rice recipe, but instead, blitz the cauliflower for longer to make it even finer than if you were making cauliflower rice.
This will make the texture finer, like polenta.
The second great keto polenta alternative is broccoli. Here, use the heads of broccoli and blitz them in a food processor in the same way, and cook, as per the instructions for the cauliflower rice.
You can add spices to either of these as you see fit or if you want to give it a creamier taste and texture like polenta, you can add some fresh double cream (heavy whipping cream).
Stir the cream through until you have the consistency that you desire. This truly is heavenly. Top with some bbq chicken, chicken skewers, a juicy steak with a side of garlic mushrooms, or even some salmon and asparagus.
Have you got your own favorite keto-friendly polenta alternative? Share it with us all in the comments below!
Is Polenta Keto Friendly FAQ's
We've had a number of questions asked on polenta, in order to share with everybody, we've compiled a list of frequently asked questions below for you.
Other Surprising 'Healthy' Foods That You Cannot Eat On The Keto Diet!
Before I started a keto WOL, I had what I thought was a very healthy diet, eating a lot of low fat, low calorie, 'healthy' whole foods.
Looking back, these were all low-fat, low-calorie, but they are all surprisingly high in carbs, what is more, I never once felt full and satisfied.
I was constantly hungry, had very little energy, and struggled to sleep and concentrate, especially in the afternoons at work.
Now I don't worry about any of these!
Check out the Top 10 Benefits of Keto here and how you can change your life.
Looking back, there was no wonder that I exercised constantly, ate relatively little, and never lost weight. Compared with now when I exercise less, eat more, and never feel hungry!
Foods That You Should Not Eat On The Keto Diet
There are a number of 'healthy' foods that you may be surprised that you cannot eat on a keto diet.
Low-fat Yoghurt
Oranges
Apples
Quinoa
Granola
Black Beans
Chickpeas
Wholegrain Rice
For years, I had been eating all of the above foods, thinking that I was being healthy and feeding my body all of the 'good' stuff that it needed to be its best version of itself, how wrong was I?
Conclusion: Is Polenta Keto Friendly?
If you have read this article, it's safe to say that polenta is not keto approved, however, there are some amazing keto alternatives to polenta out there, have a play around and find your favorite!