Is Airborne keto friendly? That isn't an easy question to answer as there are a vast number of Airborne supplements available on the market. The vast majority of these are keto friendly and can be used on a keto diet. We have outlined the best ones for you below.
Disclosure: Some of the links in this article may be affiliate links, meaning that we may earn a small commission if you click through using our link and make a purchase. Please be assured that this will not cost you any extra money. Also, please be assured that we either use the products we recommend personally, or have been recommended by trusted friends who currently use them.
What Is Airborne?
Airborne is one of the most prominent supplement companies that design immune-supporting supplements for kids and adults.
They offer their supplements in many easy to consume formulas, including dissolvable tablets, chewable tablets, and gummies.
Airborne supplements can be used to aid in battling sickness or to use when traveling or for occasions where you might be in large crowds during flu season.
They can also help support your immune system in instances when you are lacking sleep or you are wanting to temporarily make up for nutrients lacking in your diet.
What Is The Nutritional Value Of Airborne?
Looking at Airborne's Original Berry Chewable Immune Support Tablets, the nutritional value is as follows:
Carbs: 3 grams
Sugar: 3 grams
Calories: 15 calories
One serving of these tablets includes four tablets, and they also contain a variety of vitamins and minerals.
Airborne's Effervescent tablets which dissolve in water and come in many flavors have the least amount of carbs.
Their Vitamin C Immune Support Lemon Lime Flavor contains the following:
Carbs: 1 gram
Calories: 5 calories
One serving is considered one tablet. Many of their other flavors of effervescent tablets contain the same amount of carbs.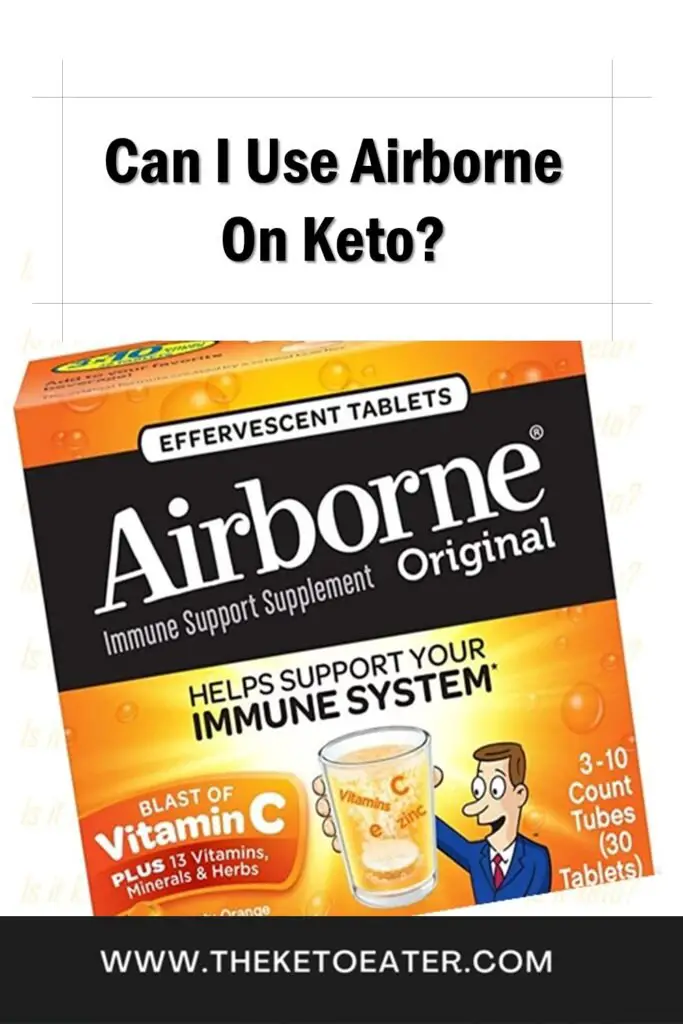 How Many Net Carbs Are There In Airborne?
Airborne's products contain anywhere between 1 and 5 net grams of carbs on average.
Their effervescent tablets tend to be the lowest in carbohydrates, while their chewable tablets and gummies contain the most carbohydrates. 
The carbs in airborne are variable depending on the type, so the nutritional label should be read before consuming.
Is Airborne Keto Friendly?
Airborne would be considered a very keto friendly supplement.
These are not necessarily supplements that you should be taking every day; they should be saved for when you are ill or recovering from being ill.
That being said, they will not curtail your keto net carb count should you need to rely on them for a few days.
Are There Different Varieties Of Airborne That Are Not Keto Friendly?
All of Airborne's products can be considered keto friendly, being that they are all fairly low in carbohydrates. 
For more on ketogenic friendly supplements, and what vitamin supplements you may need on keto, check out our article on supplements and keto.
What Are The Health Benefits Of Airborne?
Airborne's products are packed with a plethora of vitamins and nutrients that we all need in our diets.
They are especially great sources of magnesium, phospholate, and potassium, which are nutrients that can be lacking in some keto diets.
Many of their products rely on herbs and natural sources to formulate their nutritional benefits.
These cocktails of vitamins and minerals are ideal to help heal the body when it is recovering from a sickness or infection.
While they will not treat conditions, they can help support your immune system while it's busy fighting and looking after you. 
For more on how to get vitamin C on the keto diet check out this article.
Summary: Is Airborne Keto Friendly?
There are a number of different Airborne products, the majority of which are perfectly fine to consume on a keto diet. The effervescent tablets are normally lower in net carbs than the gummies, meaning that these are the better choice if you want to ensure that you remain in ketosis.