Is Adobo seasoning keto friendly? You will be pleased to know that, yes, Adobo seasoning is packed of flavor and is low in carbs. It does not contain any non-keto friendly ingredients. Different brands will have different nutritional values, so check out our favorite keto friendly brand below.
Disclosure: Some of the links in this article may be affiliate links, meaning that we may earn a small commission if you click through using our link and make a purchase. Please be assured that this will not cost you any extra money. Also, please be assured that we either use the products we recommend personally, or have been recommended by trusted friends who currently use them.
What Is Adobo Seasoning?
Adobo seasoning is one of the most popular dry seasoning mixes. It is made from a variety of dried spices, including garlic powder, oregano, onion powder, salt, and pepper. Some recipes also include different types of dried citrus.
Adobo seasoning originally originated from the Philippines, but it has been adapted to many recipes around the world. It often is rubbed onto meat, stirred into soup, and cooked into sauce.
Because of its versatile use, the seasoning has become so popular that it is commercially sold by big-name brands, such as Goya and McCormick.
Within these brands, there are slight differences between the adobo seasonings.
What Is the Nutritional Value of Adobo Seasoning?
Adobo seasoning has virtually no nutritional value.
It has 0 grams of fat, carbs, and protein.
About the only nutritional value of the seasoning is its sodium content, of which it has a lot. The Goya Adobo All Purpose Seasoning has 350 milligrams of sodium for 0.25 teaspoons or one gram of the seasoning.
Keep in mind that the nutritional value of the adobo seasoning may change a little bit depending on the brand you are looking at, but most fall in line with the Goya nutritional values mentioned above.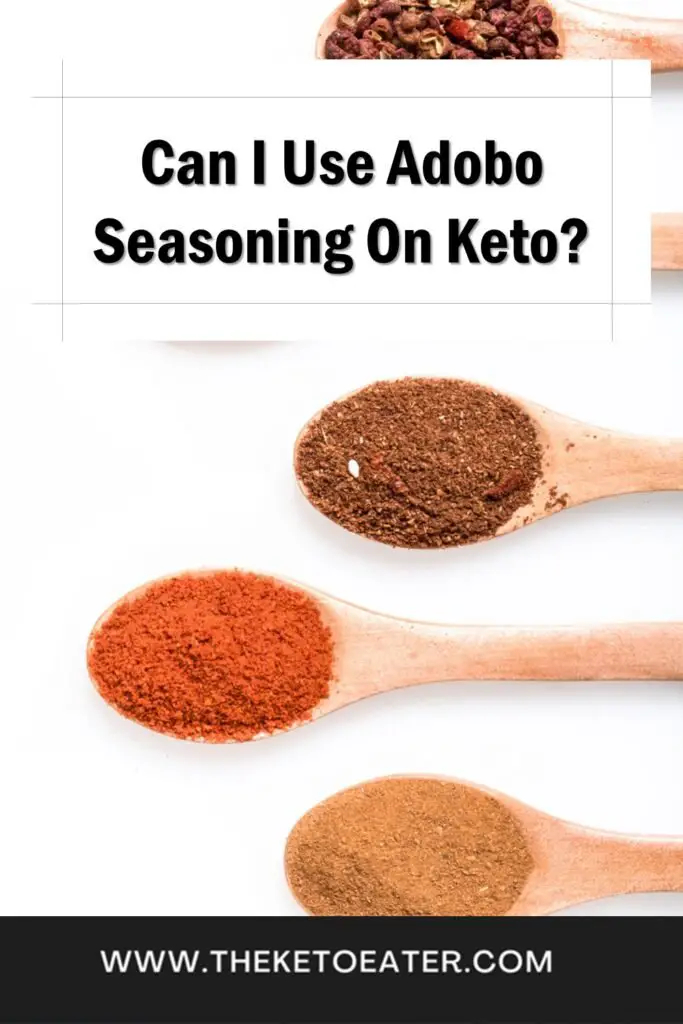 How Many Net Carbs Are There in Adobo Seasoning?
Although there is quite a lot of sodium in adobo seasoning, there are no net carbs. Quite literally, there are 0 grams of carbohydrates in this seasoning.
Is Adobo Seasoning Keto Friendly?
Because adobo seasoning has 0 grams of carbs, it is keto-friendly.
It is a great seasoning to spice up your meat without using any condiments.
So, adobo seasoning is a great choice for those on a keto diet not just because the seasoning itself is keto-friendly but because it replaces carb-dense condiments.
Are There Different Varieties Of Adobo Seasoning That Are Not Keto?
Because adobo seasoning is so popular, there are many different recipes and brands that commercially sell the product. Each company sells its own version of the seasoning, but the seasoning is similar amongst all varieties.
As a result, you don't really have to worry about different adobo seasonings not being keto-friendly. Practically all adobo seasonings are free from any carbs, which means all varieties of the seasoning are great for those on keto diets.
What Are The Health Benefits Of Adobo Seasoning?
Because so little seasoning is used at once, adobo seasoning does not have any health benefits. That being said, it can help you lose weight if you switch from traditional condiments to adobo seasoning since it has fewer calories than traditional condiments.
Staying hydrated on the keto diet is really important, for more on how much water you should be drinking, check out our guide to staying hydrated on the keto diet.
If you're planning on dehydrating yourself(!) and drinking alcohol on the keto diet, check out our ultimate guide to drinking alcohol on a keto diet. Also, you may be interested in, how to recover from a cheat day.
Summary: Is Adobo Seasoning Keto Friendly?
In summary, and for those of you that have skipped to this section(!) – yes, adobo seasoning is keto friendly. There are several different brands available out there, so check out the nutritional label first. If in doubt, you can always make your own. Enjoy adobo seasoning on your keto diet!