Is Mrs Dash Keto Friendly? You will be pleased to know that yes, Mrs Dash seasoning is, in fact, keto friendly. There are over 15 different flavors, all of which are one carb or less, making them perfect for the keto diet. Check out the best flavors, below.
Disclosure: Some of the links in this article may be affiliate links, meaning that we may earn a small commission if you click through using our link and make a purchase. Please be assured that this will not cost you any extra money. Also, please be assured that we either use the products we recommend personally, or have been recommended by trusted friends who currently use them.
What Is Mrs. Dash?
Mrs. Dash is a brand of seasoning blends. The official website claims that each spice is hand-picked to ensure great full-bodied taste to elevate your food. It's a salt-free blend that is here to level up your meals.
There are 15 flavorful varieties of Mrs. Dash: Caribbean citrus, chicken grilling, everything but the salt, extra spicy, fiesta lime, garlic and herb, Italian medley, lemon pepper, onion and herb, original, southwest chipotle, spicy jalapeno, steak grilling, table blend, and tomato basil garlic.
All of them have 1 or fewer total net carbs.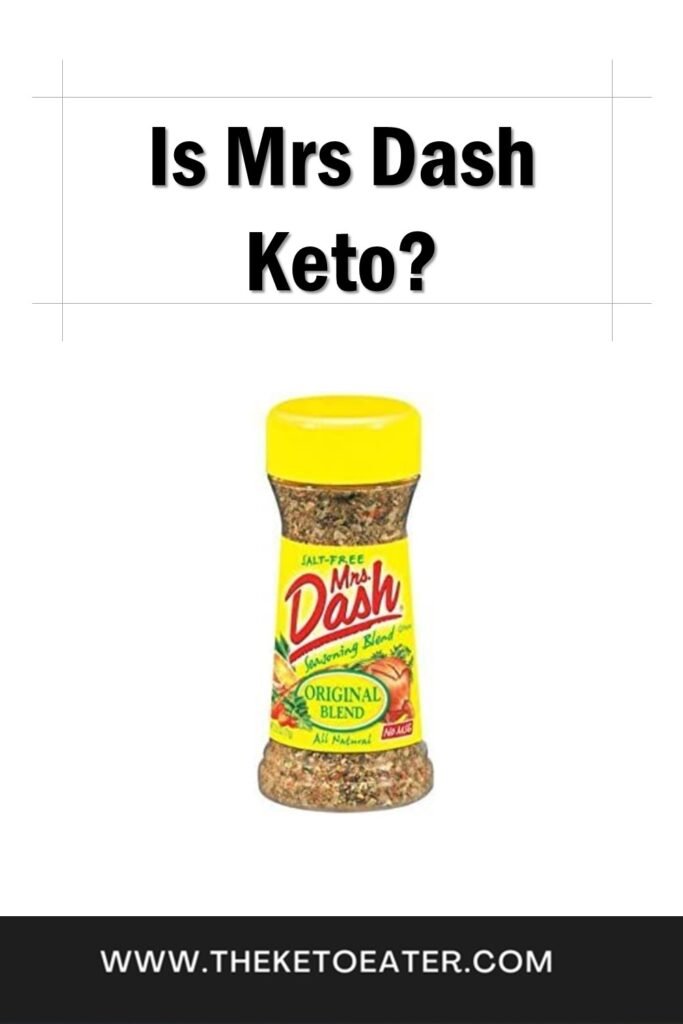 Nutritional Value Of Mrs. Dash
Mrs Dash has the following nutritional value per 1/4 teaspoon (1 serving).
Calories: 0
Carbs: 1 g
Protein: 0
Fat: 0
Fiber: 0
Sugar: 0
As you can see, there is no nutritional value in Mrs Dash seasonings. All of the ingredients in Mrs Dash are keto friendly, with no added sugars of other ingredients to stay clear of.
Net Carbs In Mrs. Dash?
According to the label, there is 1 net carb in the original Mrs. Dash seasoning.
There is a simple formula to find the net carbs in your food. This formula goes as follows per serving:
To find net carbs, you'll want to take the carbs and subtract the fiber. The result is the net carbs of your food.
Carbs – fiber = net carbs
So to find the net carbs in Mrs. Dash, we'll take the carbs (1) minus the fiber (0) to get the net carbs (0).
Mrs. Dash contains about (1) net carbs per serving (1/4 tsp) according to this formula, which matches the label claim.
Is Mrs Dash Keto Friendly?
Mrs. Dash is keto-friendly. It has one net carb per ¼ tsp serving, which could then be divided up between meals if you wanted to keep your net carbs to a minimum.
There are Mrs. Dash options that have 0 net carbs, so you can find something that works for you, any day of the week!
Varieties Of Mrs. Dash That Aren't Keto
There are 15 varieties of Mrs. Dash seasoning blends, all of which are keto friendly.
Here's the breakdown according to the official Mrs. Dash website:
Caribbean Citrus- 1 net carb
Chicken Grilling- 1 net carb
Everything But the Salt- <1 net carb
Extra Spicy- 0 net carbs
Fiesta Lime- 0 net carbs
Garlic & Herb- 0 net carbs
Italian Medley- 0 net carbs
Lemon Pepper- 1 net carbs
Onion & Herb- 0 net carbs
Original- 1 net carbs
Southwest Chipotle- 1 net carbs
Spicy Jalapeno- 1 net carbs
Steak Grilling- 0 net carbs
Table Blend- 0 net carbs
Tomato Basil Garlic- 0 net carbs
So, in answer to the question, 'is Mrs Dash keto friendly?', as you can see, there are plenty of different options available to you.
Summary: Is Mrs Dash Keto Friendly?
Yes, with over 15 flavors, Mrs Dash seasoning is keto friendly. It is both low in carbs and contains keto friendly ingredients, so you can enjoy flavorsome food and still remain in ketosis. Let us know which is your favorite flavor.