These keto coconut flour flatbreads are perfect for mopping up juices from your favorite fakeaways or loading them full of your keto curries. These are much like naan bread. Try these low carbs coconut flour flatbreads today – even if you don't eat keto you will never go back!
Disclosure: Some of the links in this article may be affiliate links, meaning that we may earn a small commission if you click through using our link and make a purchase. Please be assured that this will not cost you any extra money. Also, please be assured that we either use the products we recommend personally, or have been recommended by trusted friends who currently use them.
Coconut Flour – Is It keto?
An alternative to almond flour on a keto /low carb lifestyle is coconut flour.  Coconut flour has a number of health benefits including aiding digestion, and heart health, and even can assist in weight loss. 
A 100 g of coconut flour contains approximately 24 g of carbs, which appears to be a lot higher than that of almond flour and only 10g of carbs per 100 g, however for every 100 g of almond flour that you would use you will only need to use around ¼ (25g) of coconut flour. This makes coconut better value if you are doing keto on a tight budget.
Coconut flour is quite dry and therefore absorbs moisture from other ingredients when baking.  This means that your baked goods stay moist and they do not dry out and end up crumbly-nobody likes a crumbly biscuit! 
Also, coconut flour tends to be cheaper than almond flour so, if you are doing keto on a budget substitute in almond flour for coconut flour, where suitable, can be a good option. The coconut flour creates a great texture and taste to these keto flatbreads
NutriBullet v Food Processor
For those of you that follow our recipes, you will notice that we tend to use a NutriBullet a lot!  We use a NutriBullet for sauces, dressings, dips, smoothies, Yorkshire puddings, and pancakes, to name but a few. 
If anybody has bought one with the intention of drinking smoothies for health kick and it has lived in the back of your kitchen cupboards, now's the time to drag it out!
However, if you do not have a NutriBullet, a food processor will do the job just as well.
What Is Psyllium Husk?
Psyllium husk is an ingredient that regularly pops up in keto / low-carb recipes. It is nothing to be afraid of!
Psyllium is a form of fiber made from the husks of the Plantago ovata plant's seeds.
It is naturally high in fiber and low in carbs making it a great ingredient for us keto-ers! It has a number of different health benefits including lowering cholesterol.
In keto baking it keeps you baking deliciously moist.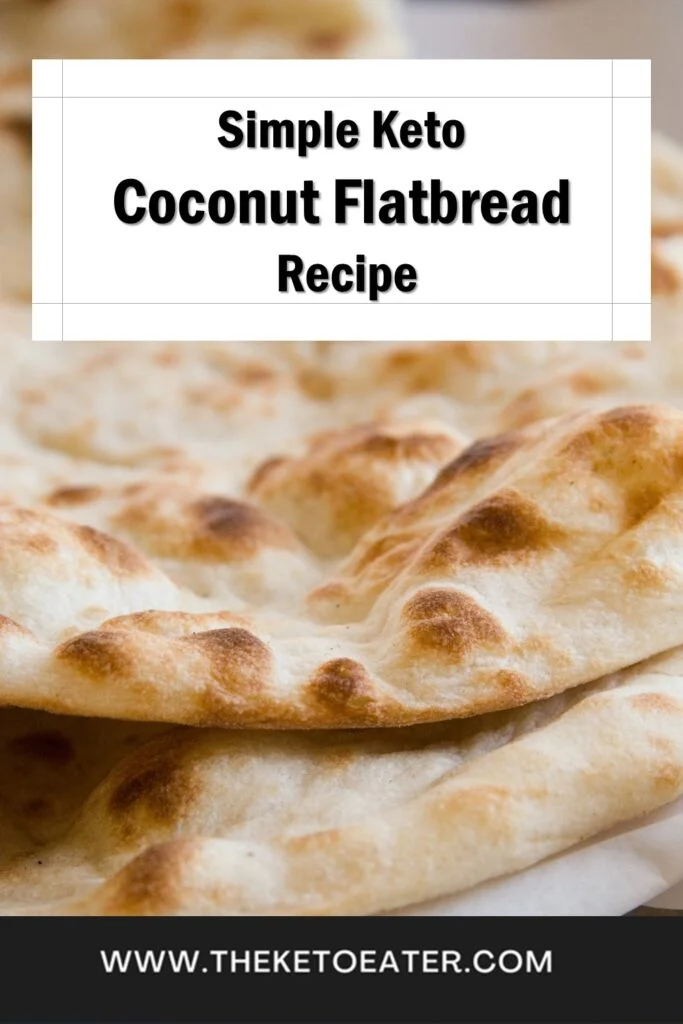 Top Tip for your Keto Coconut Flour Flatbreads!
For this recipe we would recommend using either the NutriBullet or the food processor to blend all of your ingredients, this will make sure plenty of air gets into the mixture, ensuring that your flatbreads are light and fluffy.
After all of the ingredients have been mixed – leave the dough to rest for 10 minutes – this will alow the psyllium husk to absorb the moisture from the water and oil.
After letting your dough rest they can be formed into flatbreads and fried.
When rolling out your flatbreads it may be easier to place your dough between two silicone sheets before rolling them out – this will make sure that they do not stick.
Keto Coconut Flour Flatbread
Course: Sides
Cuisine: Indian
Difficulty: Easy
Ingredients
1 tablespoons psyllium husk

190 grams coconut flour fine

240 ml lukewarm water

1 tablespoon olive oil

1/4 teaspoon baking soda

1/4 teaspoon salt – optional
Directions
In a NutriBullet / Food Processor, combine the psyllium husk and coconut flour.
Add in the lukewarm water, olive oil, and baking soda. Add salt now if you want. Knead the dough / place in the processor on low.
Set the dough aside 10 minutes in the mixing bowl.
Divide the dough into 6 to 7 balls. Roll the balls like flatbread.
Heat a frying pan to a medium heat and place the coconut flour flatbread in.
Cook on both sides for 2 minutes, keep turning until golden brown in colour.
Why not try these keto coconut flour flatbreads with our butter chicken, it's a marriage made in heaven.
If you liked this recipe, let us know in the comments below.
If you have a favorite recipe that you would like to see on our site, pop it in the comments below and we will see what we can do for you!