This simple Thai Coconut Curry Lime Shredded Chicken recipe packs a punch in flavour. It's Sugar-Free, Low-Carb and Keto-Friendly. It is also the perfect way to use up your leftover chicken, or if you're just fed up with eating the same food all of the time – trust me and give it a go!
Disclosure: Some of the links in this article may be affiliate links, meaning that we may earn a small commission if you click through using our link and make a purchase. Please be assured that this will not cost you any extra money. Also, please be assured that we either use the products we recommend personally, or have been recommended by trusted friends who currently use them.
Thai food is one of life's pure luxuries
Thai food is one of life's pure luxuries – I love the interesting flavors it brings in – often fresh and light in comparison to English food which is a completely different pallet.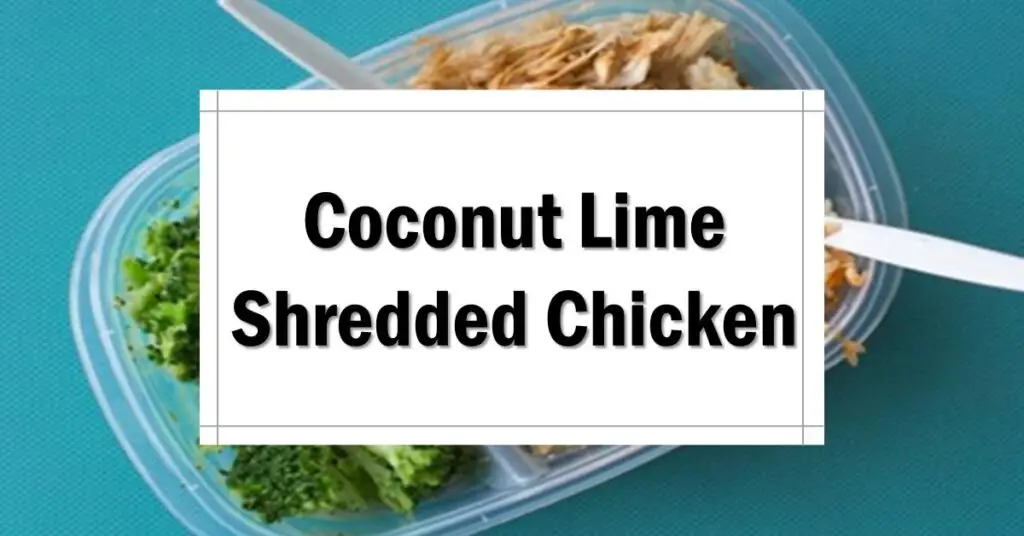 I don't think I would have survived living a keto way of life if I couldn't eat flavorsome food like this.  This coconut and lime chicken is actually really simple to make and is perfect for keeping the carbs low.
What can I eat my coconut curry lime shredded chicken with?
As in the picture, this Keto dish goes great with a number of different low carb sides.
This is good when you're trying to use up ingredients that you already have in, rather than having to buy yet another product.
I like this with a side of broccoli, green beans, spinach, kale, or even cauliflower rice.
Eating your coconut and lime chicken on the go…
What makes this dish even better is that you can use up leftover chicken to create it – or it's perfect for batch cooking and packing up to take to work or to freeze for another day.
This recipe is worked out as a lunch portion, but if you want more as a larger meal – just double the amount and double your macros!
Need to know more about macros?
To make sure nothing leaks into your back I would use Lock & Lock in order to store it, ensuring that it's airtight.
Imagine coming home to these aromatic smells.
If the idea of coming home to work to the smell of keto shredded coconut lime chicken is ready for you – why not put this in the slow cooker in the morning and leave it on ready to come home to OR use a pressure cooker to cook this dish in 10 minutes – just enough time to get your comfy clothes on after work, or jump in the shower after the gym!
I've now tried these all three ways and they are all divine!
Bone Broth
Shop bought broth (stock) can be high in carbs. So why not make your own?
I've got a recipe here that talks you through it and shows you how easy it is to make.
Take my advice though, make this in bulk and freeze it, so you have it ready whenever you need it!
What are you waiting for – get cooking now or pin me for later!
Easy Thai Coconut Curry Lime Shredded Chicken
Course: Guidance
Ingredients
2 garlic cloves, minced

280ml bone broth

2 tablespoons fresh lime juice 

½ teaspoon oregano

500g chicken breast

½ teaspoon chili powder

1 teaspoon ground cumin

½ teaspoon paprika

Salt and pepper, to taste

2 fresh jalapenos, deseeded, sliced
Directions
If using the oven – preheat to 200C
Pour the bone broth into the casserole dish (or slow cooker or pressure cooker) along with lime juice and then put the chicken on top.
Top the chicken with all the other remaining ingredients.
Replace the lid on the casserole dish or slow cooker or pressure cooker.
If in the oven cook for 35 mins –
If in slow cooker approx 6 hours on low, 4 hours on medium (depending on your slow cooker)
In a pressure cooker cook on high for 10 mins
Remove the lid or release the pressure when the cooking time is over.
When done, remove the chicken from the pot and shred it using a fork, or shredding tongues, ensuring that it is cooked through first.
Stir the shredded pieces with the juices until they are combined and then serve with your choice of side. Enjoy!
Notes
Pefect reheated for a work lunch
Have you tried this recipe? Or do you have a recipe that you would like to see featured?
Let us know in the comments below and we will see what we can do!