This keto donut recipe is the only one that you will ever need. A bold statement, I know, but that is how confident I am in these keto, low-carb donuts! They are sugar-free, grain-free and perfect for those living a keto or low-carb lifestyle.
Disclosure: Some of the links in this article may be affiliate links, meaning that we may earn a small commission if you click through using our link and make a purchase. Please be assured that this will not cost you any extra money. Also, please be assured that we either use the products we recommend personally, or have been recommended by trusted friends who currently use them.
Whether you spell it 'Donut' or 'Doughnut' – these will rock your World! Read on to find out how to make the BEST Keto Doughnuts
Before eating Keto, doughnuts were not something I would have chosen to eat – shocking I know!
Doughnuts always seemed so plain in comparison to some of the other cakey goodness out there.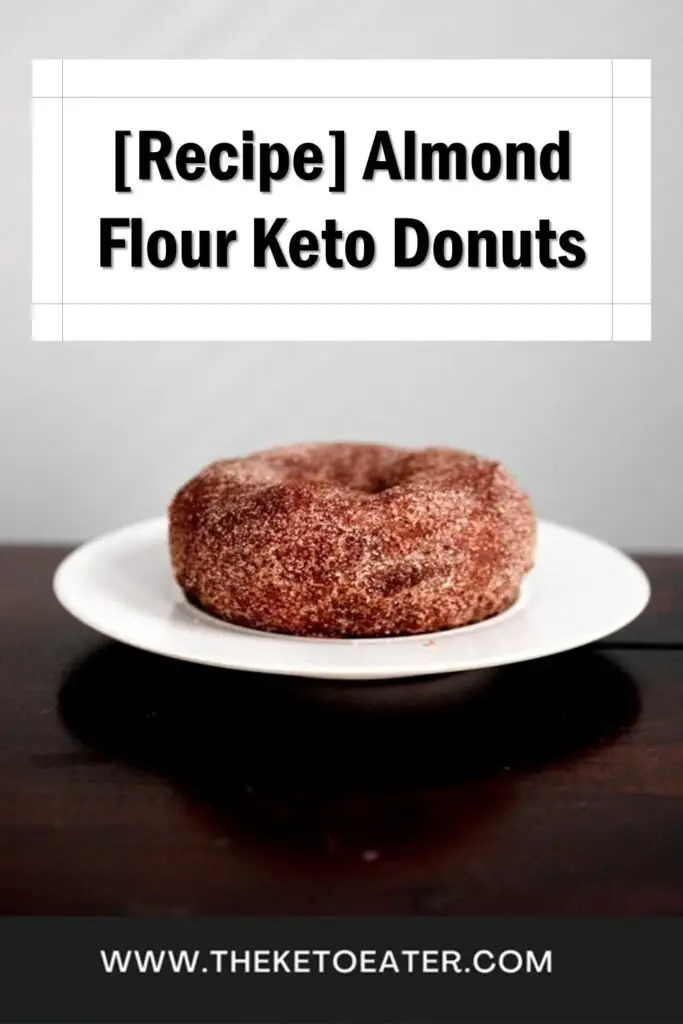 Now, these low-carb doughnuts are a firm favorite in my kitchen. The true testament to this is my friend's daughter who would eat a full tray of these if I let her. She has never twigged that they are sugar-free and low-carb!
Are Donuts High In Carbs?
Check out the nutritional information on these Krispy Cream donuts, they have an average of around 50 grams of carbs per donut. These are always hanging around the office – but now I have low-carb doughnuts in my life, they're really not tempting!
Suffice to say at 50 grams of carbs per donut, these are not suitable for a Keto, Low-carb or sugar-free lifestyle they are also grain-free too before we ever start to look at the ingredients!
So, What Are Keto Donuts Made Of?
These light and fluffy gorgeous keto doughnuts are made from almond flour and almond milk.
Almond Flour On Keto
The most popular keto flour used by those following a keto/low-carb lifestyle by far is almond flour. 
A 100 g of almond flour contains 14 grams of fat 6 g of protein and only 10 g of carbs making it a good flour substitute for a keto lifestyle. 
Almond flour is made from finely ground almonds, with their skins removed. 
Almond flour can be found in most stores. 
However, I have found that it can be quite expensive within the stores and it can be found cheaper online, especially when bought in bulk.
This can be a good option if you are trying to live a keto lifestyle on a tight budget.
Going Nut Free
If you are looking to make nut-free keto donuts I can highly recommend using sunflower seed flour. I have tried using coconut flour alone to make these keto donuts, but don't waste your time – it really doesn't work!
My friend (who is nut-free) has kindly, high-recommended this recipe from Real Balanced – it uses a combination of sunflower seed flour and coconut flour to make keto donuts. 
What Are Almond Flour Keto Donuts Like?
Would it be too dramatic to say AMAZING?!
I wouldn't have expected that sugar-free donuts would have been all that. These really are decadent. The almond flour gives these keto doughnuts a lovely sweet taste.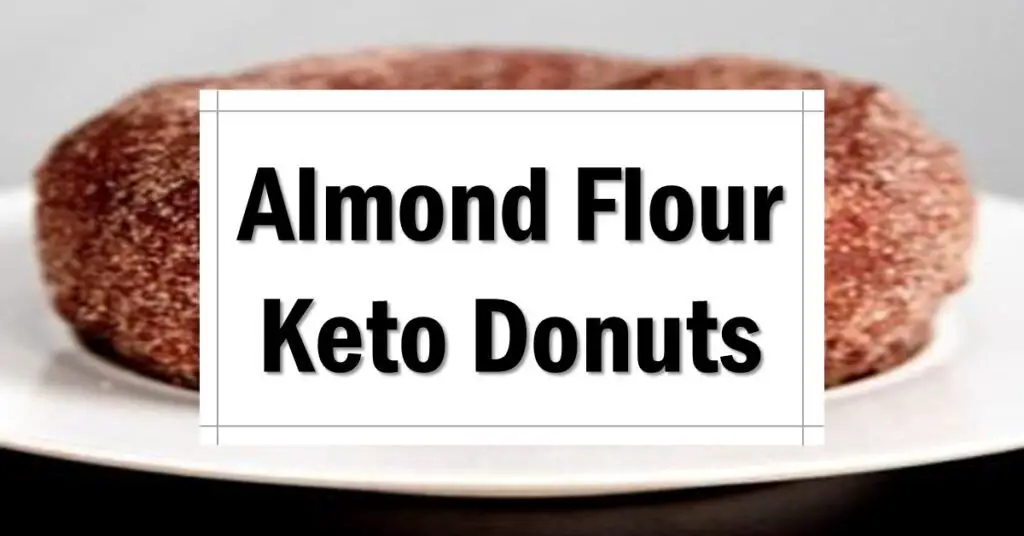 They do have a more 'cakey' texture than regular donuts, but this makes them even better! I do find that regular donuts were all air and had no real substance!
I would love to know how you think these keto, low-carb donuts compare to their non-keto counterparts. Let me know in the comments below.  
What Should I Bake My Keto Donuts In?
Firstly, any of you that have followed me for any length of time, will know that I use a lot of silicone baking products.
I have tried baking these in my silicone donut mold and in the metal donut mold. This is the one time that metal wins!
The keto doughnuts came out from the pan easier and they have a slightly harder outside, meaning you get that 'crunch' when you bite into your low-carb donut.
My friend is the keto donut queen. She has three beautiful children that are all on a sugar-free diet, and they are regularly fed keto doughnuts. 
She has a fancy donut-making machine that she uses – it does bigger donuts and those cute mini-ones, which are perfect for kids and guests!
I will find out the make of it and link it below in case anybody's life is as dedicated to keto donuts as hers is!
Coating Keto Donuts
I love the combination of erythritol (keto-friendly sugar) and cinnamon. Sometimes the most simple things are the best!
How Long Will They Last
Your low-carb doughnuts will be devoured in minutes!
Honestly, they will be! If you have any intention to store your keto doughnuts, these will last in an airtight container (I always recommend Lock & Lock for this) for 3-4 days.
Can I Freeze My Keto Donuts?
If you're wanting your sugar-free donut treats to last a bit longer, or you have friends coming around at the weekend, and you want these to last you can freeze these.
In order to freeze, layer your doughnuts in an airtight container (if it's not airtight moisture will get into them and they will be soggy!).
I would recommend putting silicone paper in between these so they don't stick together.
Take these out a few hours before you want to eat them to allow your keto doughnuts to defrost. If you want you can pop these back into the oven to reheat them!
How Many Carbs In Keto Donuts?
These keto, low-carb doughnuts work out at around 2 grams of carbs per donut. Compared to the shop-bought doughnuts above at 50 grams of carbs – THESE ARE AMAZING!!
They are also easy to make!
When I have been doing one meal a day (OMAD) I have been tempted to have 10 of these in one sitting for my 20 grams of carbs!
I'm not sure this would fit with the rest of my macros!!
Not bothered with all of that stuff? Just want more Keto dessert recipes? I don't blame you!
Check out these Keto Dessert Recipes.
Check out this super simple keto donut recipe;
The BEST Almond Flour Keto Doughnuts
Course: Guidance
Ingredients
2 Eggs

35g Butter, melted

140g  Almond Flour, blanched

1 teaspoon ground Cinnamon

1/8 teaspoon, salt

35g  Erythritol

35ml  Almond Milk

2 teaspoons Baking Powder

1/2 teaspoon Vanilla Extract

Cinnamon Coating

70g erythritol

3 tablespoon Butter, melted

1 teaspoon Cinnamon
Directions
If you're lucky to have a donut maker turn it on!
If you're like me get your donut pan out!
Preheat the oven to 175C.
Place the almond milk together with melted butter, vanilla extract and milk into a blow and use an electric whisk to combine
Add the almond flour and baking powder, salt, sweetener and cinnamon into the liquids and mix together.
Add your liquids to your dry mix in the bowl and
When done, fill the donut cavities ¾ way with the batter, and then allow to bake until they have turned dark golden brown, this normally takes 25 – 30 mins depending on your oven.
Allow the donut to cool in the pan until they can easily be removed.
As the donut cool, stir erythritol together with the cinnamon, on a plate ready for coating.
When the donuts have cooled enough, place them on a cooling rack and brush both sides with butter, and then roll them in the cinnamon mixture in order to coat.
After all that hard baking why don't you sit down with a steaming keto hot chocolate and enjoy a keto donut?
Notes
Can be served warm or cold
Have you tried these low-carb donuts? Let us know what you think in the comments below.
Do you have another favorite sweet treat that you would like to see a keto recipe for? Let us know and we will see what we can do – we love a challenge!