Is Pho Keto Friendly? Traditional pho is made with rice noodles and the broth may have sugar added, this makes pho not keto-friendly. However, with a bit of forward planning, I'm sure your favorite Vietnamese will be able to accommodate your keto needs. If not, why not try making your own keto-friendly pho at home, I promise you will not be disappointed!
This article will take you through what pho is, and answer the question, is pho keto friendly?
Spoiler alert: it's not. But we will then take you through how to make a beautiful steam bowl of keto pho.
What Is Pho?
Pho (pronounces 'fuh') is Vietnamese for soup or broth. The word pho comes from the Chinese term fành which means to boil something down until concentrated.
In Vietnam, there are two main types of pho: beef noodle pho and rice vermicelli pho. Beef noodles are usually served as an appetizer while rice vermicelli is eaten at lunchtime.
All I know is, that both versions are delicious and were a pre-keto favorite of mine.
Is Pho Keto-Friendly?
Pho is like pretty much every other recipe out there, it has been adapted over time and everybody has their own take on it.
However, the main ingredients remain fairly static.
Are The Ingredients In Pho Keto Friendly?
The main ingredients in traditional Pho are;
Beef Stock
White Onion
Ginger
Cinnamon
Star Anise
Corriander Seeds
Cloves
Sirloin Steak
Palm Sugar*
Fish Sauce
Soy Sauce*
Rice Noodles*
Scallions (Spring Onions)
Red Chilli
Thai Basil
Lime
Is Pho Broth Keto Friendly?
Let's have a look at the ingredients in Pho, to decide, is pho keto friendly?
Palm Sugar
Traditional pho broth is perfect for keto as it does not contain the sugars (palm sugar) that can often be found in more modern, shop and restaurant produced Pho.
A lot of American Vietnamese restaurants will make their broth with rock sugar too which can add hidden carbs.
Soy Sauce
Soy sauce is one of those ingredients that can cause debate in the keto community.
In short, it is low in carbs, however, some would argue that the 'quality' of the product is low as it can contain by-products of wheat and gluten.
Wheat nor gluten would be classed as 'clean keto'.
If you are living a clean or strict keto lifestyle, you may want to stay away from soy sauce and can replace it with coconut aminos, especially if you are cooking at home.
For more on clean keto, check out our article, Lazy, Dirty and Strict.
Rice Noodles
Is pho broth keto friendly, if I skip the noodles?
Rice noodles have around 25 grams of carbs per 100 grams, so these are definitely not keto-friendly. So even if you eat pho without noodles, you are running the risk of knocking yourself out of ketosis.
So in summary, pho is not keto, it contains sugars and carbs making it not keto-friendly.
However, other than the ingredients flagged above, the other ingredients are keto-friendly.
Is pho keto friendly? No, traditional Pho is not keto friendly, however, we've got you covered with our keto Pho recipe below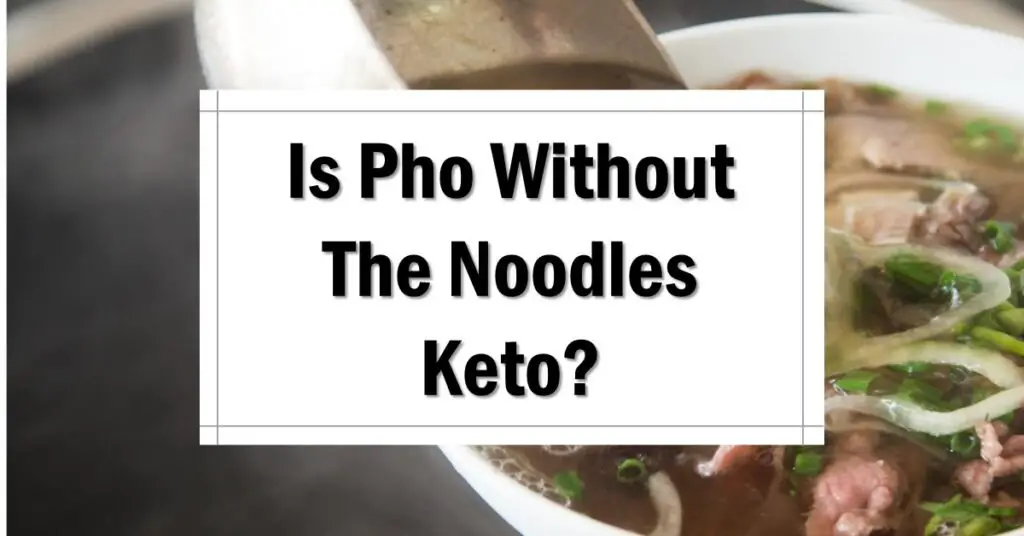 Can You Eat Pho Without The Noodles On Keto?
If you are eating out and you have plenty of carbs left in your day, you may get away with eating pho without the noodles, and not kick yourself out of ketosis, however, we would not advocate this if you are living a keto lifestyle.
If you are living a low-carb lifestyle, Pho without noodles could be an option for you.
Nutritional Value Of Pho Without The Noodles
Pho without the noodles will be low in carbs, but also low in fat, meaning that it will be ok for a keto diet, but not necessarily ideal for a keto diet due to being low in fat.
The whole ethos of a keto diet is to keep your macros to 70% Fat, 25% Protein, and 5% Carbohydrates (Carbs).
% of Carbs should not exceed 20 grams per day for a traditional keto diet. Depending on whether you are doing Lazy, Dirty or Strict Keto, will depend on how strictly you track these macros, and how willing you are to eat sugars as we have referenced above.
In order to keep your carb consumption under 20 grams, you need to be conscious of what you are eating and stick to low carbs healthy foods, that are also low on the glycaemic index. The reason for this is so as to not to spike your blood sugar and knock you out of ketosis.
If keto is new to you, and you want to find out a bit more about the keto diet and how it can work for you, check out our keto diet guide for beginners, it will take you through everything you need to know to get started.
Ordering Keto-Friendly Pho In A Restaurant
If you are eating pho out, and want it to be as keto-friendly as possible, your best bet is to call ahead.
If pho is made traditionally, it can take up to 12 hours to create. So, if you can ring ahead, check with the restaurant if they use sugar or not in their pho.
If they do, they may be willing to make a portion for you without sugar.
If not, you can ask them how much they use and see if you can make it fit within your macros (IIFYM). Instead of the noodles, ask them to leave these out and add some extra bean sprouts.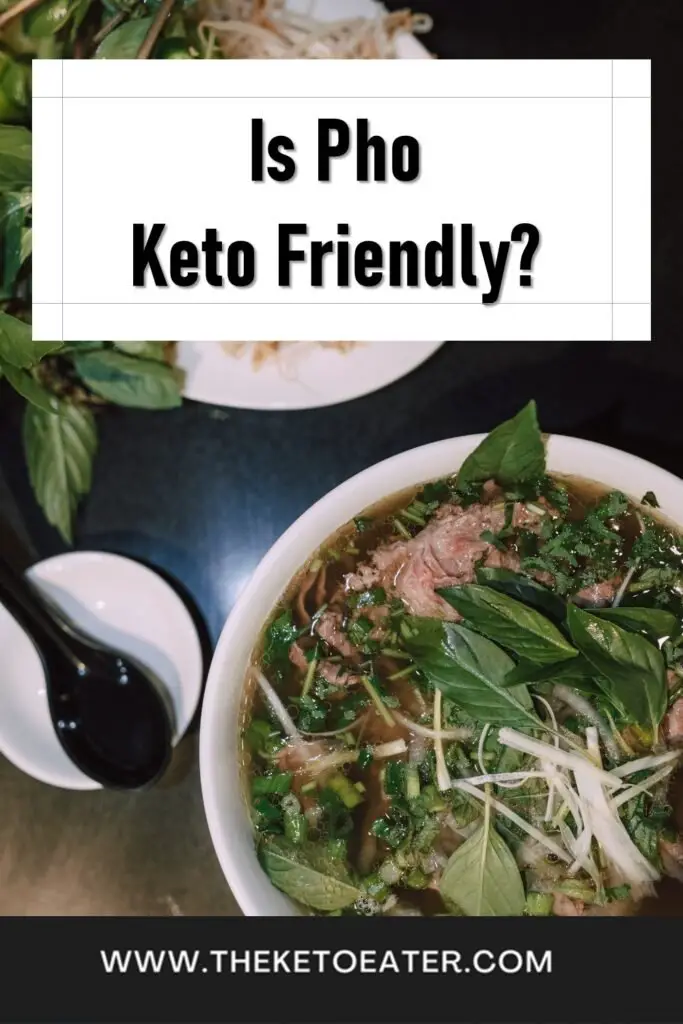 Homemade Keto Pho Recipe
If you want to make keto pho at home, and if you haven't I highly suggest that you do, you can easily make keto-friendly pho.
This recipe can be made in the slow cooker if you have the time, or the insta pot if you want your pho pronto, the method that we have used is using a good old fashioned pan, in case anybody doesn't have fancy gadgets!
Here's our tried and tested keto Pho recipe for you.
Keto Pho Recipe
Course: Lunch, Dinner
Difficulty: Medium
Ingredients
1/2 pound (240 grams) Sirloin Steak – cut into thin strips

2 Large Zucchinis (Courgettes)

1 Cinnamon Stick

2 Star Anise

3 Whole Cloves

4 Cups (950 ml) Beef Broth (check out our broth recipe)

1-inch piece of fresh Ginger sliced (thinly sliced)

1 tablespoon Soy Sauce (Use Coconut Aminos for clean keto version)

1 tablespoon Fish Sauce

2 handfuls of Bean Sprouts

For Seasoning

1/2 teaspoon fresh Cilantro (Corriander)

1/2 teaspoon fresh Basil

Finely slices Jalapeno

Lime wedge for serving

Sriracha sauce (optional)
Directions
TOP TIP: Place the steak in the freezer for 15 minutes to harden slightly, this makes it easier to slice thinly.
Make your zucchini noodles (courgetti) using a spiralizer. Split these between two bowl
In a medium saucepan, toast cinnamon sticks, star anise, and cloves on low heat until they become fragrant.
Add the bone broth to the pan and stir
Add the ginger, soy sauce (or coconut aminos), and fish sauce. Bring to a boil, and simmer for around 10 minutes to allow the spices to fully infuse the broth.
Slice the beef into as thin strips as you can manage.
In a separate pan, flash fry the beef for 30 seconds on either side to seal in the flavor
Divide the beef into two portions and add to the zucchini.
Pour the broth into the serving bowls, over the meat and noodles. The beef will finish cooking
Top the pho with bean sprouts, fresh herbs, and sliced scallions. Drizzle with Sriracha to taste and squeeze the lime on top.
Notes
Feel free to experiment with flavors in your keto pho
Best Noodles For Homemade Keto Pho
This all depends on what you like, check out our article on spiralizing courgette (courgetti) which we have used in this recipe.
However, it is also amazing with Shirataki noodles (also known as Konjac noodles)
Shirataki noodles are made from glucomannan. This is a type of fiber that comes from the root of the konjac plant.
"Shirataki" is Japanese for "white waterfall," this is because of the noodles' translucent appearance.
Shirataki noodles take no cooking and the heat from the broth will be enough to cook these. I personally think they are a great option.
Extra bean sprouts can also be a great addition, if you add them in at the last minute, they'll still have a nice crunch.
You can always try keto pho without noodles and see if you even miss them.
Mixing Up Your Pho
If you're making this delicious dish at home, why not try mixing up your flavors by using chicken or pork? Not traditional by any stretch, but still tasty!
If you a looking for a vegan pho keto recipe, switch out your fish sauce and substitute with coconut aminos, and swap out the meat for tofu.
Pho Keto FAQs
Final Thoughts: Keto Pho
Pho is not clean keto unless you are making it at home. However, for the majority of us, with a few substitutions, we can probably enjoy a steaming bowl of pho in our favorite restaurant and at home. Enjoy!