Is Pepper Jack cheese keto friendly? You will be pleased to know that pepper jack cheese is a great option for someone eating a keto diet. It has half a net carb per slice (on average) so you are not going to break the carb bank with it. Why not check out some of the other keto friendly cheeses we have lined up for you? 
Disclosure: Some of the links in this article may be affiliate links, meaning that we may earn a small commission if you click through using our link and make a purchase. Please be assured that this will not cost you any extra money. Also, please be assured that we either use the products we recommend personally, or have been recommended by trusted friends who currently use them.
What Is In Pepper Jack Cheese?
Pepper jack cheese is a semi-soft, spicy, moist cheese. Pepper jack is a variation of Monterey Jack, with added notes of peppers, rosemary, and garlic. It is delicious and versatile, but let's dive into whether pepper jack cheese is keto.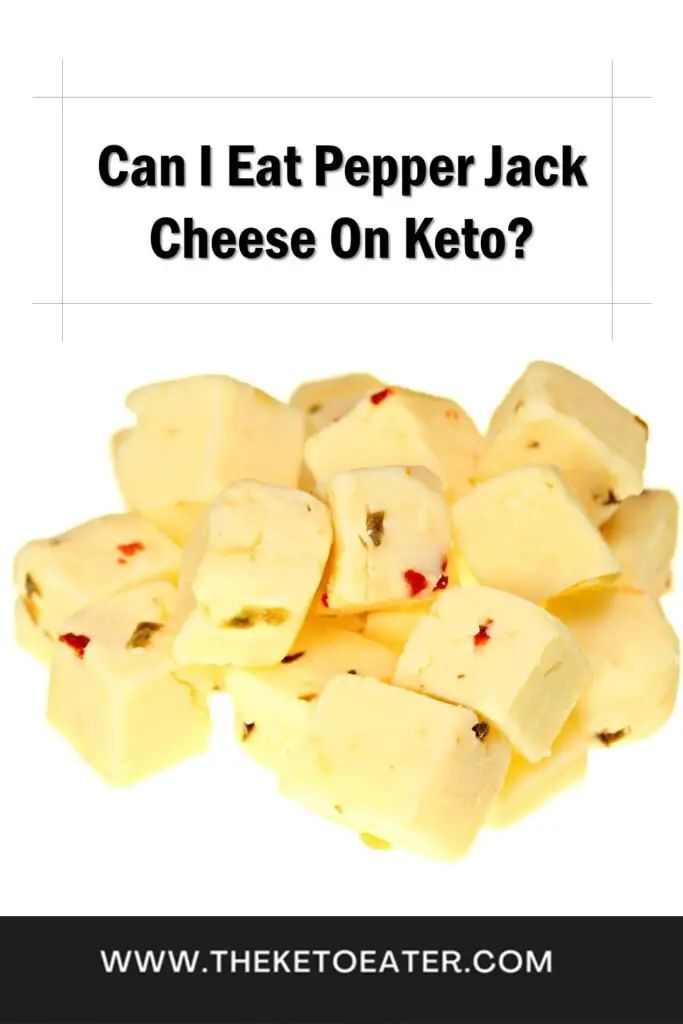 Nutritional Value Of Pepper Jack Cheese
Generally speaking, if cheese is full fat (not skim or low fat), it will have lower carbs. Pepper Jack, on average, has the following nutritional values per one ounce:
Carbs: 0.5 g
Protein: 6.5 g
Fat: 9 g
Fiber: 0 g
Sugar: 0.2 g
Calories: 100
Net Carbs In Pepper Jack Cheese
Does pepper jack cheese have carbs? Pepper jack cheese contains roughly 0.5 net carbs per serving. This means that you can enjoy pepper jack cheese on a keto diet.
Calculating net carbs is simple and calculating your net carbs is going to be an essential skill on the keto diet. The formula for calculating net carbs is as follows:
x = y – z where x represents the net carbs (what you're trying to calculate), y represents the carbs per serving, and z represents the fiber content per serving.
y (carbs) – z (fiber) = x (net carbs)
0.5 – 0 = 0.5 g
Is Pepper Jack Cheese Keto Friendly?
Pepper jack has less than 1 net carb per serving, so, yes, it is keto-friendly. Meaning that you can enjoy this with your keto salads, burgers, or as a keto snack.
Keto Alternatives To Pepper Jack Cheese
Goat cheese, or chevre, is a great keto-friendly option. It is a zero-carb cheese, as well as halloumi.
Some low net carb cheeses you could try in your keto diet include but are not limited to the following:
Muenster
Brie
Colby Jack
Camembert
Edam
Swiss
Gouda
Cheddar
Mozzarella
Blue
Parmesan
Cheeses To Avoid On Keto
Some cheeses in this list have significantly fewer net carbs than others. This list is for cheeses that contain 1 or more net carbs per serving. Higher carb cheeses are not limited to the following:
Manchego
Mascarpone
Feta
Cream
Cottage
Ricotta
Other soft cheeses (think ricotta, cottage, and some spreadable cheeses) aren't keto-friendly. A fourth of a cup of ricotta cheese has up to 4.5 net carbs!
Health Benefits Of Pepper Jack Cheese
Pepper jack cheese and almost any kind of cheese boasts a good serving of calcium. It's also high in protein. It provides some of your daily potassium as well.
Summary: Is Pepper Jack Cheese Keto Friendly?
With only 0.5 grams of net carbs per slice, pepper jack cheese is definitely keto approved and can definitely be enjoyed on a keto diet. Whether you want it sliced into a salad or on your burger. Don't stop at pepper jack cheese through, there are loads of amazing cheeses which can be enjoyed on a keto diet.