While Maca is great for building muscle and is an excellent source of vitamin C, iron, copper, and bioactive plant compounds, it is not a keto-friendly food. If you're following a ketogenic, low-carb, high-fat diet, you'll want to consume foods that follow this dietary balance. The good news is that there are plenty of keto-friendly alternatives to Maca that can take your healthy recipes to the next level.
Disclosure: Some of the links in this article may be affiliate links, meaning that we may earn a small commission if you click through using our link and make a purchase. Please be assured that this will not cost you any extra money. Also, please be assured that we either use the products we recommend personally, or have been recommended by trusted friends who currently use them.
What Is Maca?
Maca powder is derived from Maca root. Maca is a tuber plant that is native to central Peru.
It grows in the Andes Mountains thousands of miles above sea level.
Harvested Maca powder has a pale-yellow color and a slightly nutty butterscotch flavor.
Maca is often called a superfood.
It's also a popular choice for making healthy smoothies, overnight oats, chia seed pudding, granola, raw and no-bake desserts, lattes, and hot chocolate drinks.
Let's have a look at the nutritional value to establish, is maca powder keto friendly.
What Is The Nutritional Value Of Maca?
One ounce of Maca root (6 teaspoons) contains
20 grams of carbs
4 grams of protein
2 grams of fiber
1 gram of fat
91 calories
How Many Net Carbs Are There In Maca?
3 teaspoons (1 tablespoon) of Organic Maca powder contains 4 grams of net carbs.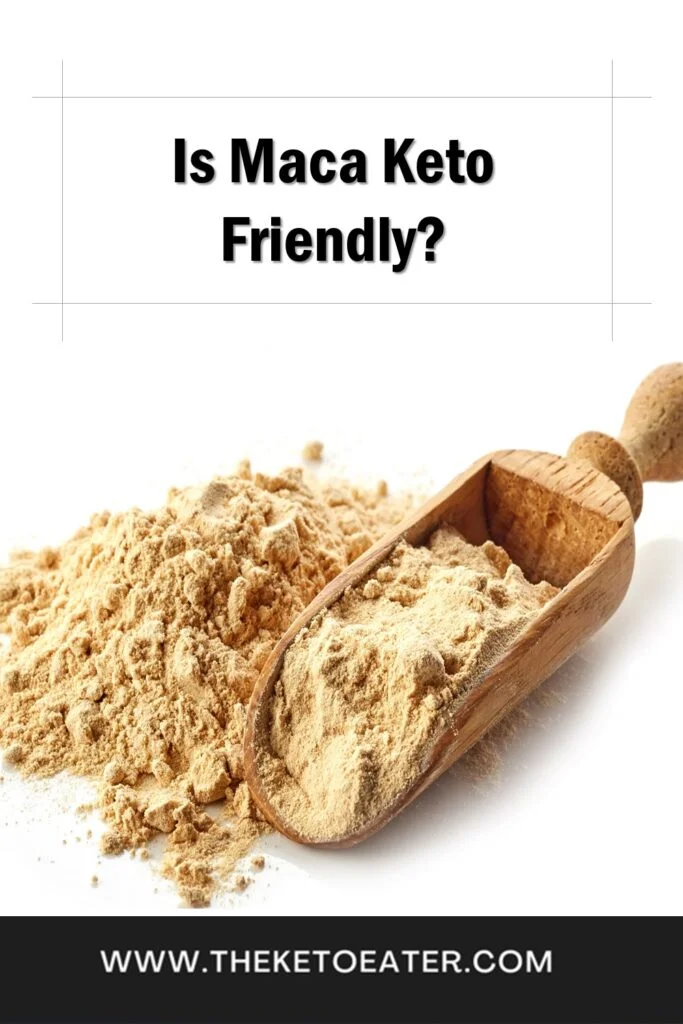 Is Maca Keto-Friendly?
You'll probably find that many recipes include Maca. Despite its high nutritional value, Maca may not qualify as a keto food due to its high-carb and low-fat content.
Maca can help you gain weight because it stimulates your muscles to burn calories efficiently.
Due to Maca's anabolic action, you might burn more calories during a workout. But adding muscle mass will also increase your weight.
If you're following a low-carb and high-fat ketogenic diet and want a healthy powder to add to your recipes, check out these low-carb and high-fat Maca alternatives below.
Are There Different Maca Flavors/Varieties That Are Not Keto?
Red, yellow, and black Maca varieties have subtle color differences and similar flavors.
Is Maca powder keto freindly? Unfortunately, no, it is not keto friendly.
All Maca root varieties can boost muscle growth and can add weight.
Since Maca is relatively high in carbs, it is not considered a keto food.
What Are The Health Benefits Of Maca?
Maca contains powerful antioxidant compounds that include:
133% of Vitamin C's Recommended Daily Intake (RDI)
23% RDI for Iron
85% RDI for Copper
15% RDI for Vitamin B6
16% RDI for Potassium
10% RDI for Manganese
Plant glucosinolates (nutritional metabolites) and polyphenol (micronutrients) 4, 5, 6, and 7
What Are The Best Keto Alternatives To Maca?
Chia seeds: A fiber-packed alternative with 2 grams of net carbs in one serving. Check out our article on the health benefits of chia seeds here.
Yacon Root: A low-glycemic and low-calorie alternative with 13 calories and 4 net carbs per serving
Matcha Green Tea Powder: This tasty alternative has only 1 gram of net carbs per 1 teaspoon (1 serving) and 10 total calories for a low-carb, keto-friendly choice.
Staying hydrated on the keto diet is really important, for more on how much water you should be drinking, check out our guide to staying hydrated on the keto diet.
If you're planning on dehydrating yourself(!) and drinking alcohol on the keto diet, check out our ultimate guide to drinking alcohol on a keto diet. Also, you may be interested in, how to recover from a cheat day.
Summary: Is Maca Keto Friendly?
Sorry, no, maca is not keto friendly. There are plenty of keto-friendly alternatives that we would highly recommend you try.