Is Boudin keto friendly? Er, this is one of those yes and no answers, sorry! Traditional Boudin is not keto friendly. This is because it is high in carbs due to the white rice that is used in making Boudin. However, if you have the patience, or have a friendly butcher, Boudin can be made from scratch, replacing the white rice with cauliflower rice, and voila your Boudin becomes keto friendly. As we always say, you do not have to miss out on any amazing foods on keto, you just need to work out how to make them keto friendly. Read on to find out how to make our favorite Boudin recipe keto friendly.
Disclosure: Some of the links in this article may be affiliate links, meaning that we may earn a small commission if you click through using our link and make a purchase. Please be assured that this will not cost you any extra money. Also, please be assured that we either use the products we recommend personally, or have been recommended by trusted friends who currently use them.
What Is Boudin?
The Cajun dish Boudin (pronounced Boo-dan) is made from cooked pork meat and rice, along with various vegetables and seasonings, all formed into a natural pork casing. Boudin traditionally consists of pork livers and/or hearts, along with pork scraps from just about any part of the pig.
Boudin has its origins in the Acadian migration to Louisiana from Nova Scotia and France over two centuries ago.
What Is The Nutritional Value Of Boudin?
Each Boudin recipe would have different proportions of added ingredients, so it's difficult to give exact results.
The below results are based on a recipe for an average 85 g Cajun Boudin containing 0.877 oz of pork shoulder, 0.337 oz of pork liver, and 36.46 grams of rice, without any additional oils and additives other than vegetables and seasonings.
Carbs: 12 grams
Protein: 9.8 grams
Fat: 4.9 grams
Fiber: 0.3 grams
Sugar: 0.4 grams
Calories: 134 cal
How Many Net Carbs Are There In 85 Grams Of Boudin?
Net carbs are calculated by deducting the amount of fiber from the total number of carbs.
There are 11.7 grams of net carbs in Boudin; (12 grams of carbs – 0.3 grams of fiber = 11.7 grams of net carbs).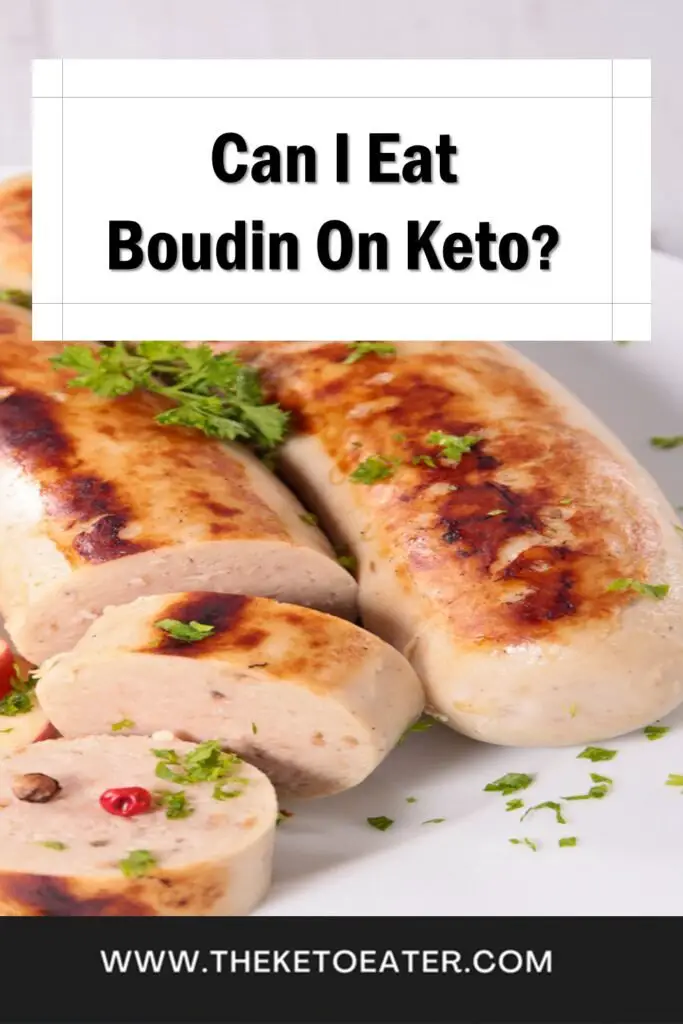 Is Boudin Keto Friendly?
As discussed above, if you are eating a traditional keto diet, your aim is to stay below 20 grams of carbs in a day. If choosing to eat 1 x 85 gram Boudin sausage, you will be consuming 58.5% of your daily allowance of net carbs.
More importantly, one of the main ingredients in Boudin, which is where it gets its carbs from, is the rice.
Rice is a grain and is definitely not keto friendly.
The easy way to make Boudin keto friendly is to make it yourself, yes, you read that right. Boudin can be made with cauliflower rice.
Follow this amazing, authentic recipe from Homesick Texan, and replace the rice with cauliflower rice in equal quantities and you can make your own amazing, keto-friendly Boudin.
Boudin is therefore not a keto-friendly option due to its high content of net carbs. It's also a high protein dish, which isn't in accordance with the high fat, moderate protein, and low carb macros belonging to that of a keto diet.
What Are The Best Keto Alternatives To Boudin?
It is said that meat is one of the staples of the keto diet as it contains no, or low carbohydrates, and is rich in B vitamins and other nutrients.
Why not try some of these tasty keto alternatives to the Cajun Boudin sausage that would fit nicely into your daily macros;
Pork Belly: (4 oz) 60 g Fat, 10 g Protein
Lamb Chops: (4 oz) 29 g Fat, 17 g Protein
Chicken Thigh: (4 oz) 25 g Fat, 14 g Protein
Babyback Ribs: (6 oz) 21 g Fat, 20 g Protein
Ribeye Steak: (6 oz) 24 g Fat, 33 g Protein
Another great alternative is chorizo sausage, the flavors are slightly different, but it can be a good keto friendly alternative to Boudin that you can pick up in the local store.
It's important to get enough protein in your diet, so be sure to prioritize that above all else. The daily minimum amount of protein recommended is 0.27 grams per pound of body weight.
From here, measure out the portions of your meat to reflect the appropriate macros for the keto diet. 
Bear in mind that too much protein can knock you out of ketosis, so when including those with a higher protein to fat ratio, you can always substitute with a range of healthy oils to balance your macros. These include olive oil, macadamia nut oil, and avocado oil.
Staying hydrated on the keto diet is really important, for more on how much water you should be drinking, check out our guide to staying hydrated on the keto diet.
If you're planning on dehydrating yourself(!) and drinking alcohol on the keto diet, check out our ultimate guide to drinking alcohol on a keto diet. Also, you may be interested in, how to recover from a cheat day.
Summary: Is Boudin Keto Friendly?
So, no, traditional made Boudin is not keto friendly due to it containing rice. Grains contain carbohydrates which are heavily restricted on a keto diet. If you know your local butcher or want to have a go yourself, you can soon make Boudin keto friendly by substituting the white rice for cauliflower rice to heavily reduce the overall net carbs.