Is Labneh Keto? Let's find out! Labneh is a type of soft, spreadable cheese-like (though not quite) product from the Middle East. It can be bought both fresh and pickled. Like most dairy products, it's high in fat, and low in carbs, thus being a perfectly keto-friendly product. Enjoy!
Disclosure: Some of the links in this article may be affiliate links, meaning that we may earn a small commission if you click through using our link and make a purchase. Please be assured that this will not cost you any extra money. Also, please be assured that we either use the products we recommend personally, or have been recommended by trusted friends who currently use them.
What is Labneh?
To put it very simply, labneh is strained yogurt. These days, it's most widely made out of full-fat cow's milk yogurt (typically, plain Greek yogurt, but kefir or probiotic yogurt are common as well). Though goat milk and camel milk are traditional, and still consumed in the Middle East.
Its consistency is somewhat similar to that of cream cheese, though lighter and smoother. Labneh consistency depends on how well the whey has been strained out of the yogurt – the longer the yogurt is strained, the thicker the final product.
Labneh is traditionally eaten as a dip, with olive oil and herbs, but is a versatile product and goes well with both savory and sweet dishes. Basically, any way you'd use cream cheese, you can use labneh.
What Is The Nutritional Value Of Labneh?
The average nutritional value of full-fat labneh per 100g is:
Carbs: 3.6 grams
Protein: 6 grams
Fat:  11 grams
Fiber: 0 grams
Sugar: 3.6 grams
Calories: ~250 (the calories in store-bought labneh can significantly vary between the brands)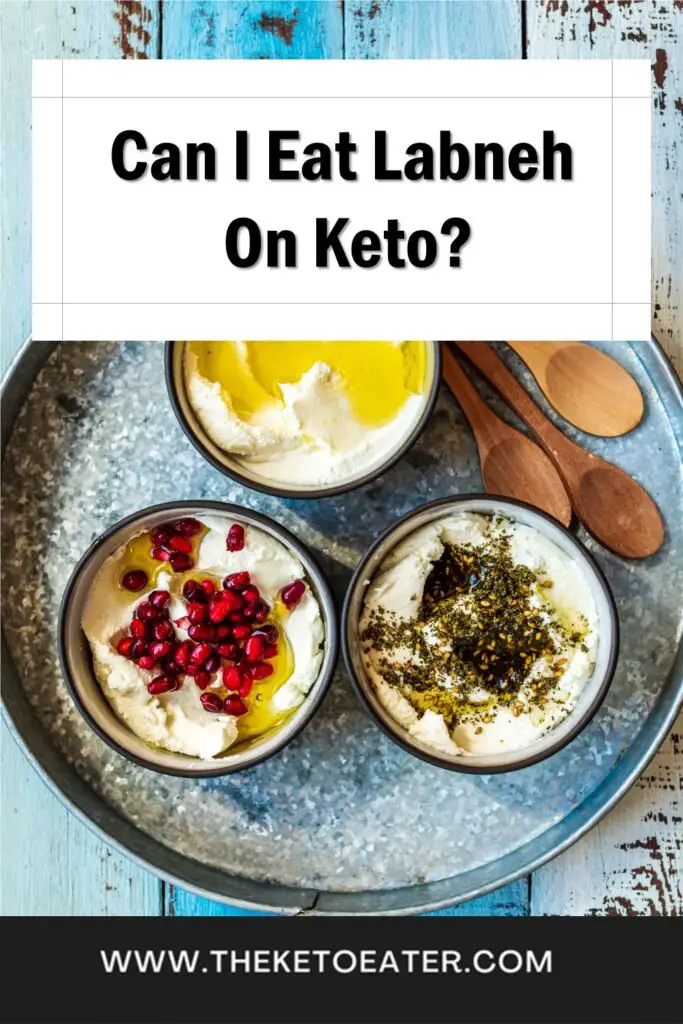 Net Carbs In Labneh
Net carbs are what we refer to as the number of carbs minus the fiber in the product.
With Labneh, there's no need for any extra math – as with other dairy products, what you see is what you get. It has no fiber, so the amount of carbs is all net carbs.
This means per 100g of full-fat labneh, you get 3.6g of net carbs.
There's no consensus about what a serving of labneh looks like due to its varied use. The approximate amount seems to be somewhere between 30 to 50g. By these metrics, the net carbs you get per serving are between 1 and 2g.
Is Labneh Keto Friendly?
Yes, Labneh is VERY keto-friendly! Firstly, it's very low in net carbs, making it easy to incorporate it into the diet while keeping your net carb intake under 20g per day.
Secondly, it's rich in healthy fats AND is often consumed with added olive oil. It's an ideal addition to your daily diet if you have trouble consuming enough fat and need to up the intake.
Last, but not least, it's a versatile product that can be used in a multitude of ways to diversify your diet.
Are There Labneh Varieties that Aren't Keto Friendly?
Classic labneh, whether made out of greek yogurt, goat milk yogurt, kefir, etc. is always keto-friendly.
However, non-plain store-bought varieties might have added sugars. Check the container before buying.
Keto Top Tip
Staying hydrated on the keto diet is really important, for more on how much water you should be drinking, check out our guide to staying hydrated on the keto diet.
If you're planning on dehydrating yourself(!) and drinking alcohol on the keto diet, check out our ultimate guide to drinking alcohol on a keto diet. Also, you may be interested in, how to recover from a cheat day.
Summary: Is Labneh Keto?
In summary, yes, labneh is keto friendly. It is the perfect combination of being low in carbs and high in fat, which makes this a winner when it comes to keto. Enjoy.