So, Is Heinz 57 keto friendly? Unfortunately, no, the original Heinz 57 tomato ketchup is not keto friendly. It is relatively high in carbs and is made with non keto friendly ingredients. Never fear though, as always, we have found some perfect keto friendly alternatives to Heinz 57 for you Read on to find out more.
Disclosure: Some of the links in this article may be affiliate links, meaning that we may earn a small commission if you click through using our link and make a purchase. Please be assured that this will not cost you any extra money. Also, please be assured that we either use the products we recommend personally, or have been recommended by trusted friends who currently use them.
What is Heinz 57?
Heinz 57 tomato ketchup has become a heavyweight in the condiment world has been on the market since 1876.
The closely guarded ingredients include tomato concentrate, salt, sugar, and a secret spice blend. There really is nothing like it in the world of ketchup- but is Heinz 57 keto friendly?
What is the Nutritional Value of Heinz 57
A standard 9g serving of Heinz 57 classic ketchup has 10 calories and almost no protein or fat. This is already pretty bad news for those of us on a keto diet, but making it worse is the whopping 2g of sugar and 3g of total carbs.
That doesn't sound like a lot, but in such small serving sizes, it can quickly add up.
How Many Net Carbs are there in Heinz 57
Of the 3g total carbs in just 9g of Heinz 57- all 3g are net carbs.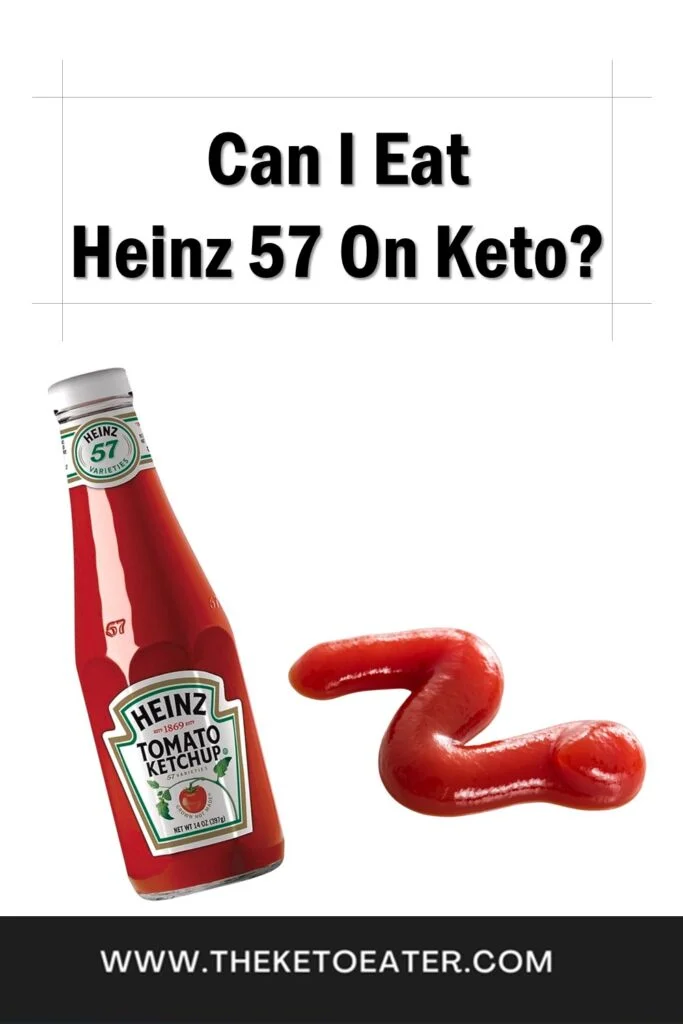 Is Heinz 57 Keto Friendly?
Unfortunately for ketchup lovers, Heinz 57 is not particularly keto friendly. Those 3g net carbs per serving all come from added sugar and corn syrup. Tomatoes themselves are quite carb heavy so Heinz doesn't do keto dieters any favors by adding carbs to an already loaded product. Luckily for us, there are plenty of other options out there.
Are There Different Flavors Are Not Keto?
In 2018, Heinz launched a No Sugar Added Ketchup which uses sucralose instead of carb-laden corn syrup. This brings the net carbs per serving down 75% from 3g to just 1g per serving. Proceed with caution though, it won't take much to push your macros out of balance.
All other varieties of Heinz 57 ketchups including the organic, simple, low salt, and honey-sweetened are not keto-friendly, including their range of flavored ketchup.
What Are The Best Keto Alternatives To Heinz 57
Many keto-specific brands have ketchup on offer.
Guy Gone Keto offers a ketchup clocking in at just 0.5g per 14g serving, and Simple Super Ketchup by Keto Primo contains 1g net carbs per 15g serving.
This serving is 6g more than the serving size for low sugar Heinz ketchup- so you'll get more sauce per carb.
If you want to stray from ketchup, give Primal Kitchen a try. Their keto-friendly mayonnaise contains organic egg yolks and avocado oil to help you hit your dietary fat goals.
Make Your Own Tomato Ketchup
Another alternative is to make your own keto friendly keto ketchup. You can follow our recipe here, if not there are plenty of great recipes on the internet.
Our Keto Top Tips
Staying hydrated on the keto diet is really important, for more on how much water you should be drinking, check out our guide to staying hydrated on the keto diet.
If you're planning on dehydrating yourself(!) and drinking alcohol on the keto diet, check out our ultimate guide to drinking alcohol on a keto diet. Also, you may be interested in, how to recover from a cheat day.
Summary: Is Heinz 57 Keto Friendly?
Unfortunately, the original version of Heinz 57 is not keto friendly. Although it only contains around 3 grams of net carbs per serving, the sugars in it are not keto friendly. Heinz does have a no added sugar ketchup which is made with sucrose, a keto friendly sweetener. There are also some other amazing companies that are making keto friendly ketchup. As always, you don't have to miss out on the foods you love on keto, you just need to look for keto friendly alternatives to enjoy.