Are Tums Keto Friendly? Unfortunately, no. Tums are not keto friendly due to them containing sugars that are high on the glycemic index and are likely to spike your blood sugar. Never fear though, we have rounded up some of our favorite keto friendly antacid alternatives for you to try.
Disclosure: Some of the links in this article may be affiliate links, meaning that we may earn a small commission if you click through using our link and make a purchase. Please be assured that this will not cost you any extra money. Also, please be assured that we either use the products we recommend personally, or have been recommended by trusted friends who currently use them.
What Are Tums?
According to the official tums website, tums are an antacid used to relieve heartburn and upset stomachs. The active ingredient is calcium carbonate.
What Is The Nutritional Value Of Tums?
There are a large variety of tums products to choose from. They have sugar-free, smoothies, naturals, extra strength, and chewy bites.
Here's what we found for the regular tums assorted fruit extra strength 750:
| | |
| --- | --- |
| Nutritional Facts | Tums Assorted Fruit Extra Strength 750 |
| Calories | 10 |
| Carbs | 0 |
| Protein | 0 |
| Fat | 0 |
| Fiber | 0 |
| Sugar | 2 g |
How Many Net Carbs Are There In Tums?
Lets have a look at the number of carbs in tums.
On a keto diet, it's important to track your net carbs, and in order to do that, you're going to need to use the following formula:
Net Carbs (n) = Carbs (c) – Fiber (f)
Net Carbs (n) = Carbs (0) – Fiber (0)
(n) = 0 – 0
n = 0
Using the figures above, there are zero net carbs in the regular tums assorted fruit extra strength 750.
Carbs in Tums = Zero
Are Tums Keto Friendly?
So now we know that Tums contains zero carbs, let's look at answering the question, are Tums keto friendly?
The regular tums assorted fruit extra strength 750 chewable tablets are keto friendly.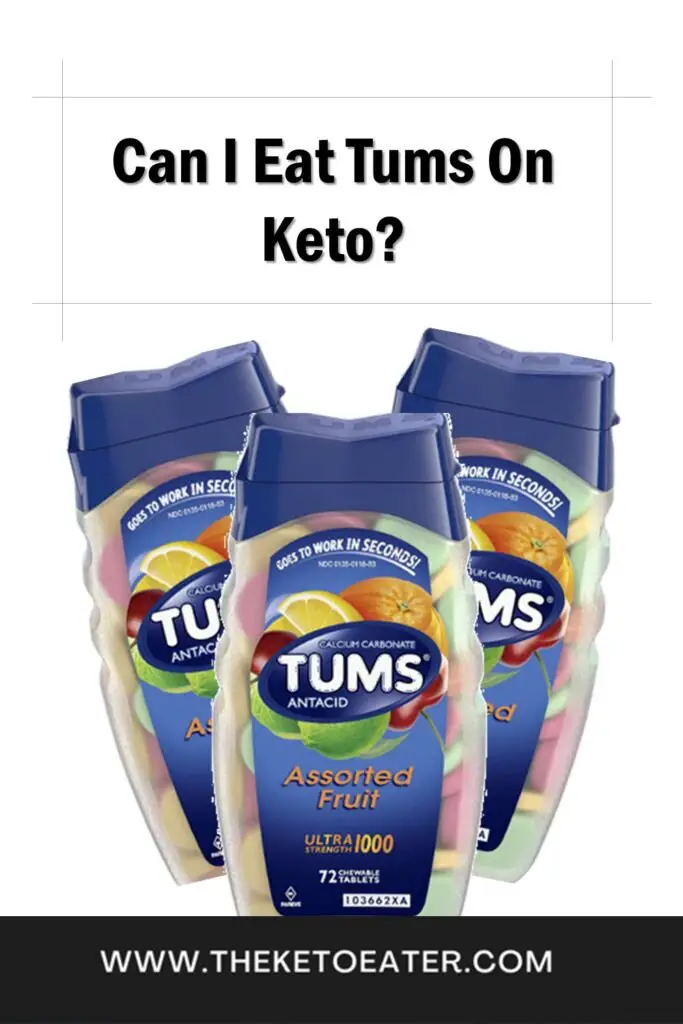 Do Tums Have Sugar Or Carbs?
They contain 0 net carbs, 0 carbs, and 0 fiber. However, cellulose, dextrose, flavor, maltodextrin, mineral oil, polyethylene glycol, and talc are all ingredients.
Neither dextrose nor maltodextrin are keto friendly.
They are both high on the glycemic index, meaning they will spike your blood glucose levels, in doing so, you will run the risk of knocking your body out of ketosis.
For more on keto friendly sugars, and sugars to avoid on keto, check out this article.
Are There Varieties Of Tums?
Tums sells a wide variety of products;
sugar-free
regular strength 500
extra strength 750
ultra-strength 1000
chewable tablets, chewy bites, or chewy delights
mint or fruit-flavored
gas relief
cooling sensation
smoothies
At this time, they all contain ingredients that are not keto friendly, hopefully, over time this will change.
What Are The Health Benefits Of Tums?
Tums can be used to relieve heartburn, indigestion, and gas. They help to reduce stomach acid, which can help with these symptoms.
The active ingredient in Tums, calcium carbonate, also makes tums a great calcium supplement to those who may need it.
Keto Alternatives To Tums
Upon close inspection, tums have a higher sugar content than some of the alternatives. You can check out esomeprazole, Alka-seltzer, Pepcid, Zegerid, Rolaids, and/or omeprazole if you're interested in finding a product better suited for you. 
There are plenty of keto friendly alternatives to Tums
If you're looking for a more natural alternative to tums, you'll be pleased to know that you can dissolve one teaspoon of baking soda into an 8-ounce glass of water to help alleviate heartburn.
It has zero carbs, and zero net carbs. 
Other keto friendly alternatives to tums include aloe vera juice, charcoal capsules or famotidine, why not give them a go and see which one suits you?
Staying hydrated on the keto diet is really important, for more on how much water you should be drinking, check out our guide to staying hydrated on the keto diet.
If you're planning on dehydrating yourself(!) and drinking alcohol on the keto diet, checkout our ultimate guide to drinking alcohol on a keto diet. Also, you may be interested in, how to recover from a cheat day.
Summary: Are Tums Keto Friendly?
Unfortunately, no, Tums are not keto friendly, they contain non-keto friendly sugars. However, if antacids are what you need, we've rounded up some keto friendly alternatives that you may want to try. As always, with anything medical-related, please consult your doctor if you have any concerns.