Truly mouthwatering food is a rare thing to find. Gyros is one of those foods for me, so thankfully, the answer to the question is, are gyros keto friendly? is, hell yes! Here we will take you through the nutritional values, the best ways to eat it, and, in our opinion, the best keto chicken gyros recipe you will find!
Disclosure: Some of the links in this article may be affiliate links, meaning that we may earn a small commission if you click through using our link and make a purchase. Please be assured that this will not cost you any extra money. Also, please be assured that we either use the products we recommend personally, or have been recommended by trusted friends who currently use them.
Gyros is an amazing, full-flavor food that you can eat in any restaurant, without having to worry about the carb count.
Read on though as we have a few tweaks to make sure that you can enjoy your gyros how you want, guilt-free.
What is the Keto Diet: A Quick Summary
The whole ethos of a keto diet is to keep your macros to 70% Fat, 25% Protein, and 5% Carbohydrates (Carbs).
This 5% of Carbs should not exceed 20 grams per day for a traditional keto diet. Depending on whether you are doing lazy, dirty, or strict keto, will depend on how strictly you track these macros, and how willing you are to eat artificial sugars.
In order to keep your carb consumption under 20 grams, you need to be conscious of what you are eating and stick to low carbs healthy foods, that are also low on the glycaemic index.
The reason for this is so as not to spike your blood sugar and knock you out of ketosis.
If keto is new to you, why not check out our keto 101 guide.
If you know all about keto, let's get on and answer the question, are gyros keto friendly?
What Is Gyros?
Heaven! The only answer to this question.
Seriously, though, gyros is a popular Greek fast food. You can buy it on most streets like you can a pizza or burger in the US.
Gyros are made by thinly slicing meat which has been grilled on a vertical rotisserie. Different countries have different takes on this amazing dish, but here, we are definitely talking about the Greek delicacy.
Pork and chicken are commonly used, though gyros can be made with lamb or beef instead.
Gyros are often served wrapped in pita bread, as a 'take away' style meal, although it can be served as a larger portion, often this is will sliced fried potatoes, vegetables, and a side of tzatziki.
Traditional Gyro meat is seasoned with the following spices;
garlic
oregano
cumin
marjoram
rosemary
thyme
black pepper
salt
Let's have a look at the number of carbs in gyro meat to see how keto friendly it is. Please note that this is the number of carbs in gyro meat only and excluding the pita which it is normally wrapped in.
We'll give you some of our favorite keto alternatives for the pita below.
Nutritional Value Of Gyros
The nutritional value of gyros is really hard to assess as it will depend on the cuts of meat that you use to make it. So assessing the number of carbs in gyro meat can be difficult, but we have researched a few different recipes and come up with an average below.
Chicken thighs are higher in fat than chicken breasts. Here are the approximate nutritional values of gyros per 100 grams;
Carbs: 4 grams.
Protein: 20 grams.
Fat: 12 grams.
Fiber: 1 gram.
Sugar: 0.5 grams.
Calories: 220 cal
Unfortunately, gyro meat does have some carbs due to all of the spices that are used in order to give it its flavor, however, these carbs are not excessive.
How Many Net Carbs Are There In Gyros
Net carbs are calculated by deducting the amount of fiber from the total number of carbs.
There are 4 grams of net carbs in Chicken Gyros; (4 grams of carbs – 1 gram of fiber = 3 grams of net carbs).
As discussed above, if you are eating a traditional keto diet, your aim is to stay below 20 grams of carbs in a day.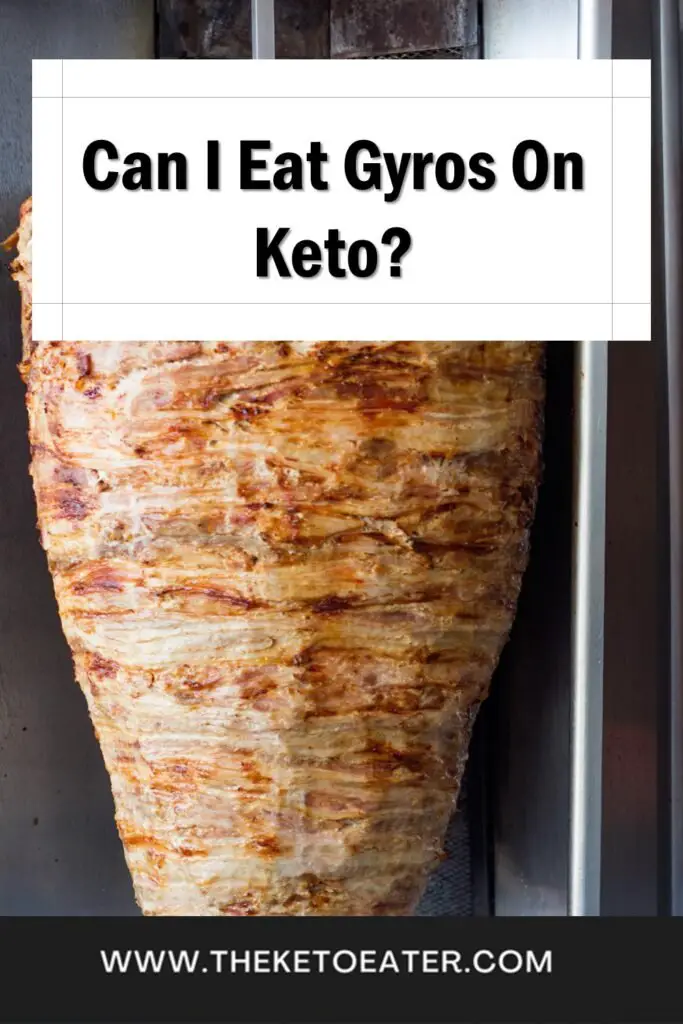 An average serving of chicken gyros is 125g meaning that you will be eating less than 3.5 grams of net carbs per serving, that's a winner in my book.
So, Are Gyros Keto Friendly?
Chicken gyros meat is very much keto friendly. The main carbs in the gyros come from the spices and the small amount of onion used in the making of the gyros, which is perfect if you are eating a keto or low-carb diet.
What is more is that, if made with the fattier cuts of meat, gyro meat can be high in fat as well as low in carbs.
This can make Gyros a keto power food.
If you are eating this as a wrap you will need to find a low-carb pita alternative. I personally love to use these coconut flatbreads.
They are soft enough to wrap around your gyro meat and strong enough to hold the Greek salad and tzatziki sauce, without falling to pieces.
My mouth is watering at the thought!
Eating Greek Out
If you are eating at a Greek restaurant, Gyro meat, be it beef, pork, or chicken (or any combination thereof) will be the perfect option for you.
Ask for it with a side serving of Greek salad, even with a bit of feta cheese, and some tzatziki sauce.
Why not try making your own Gyros at home. Granted, most of us won't have a rotisserie to slowly grill the meat on, but this can be done in the oven.
Follow our homemade keto chicken gyros recipe below and you cannot go wrong.
Feel free to substitute the chicken for any other keto meat.
Homemade Keto Chicken Gyros Recipe
Are gyros keto friendly? Yes, they are, and here's our favorite chicken gyros recipe to prove it!
Keto Chicken Gyros Recipe
Course: Main
Cuisine: Greek
Total time
1
hour
10
minutes
Mouthwatering chicken gyros recipe
Ingredients
900g Boneless Chicken Thighs (skin removed)

400 grams Full Fat Greek Yogurt

2 Tablespoons Olive Oil

1 Clove of Garlic Minced/ Grated

1 Tablespoon Dried Thyme

1/2 Tablespoon fine Himalayan Salt

1/2 Tablespoon Ground Black Pepper

1/2 Tablespoon Ground Coriander

1/2 Tablespoon Ground Cumin

1/2 Tablespoon Paprika

1/4 Tablespoon Ground Red Chilli Flakes

Zest of 1 lemon
Directions
Slice the chicken and thin as possible (without cutting your fingers!)
To make the marinade, mix the yogurt, olive oil, lemon zest, minced garlic, salt, pepper, and spices in a large bowl.
Add the chicken to the marinade, cover in clingfilm and leave in the fridge ideally for 24 hours
When ready to cook, slice an onion in half, flat side down and put a metal or bamboo skewer through it. Layer your chicken over the spike.
Bake in the oven at 180C for 40 minutes.
Remove from the oven, wrap in foil and leave to rest for 10 mins.
Remove to a chopping board and thinly slice. If there were any juices left, pour them over your sliced chicken to add flavor.
Serve with Greek salad and keto flatbread.
THe Perfect side
Our coconut flatbread makes the perfect partner for this recipe
If you have tried this keto chicken gyros recipe, or have a recipe you would like to see featured, let us know in the comments below and we will see what we can do for you.