So, are Fiber One brownies keto friendly? You may be surprised to find out the Fiber One bars are keto friendly, as long as you stick to the recommended serving amount!
Disclosure: Some of the links in this article may be affiliate links, meaning that we may earn a small commission if you click through using our link and make a purchase. Please be assured that this will not cost you any extra money. Also, please be assured that we either use the products we recommend personally, or have been recommended by trusted friends who currently use them.
What Are Fiber One Brownies?
Fiber One Brownies are a low-carb, low-sugar, high-fiber alternative to classic brownies.
They are fudgy and dense in texture and have a distinct chocolate flavor, same as normal brownie – but are sweetened primarily with sugar alcohols, which significantly brings down their carb and calorie content.
For more on sugar alcohols and the role, they can play in a keto diet, check out our article here.
Nutritional Value Of Fiber One Brownie?
Fiber One Brownies can quickly become a danger to your keto diet if you overdo it.
Here's a comparison of nutritional value per 1 bar vs per 100g to paint a clear picture:
Macros per 100g
Macros per 1 Bar (25g)
Carbs: 68 grams
Protein: 8 grams
Fat: 12 grams
Fiber: 24 grams
Sugar: 32 grams (24g from sugar alcohols)
Calories: 280
Carbs: 17 grams
Protein: 2 grams
Fat: 3 grams
Fiber: 6 grams
Sugar: 8 grams (6g from sugar alcohols)
Calories: 70
As you can see that are 8 grams of fiber in a fiber one bar. 6 grams of which are sugar alcohols, so 50% of them.
Net Carbs In Fiber One Brownies
In order to establish, are fiber one bars keto friendly, we need to look at the number of net carbs in fiber one bars.
Fiber One Brownies net only 5g carbs per one 25g bar.
At first glance, this may seem confusing due to only 6g of fiber per 17g carbs, which would usually come to 6g net carbs.
But with Fiber One Brownies we deduct an additional 6g of carbs due to them coming from sugar ALCOHOLS.
Not all (ex. maltitol), but many of the sugar alcohols are keto-friendly including the ones used in Fiber One brownies (primarily erythritol and sorbitol), so we can deduct them from the total carb amount along with fiber.
Are Fiber One Brownies Keto Friendly?
Yes, Fiber One Brownies are probably one of the most keto-friendly desserts out there but 5g net carbs per serving still aren't very low, as we're not talking about a full meal here.
The optimal keto diet means sticking to less than 20g of net carbs per day, so if you want to enjoy a slice of Fiber One Brownie, do keep an eye on what you're eating before it and try to keep net carbs per meal as low as possible.
I would suggest they are something to have in your cupboard or handbag in case of emergencies only.
How Many Fiber One Brownies Can You Eat?
This is a real personal choice. You have 20 grams of net carbs to play within a day, so, in theory, you could eat four Fiber One brownies in a day. However, this would mean that you could eat no other carbs in a day.
Also, you would not hit your protein and fat goals, which we will go into below. We would recommend Fiber One keto brownies be saved for when you're on the go and need a sweet treat.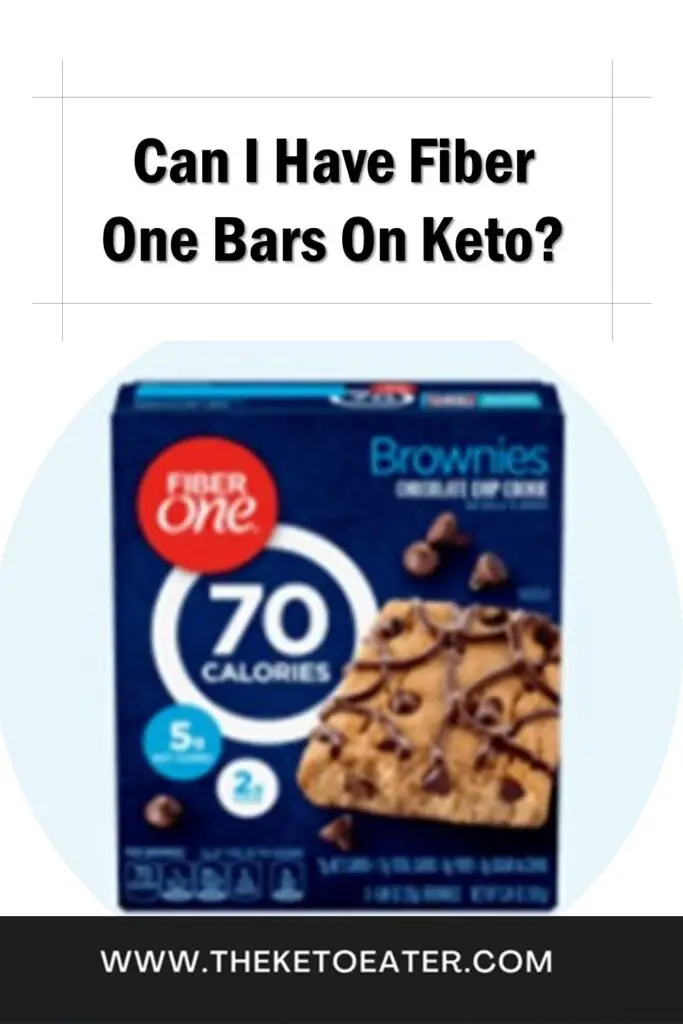 Are There Any Non-Keto-Friendly Varieties Of Fiber One Brownies?
Yes. While Fiber One is mostly known for its low-carb keto-friendly brownie line, they also offer a non-keto "sweet treats" line.
This includes Supreme Brownie Triple Chocolate and Supreme Brownie Cookie Dough (both contain 17g net carbs per one 32g bar).
If you're craving a brownie, Fiber One is a good option – just make sure to stick to the low-carb options.
This won't be hard, as they come in distinct blue boxes advertising 70 calories, 5g net carbs, and 2g sugar in a rather large script.
A Keto-Cap (Aka A Keto Recap!)
So, why is working out the number of net carbs relevant?
If you're new to keto and want a bit more information, check out our keto beginners guide.
As a quick summary, if you need it, the keto (also known as the ketogenic diet) is a low-carb, high-fat diet.
The whole concept of the keto diet is that your body transitions from burning glucose, in simple terms, sugars or carbohydrates, to burning fat as its primary fuel source.
For a keto diet, people will restrict their macros to eating;
70% of their calories are from fat
25% from protein
5% from carbohydrates
Sticking to these macros for a period of time will put your body into a state of ketosis. Ketosis is when your body has transitioned from burning carbohydrates as its primary fuel source to burning fat for fuel. It is at this point that you will start to see and feel the benefits of the keto diet.
There are a lot of new terms and abbreviations that you may come across, sometimes it can feel like a new language that you need to learn. In order to help you out and keep you on the right track, we have created a keto terms and keto abbreviations guide, bookmark these to make your keto journey easier.
Some people can be put off the keto diet because of the side effects, however, these are only short-lived and the health benefits of keto far outweigh the side effects.
One of the main benefits which attract people to the keto diet is that it can cause significant reductions in insulin levels (by up to 75%) and blood sugar levels, which can be attractive to those that struggle with diabetes, amongst other health complaints.