This creamy raspberry chia smoothie tastes as amazing as it looks! It's thick, rich, and creamy, yet still light and fruity! Enjoy this smoothie as a keto breakfast, lunch, or snack.
Disclosure: Some of the links in this article may be affiliate links, meaning that we may earn a small commission if you click through using our link and make a purchase. Please be assured that this will not cost you any extra money. Also, please be assured that we either use the products we recommend personally, or have been recommended by trusted friends who currently use them.
Simple Raspberry Chia Smoothie
With only 5 ingredients this keto raspberry chia smoothie can be whipped up in seconds.
Drink this for a breakfast on the go, or as a meal replacement.
Why not try freezing this and enjoying this on a hot summer's day as an ice pop.
It really is perfect for every occasion.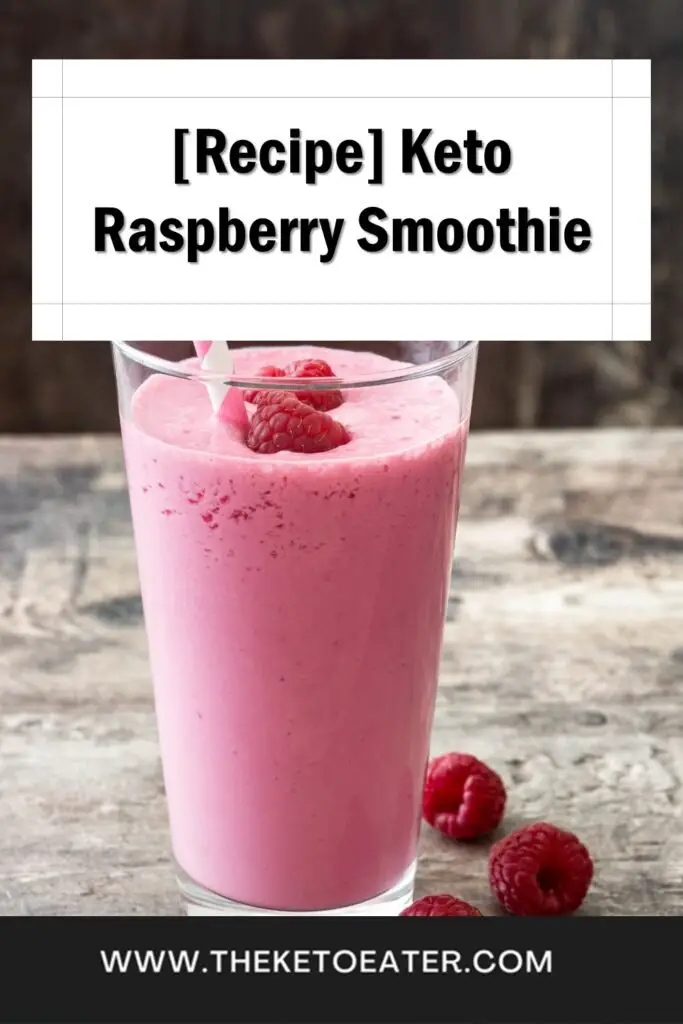 Benefits of Chia Seeds
Chia seeds are full of antioxidants, fiber, and omega 3. This makes it perfect for a keto lifestyle or just a healthy lifestyle.
Making the Smoothie
I use my NutriBullet for everything! Pancakes, omelets, baking, sauces, smoothies, soup – you name it, it gets blitzed in my NutriBullet.
If you don't have one of these, you could use a food processor or a stick blender.
I like to make this the night before and leave it in the fridge. This allows the chia seeds to absorb the liquid from the other ingredients.
If you do not do this the chia seeds will give the smoothie a grainy texture.
Drinking on the go?
If like me you end up eating on the go far too often, this recipe is perfect. I store my keto smoothie in a drinks bottle in order to ensure that they remain perfectly chilled for as long as possible.
Freeze Me?
Why not freeze your smoothie so you have a keto-friendly ice pop whenever you want one? These are definitely not just for children!
I wouldn't recommend a paper straw for this recipe – it may look good, the smoothie is a bit too thick! I use these metal straws – they come with a cleaner so you can wash them again and again!
Raspberry Chia Smoothie
Course: Breakfast, Lunch, Dinner, Snacks, Ice Lolly
Difficulty: Easy
Ingredients
1/2 cup heavy cream

¼ cup almond milk

2 tablespoon chia seeds

1 teaspoon stevia for taste

2 tablespoons fresh raspberries
Directions
Mix together milk, cream, stevia and chia seeds in the nutribullet leave overnight
add fresh raspberries and serve
If you liked this keto smoothie, let us know in the comments below, and why not check out our other keto smoothie recipes.
There's nothing left to do other than enjoy this freshness!