These Keto Smoked Paprika Almonds or, 'almendras al pimenton' make a wonderful, flavorsome, keto snack, especially on an evening with a drink (or two). They are super-simple to make and can be eaten warm or stored for a later date!
Disclosure: Some of the links in this article may be affiliate links, meaning that we may earn a small commission if you click through using our link and make a purchase. Please be assured that this will not cost you any extra money. Also, please be assured that we either use the products we recommend personally, or have been recommended by trusted friends who currently use them.
Where Do Smoked Paprika Almonds Originate?
Smoked Paprika Almonds are a Spanish tapa classic. My best friend lives in Spain and these are still served in a lot of the more traditional bars near where she lives.
For those of you that do not know what tapas is, it's normally a selection of small dishes that are served in bars in Spain for the workers. These are a perfect keto snack if you're out and having a drink.
Can I Buy Smoked Paprika Almonds That Are Keto-Friendly?
I've seen smoked paprika almonds in a few shops, but normally they are ridiculously expensive for only a few almonds! Most of them are keto-friendly, but they are likely to break the bank.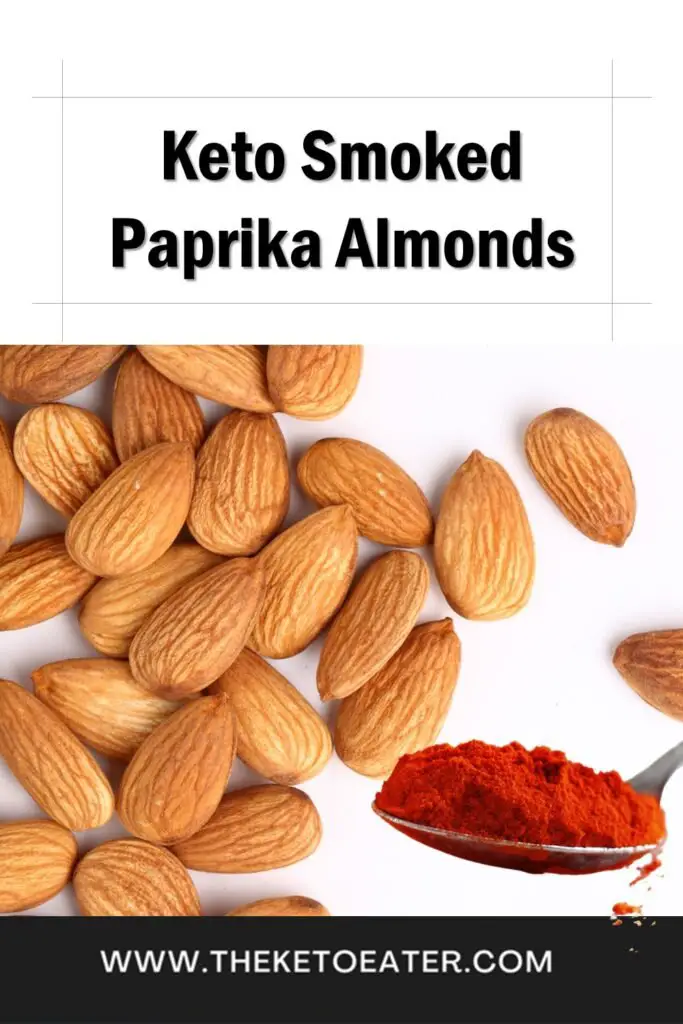 This keto-friendly, smoked paprika is so simple to do that you will never need to buy smoked paprika almonds in a shop.
Keto Smoked Paprika Almonds Ingredients
For this, you only need some almonds (skin on is perfect!). Smoked paprika and good quality olive oil. It really is that simple.
In less than 5 minutes, the most perfect keto snack can be done from beginning to end.
How To Make Your Tasty Keto Snacks
These are really so simple to make! Even if you would class yourself as a novice in the kitchen! Just follow my top tips below and you shouldn't go wrong!
Check out some of our other keto snacks here.
How To Season Your Almonds
In a bowl add your oil and smoked paprika and stir to make sure they are combined. Add in your almonds and toss them in the oil to make sure they are all coated in the amazing smoked paprika flavor.
How To Roast Almonds
This is the more difficult bit! Your almonds can soon burn. I personally place these on a silicone baking sheet and will toss them every 3-4 minutes.
When I have used a metal baking sheet in the past, the almonds have burned on the bottom where they have been in contact with the baking tray. 
This is going to sound really strange, but you know when your almonds are done as they will start to sizzle!
WARNING! Don't eat this keto snack straight from the oven, let them cool down for at least 5 minutes, otherwise you will burn your mouth!
Storing
I store these in airtight mason jars or individual small Lock and Lock boxes.
The Lock and Lock boxes are perfect if you want to take these keto smoked paprika almonds on the go, to make sure you have a keto snack to keep you going!
I love smuggling a little pot of these into the cinema as a keto snack so I'm not tempted to dive into the popcorn. I have also been known to take these to the pub, but let's not talk about that now!!
Other Flavors?
Yes!! These almonds make the perfect keto snack, so it's great if you can mix up the favors, so you never get bored of eating the same thing!
I love adding chunky Himalayan sea salt to these smoked paprika spiced almonds or even some lovely fresh fragrant garlic.
I have also tried this with some coarsely ground black pepper – all of which are beautiful and make the perfect keto snack
Let me know in the comments below what your favorite keto snack is! Or do you have a favorite non-keto snack that you want to make keto-friendly? Let me know in the comments below and I will see if I can find a keto-friendly version for you!